Archive: July, 2009
Patrick Kerkstra
Rep. Chaka Fattah has just sent over a press release announcing $4 million in new Department of Homeland Security funding for street surveillance cameras in Philadelphia. See below for details.
---
Rep. Fattah Announces $4 Million Grant
For Philadelphia Crime Surveillance Cameras

PHILADELPHIA, PA – Congressman Chaka Fattah (D-PA), a longtime advocate of police surveillance cameras for crime-fighting, announced today that the City of Philadelphia will receive an immediate grant of $4 million for cameras, with more aid expected later this year.

"I am pleased to announce that this money is on the way. Surveillance cameras have been shown to turn high crime areas into safer streets," Fattah said. "This is critical infrastructure for our Philadelphia Police Department and I made a commitment to fight for this program.

"As a member of the House Appropriations Committee I will continue to advocate for funding that will expand the use of this crime-fighting tool in Philadelphia."

Funds for the surveillance camera initiative will be coming from the Department of Homeland Security, which announced today it is releasing the money.

In addition, Fattah said an additional $1 million that is "in the pipeline" for Philadelphia camera in the agency's FY2010 budget, which is under consideration in the House of Representatives.
Click here for Philly.com's politics page.
Patrick Kerkstra
This morning's closed-door budget meeting between Mayor Nutter, council leadership and Philadelphia's Harrisburg delegation ended with a public declaration that all parties are on the same side. The state represenatives and senators who stayed through the end of the session said that they full supported Nutter's legislative agenda.
The mayor also used the opportunity to describe in general terms what it would mean to the city if Harrisburg does not grant Philadelphia the pension restructuring and penny-per-dollar increase in the sales tax it is asking for. The headline? Up to 3,000 city jobs "affected," Nutter said, including "massive layoffs."
More to come soon.
Marcia Gelbart and Jeff Shields
Since about 9:30 a.m., Mayor Nutter, City Council leadership and about 15 members of Philadelphia's Harrisburg delegation have been meeting in a ballroom at the Bellevue hotel on Broad Street. The topic, naturally, is the city's budget crisis, specificially the city's request for help from Harrisburg in the form of pension restructuring and authorization for a temporary penny-per-dollar increase in the Philadelphia sales tax.
On Friday, Nutter said the meeting was meant "to make sure everyone is as informed as possible."
Nutter said he expected "certainly to discuss what the potential consequences would be" should the legislature refuse to pass the legislation the city is seeking.
Marcia Gelbart
With the city's 311 call center now six months in operation, city officials this week acknowledged there are a number of kinks to be worked out.
Among them: 311 operators may answer the phones timely, but they continue to transfer callers where they shouldn't - including to newspaper reporters.
The Inquirer's City Hall Bureau has heard from a number of callers who seem equally shocked to find themselves suddenly talking to a reporter. Calls this week alone came from one person seeking information about getting Mayor Nutter to issue a proclamation; another wanting to register complaints about business taxes; and yet someone else wanting to tell the mayor about alleged police brutality against her son.
Patrick Kerkstra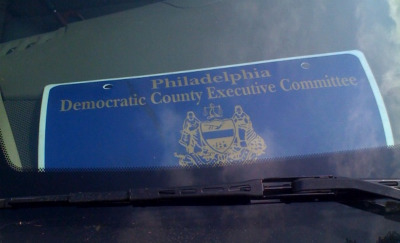 When it comes to keeping the patronage-driven Philadelphia Parking Authority off your back, what's better than FOP plates or a press parking placard?
Well duh. Obviously a placard noting that you're a big wheel in the Democratic machine. This one was spotted in a press parking spot outside City Hall. Needless to say it had not been ticketed.
Click here for Philly.com's politics page.
Marcia Gelbart
It hasn't been easy street for Mayor Nutter when it comes to making appointments to various city boards and commissions.
That's in large part due to a Philadelphia Board of Ethics ruling just before he took office that barred members of 25 such boards and commissions from being politically active, including raising campaign funds.
That included wearing a Barack Obama button.
Patrick Kerkstra
City Controller Alan Butkovitz, who has been going after city employees who owe back taxes and utility payments with gusto, is now calling on the city to shut off water service to 723 city employees who owe $705,973 in unpaid water bills. He first brought the issue of late-water bill payments by city workers to light in early June. Full press release follows below:
---
Butkovitz Urges City to Comply with Water Shut-Off Policy
Controller targets more than $700,000 owed by city employees for water service

PHILADELPHIA - As part of an on-going effort to collect outstanding delinquencies for city services and back taxes, Controller Alan Butkovitz today urged the City to comply with its water shut-off policy for 723 delinquent city employees owing $705,973.

According to the Water Revenue Bureau, customers are delinquent if they are two months behind and have an outstanding balance of $75 or more. Eighty percent of all current, delinquent accounts are six months and older. According to a recent audit of the City's new water billing system, delinquent water and sewer customers owe a total outstanding balance of $167 million.

In a letter to the Revenue Commissioner, Butkovitz stated, "Allowing city employees to get away with not paying for water service is inappropriate and sends the wrong message."
Patrick Kerkstra
Dozens of taxi drivers are circling City Hall in their cabs right now, leaning on their horns in protest of the Philadelphia Parking Authority, which regulates taxis in the city. Their list of grievances with the agency is long, and they've protested before. This time they're protesting what they say is the agency's practice of "drive-by ticketing," in which the agency tickets taxi drivers by mail, never putting the citation on the windshield. The PPA disputes the taxi drivers' characterization of their ticketing procedures.
Click here for Philly.com's politics page.