Archive: June, 2011
Troy Graham
Mayor Nutter has two bills on his desk that he opposes - the paid sick leave legislation and Council's reformation of the DROP pension program.
So, what does he do with them? Veto them? Sign them? Or let them become law without his signature?
Both bills were passed last week (the paid sick leave by a 9-8 vote) during an intense all-day Council meeting that was mostly consumed with resolving the school budget crisis. Paid sick leave and DROP have been two of the most debated and argued items in Council this year. On any other day, their passage would have been big news.
MIRIAM HILL
The National Transportation Safety Board on Tuesday will issue findings from its final report on last summer's duck boat accident, including a final cause and safety recommendations.
At a public meeting in Washington, D.C., Tuesday, the NTSB will discuss the final report of the board's investigation into the collision of the duck boat and a garbage barge that was being pushed by a tow boat. The July 7 accident on the Delaware River killed two Hungarian tourists.
Jeff Shields
Mayor Nutter, fresh off budget battle royale with City Council Thursday, was in Baltimore on Friday to be elected vice-president of the U.S. Conference of Mayors. That lines him up to be president of the national organization in 2012.
Here's the press release:
Philadelphia, June 17, 2010 – At the 79th Annual Meeting of The U.S. Conference of Mayors (USCM) in Baltimore, MD, the mayors elected new organizational leadership. Philadelphia Mayor Michael A. Nutter was elected Vice President. This means that Mayor Nutter, if re-elected, is on the path to be the 70th President of the organization in 2012 and will be a lead advocate for cities and urban areas during a Presidential election year. Mayor Nutter will be the third Philadelphia mayor to be president of USCM including Mayor Richardson Dilworth ('60-'61) and Mayor James H.J. Tate ('70-'71). Currently, Mayor Antonio Villaraigosa of Los Angeles, CA, is President of the USCM.
Jeff Shields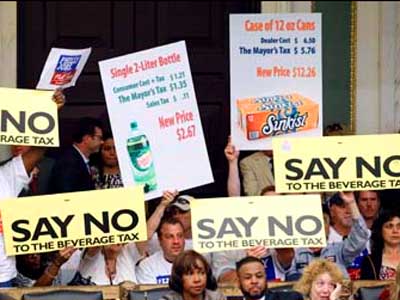 City Council would raise property taxes by 3.5 percent instead of introducing a tax on sugary drinks, in a proposal Thursday to rescue the Philadelphia School District from the $629 million financial chasm it has fallen into.
In a deal that must weather the test of time -- perhaps an hour or two -- a mjaority of Council members have decided that a property tax hike is preferable to painful cuts in the city budget or a "soda tax" that might go down in a court battle. They reached that conclusion about 2 p.m. after a morning of testimony on the city budget, followed by closed-door bargaining in President Anna C. Verna's office. Members shuttled in and out to avoid having a quorum and therefore a violation of the state Sunhine Act, as reporters stood outside counting bodies.
Council is expected to vote the budget out of committee today for a final vote on June 23.
Alia Conley
The City Council chambers Thursday morning was packed with beverage workers protesting the soda tax, students and parents urging politicians to focus on education and others just simply wanting their voices heard. During the 3-hour public hearing, children chanted and sang in the fourth floor hallway outside the council hearing.
Nearly two dozen people spoke. Here's a glance at their concerns:
"I do not agree that throwing money in a broken school system is the answer. What has (Mayor Nutter) done for the last three and a half years? Why is he now just waking up? He promised no more taxes. He needs to be accountable." - Karen Brown, Republican candidate for mayor.
Marcia Gelbart
What does City Council's rejection of Mayor Nutter's sweetened-beverage tax proposal mean for the mayor?
For starters, expect Nutter's aides and supporters to couch this not as a defeat for the mayor, but as a referendum on a Council they will portray as caving to the might of the beverage industry lobby and embracing a path toward fiscal irresponsibility.
Council members, of course, will take a different view, with many citing the downfall of the so-called soda tax as yet more evidence of the mayor's inability to shepherd his major proposals and policy ideas through Council.
Jeff Shields and Marcia Gelbart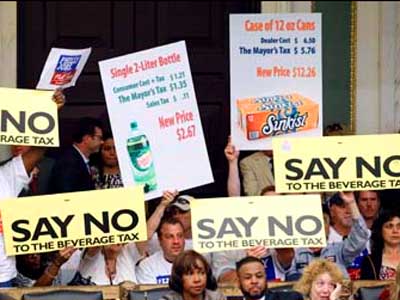 Another budget deal looks to be crumbling.
As we reported two hours ago, Council members thought there were 9 votes to raise money for the school district through a 3.5 percent property tax and that a new soda tax was not going to happen.
Heard in the Hall warned that the plan would have to stand the test of several hours of lobbying.
Jeff Shields

City Councilman Curtis Jones Jr., one of the leading proponents of raising new money for the school district through either a new soda tax or property tax hike, had some strong words Wednesday for his fellow Council members.
Council appears unable or unwilling to come to a consensus on what they're willing to do for the Philadelphia School District to ease teacher layoffs and the death of music and arts, among other cuts.
Schools superintendent Arlene Ackerman has asked for $102 million to stave off rollbacks in special education, summer school, and yellow school bus service. Mayor Nutter has proposed a 2-cents-an-ounce tax on sugary drinks, or a 10 percent property tax, to provide most of that funding.