Archive: May, 2011
Miriam Hill
Republican party leader Michael Meehan wants GOP ward leaders to get together June 7, and the question is - why? David Oh, a GOP Council candidate and ward leader, said he believes the purpose of the meeting will be to endorse all the party candidates who won the primary.
Update from original: Canuso says the party may consider endorsing all the candidates at the June 7 meeting, but said, "That is not one person's decision, unlike what you people like to report on." Canuso said ward leaders traditionally meet after elections.
If Oh is correct, that could mean that Meehan and Canuso are holding out a small olive branch to factions within the party that have been unhappy with their leadership, including Al Schmidt, who is on the ballot as a Republican City Commissioner candidate.
Jeff Shields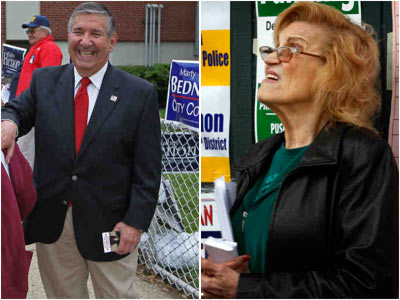 As promised, City Council on Thursday introduced a bill that will preserve the controversial DROP retirement perk for all city workers, including the Council members themselves.
In a press release, Council President Anna C. Verna said a compromise bill will eliminate DROP's cost, while avoiding costly litigation that is sure to follow if the prized benefit is denied city workers. That bill would shift the guaranteed 4.5 percent interest rate on DROP funds to the U.S. Treasury rate, saving an estimated $1 million a year, and push back DROP eligibility to two years after workers reach retirement age.
"I know there has been immense pressure to eliminate the DROP because of its cost," which has been estimated to be at least $100 million since its inception in 1999, Council President Verna said. "The bill introduced today preserves DROP as an option. It is designed to eliminate its cost for all employees in currently open pension plans who are not yet eligible to retire. My colleagues and I believe this is the better approach, but we look forward to exploring the alternatives at the scheduled hearing on the bill."
Jeff Shields
Just eight days removed from the May 17 primary, Republican City Councilman Brian J. O'Neill's Democratic opponent is taking swings aimed at the general election in November.
Democrat Bill Rubin, the city's former supervisor of elections and ex-vice chair of the Philadelphia Board of Pensions and Retirement, wants O'Neill to pledge never to enroll in the Deferred Retirement Option Plan that has caused elected officials so much angst this year.
In a generous gesture to his opponent, Rubin even filled out a waiver form by which O'Neill can officially decline a DROP benefit of more than $500,000 he would be due to receive should he join the program. (O'Neill has not joined DROP but has not ruled it out). DROP allows city employees to collect lump-sum pension payments when they retire, in exchange for freezing their pension four years before they retire.
Marcia Gelbart
Mayor Nutter's chief of staff, Clay Armbrister, is leaving after spending nearly four years overseeing efforts to implement the mayor's reformist agenda and helping balancing the city budget in some of its toughest economic times.
In a news conference this afternoon, Armbrister said it was not a sudden decision but one he was mulling for awhile. He said he was discussing a position with a new employer, but would not say more.
He will stay until the end of the budget process - likely a few weeks - and then Suzanne Biemiller will take over as interim chief of stff. Biemiller is currently director of policy, planning and coordination.
Jeff Shields
UPDATE 6:22 p.m.: According to the Capozzi camp, the blast email that went out to supporters did not include the Johnson-bashing note at the top, which was included in the email sent to reporters and others that we published earlier. The heading talked trash about Johnson's allegedly dirty block and showed Capozzi supposedly sweeping it up during the citywide cleanup in April.
It immediately drew a response from Johnson's spokesman, Mark Nevins, who said: "Now is the time to respect the will of the voters, not engage in the sort of personal, political attacks Capozzi favored throughout the campaign. I can only hope that this campaign stunt wasn't a one-time effort and that she'll continue to find ways to stay involved and work with Kenyatta after he's sworn in as the next councilman from the 2nd District."
Capozzi apparently did not approve of the post-Election Day politicking. It was not part of the link emailed out to the wider audience, a spokeswoman said.
Marcia Gelbart
Early on, most politicos were pegging voter turnout in Tuesday's primary at 10 percent to 20 percent - and they were right in the ballpark.
With 96.44 percent of the vote counted, 17.6 percent of total registered voters (Democrats and Republicans) came out to cast ballots in the mayoral election. In the Democratic primary alone, that turnout was 18.3 percent.
Those numbers may be dismal considering that thousands of people failed to vote.
Marcia Gelbart
The board of the Convention Center Authority this afternoon elected Greg Fox as its new chairman, replacing Buck Riley, who abruptly resigned as of last Sunday. Riley, a Republican, had said in a resignation letter to his colleagues that Carl Singley, a lawyer and a Democrat, would take over temporarily in his absence since Singley was vice chair of the 15-member board.
Fox is a Republican who has sat on the board as one of two appointees of former Gov. Ed Rendell. The other is School District CFO Mike Masch, a Democrat.
The terms of both men officially expired when Gov. Corbett, a Republican, took over. But Corbett has yet to name his Democratic and Republican appointees in their place.
Jeff Shields
Latest turnout update from the Committee of Seventy as of 6 p.m.:
Here are random checks of two divisions in the districts with the most contentious Council races: First District (DiCicco seat); Second District (Verna seat); Sixth District (Krajewski seat); Seventh District (Quiñones Sánchez. v. Savage) and Eighth District (Donna Reed Miller seat).
 Ward 2, Division 1 (First Councilmanic District): 116 voters/736 registered