Archive: March, 2010
Philadelphia Managing Director Camille Cates Barnett said this morning that she will resign effective June 30, telling members of the press and city workers that she "needs some time and space" to work through the deep grief she feels for the death of her husband two years ago.
Rumors of Barnett's departure had been swirling for many months, but she said this morning that she was leaving solely for personal reasons, not because she disagreed with the direction Mayor Nutter has set for the city. Barnett said she did not know where she would work or live when she leaves city government.
"It's a personal decision. I hope that's evident. I really do need to get to a place to rebuild my life and I need to get out of the public life to do that," an emotional Barnett said after the morning press conference.
Patrick Kerkstra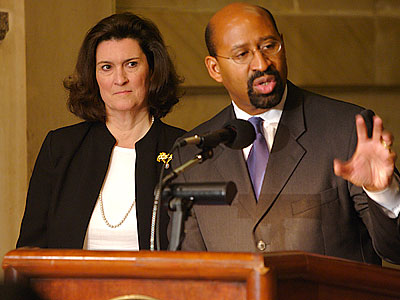 Philadelphia Managing Director Camille Cates Barnett will resign today, according to sources familiar with her decision.
Barnett, who is Mayor Nutter's second in command, will remain in her post for several months before departing, the sources said.
A nationally known professional city manager, Barnett had worked in cities from Dallas, to Austin to Washington D.C. before she joined the Nutter administration
Patrick Kerkstra
REPOST from today's print edition:
The fourth and final phase of the 17-years-and-counting exterior renovation of City Hall has begun.
The exterior perimeter walls of the 1.2 million-square-foot goliath have been scrubbed clean and renovated. All that remains is the courtyard, a $12 million job slated to last two years.
Patrick Kerkstra
REPOSTED from today's print edition:
Last week, members of the embattled Board of Revision of Taxes sued the city in a bid to stop Mayor Nutter and City Council from disbanding the agency and its judicially appointed board.
Critics of the board, which oversees a wildly inaccurate and dysfunctional property-assessment system, characterized the suit as a gambit to preserve the members' $70,000-a-year jobs.
Patrick Kerkstra
The U.S. Department of Defense handed over $3.4 million to the City of Philadelphia today, the product of a city Inspector General investigation which found evidence of uncashed 2005 wage tax checks from the D.O.D. to the city.
Inspector General Amy Kurland came across the missing funds as part of an ongoing corruption investigation into a former city employee. Kurland had little to say about that ongoing probe, but she said the city notified the D.O.D. of what it found, and D.O.D. records confirmed that the 2005 checks had never been cashed.
Kurland said the city is reconciling all wage tax accounts involving federal agencies as part of its investigation, and she predicted that more uncashed funds would be found.
Patrick Kerkstra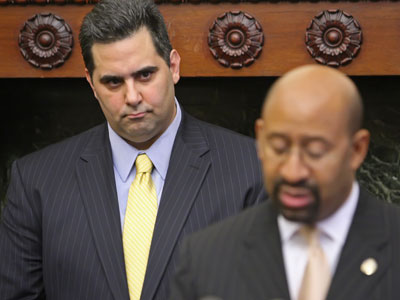 Five members of the city's embattled Board of Revision of Taxes asked the Supreme Court of Pennsylvania yesterday to call off a public vote in May that could lead to the board's abolition.
The suit claims that the City of Philadelphia lacks the authority to strip the seven-member board of its power to hear appeals of property assessments, since that authority was granted to the board by the state legislature.
If the court grants the BRT's request, the board members might be able to keep their jobs - which pay $70,000 a year for part time work - in spite of Inquirer reports last year that documented widespread mismanagement at the agency.
Patrick Kerkstra
It looks like Vivian Miller, the clerk of quarter sessions, is resigning today.
Click here for Philly.com's politics page.
Patrick Kerkstra
Mayor Nutter deserves credit for inviting the media to accompany him as he ventured into the Mayfair Diner the morning the very day after he proposed two big new tax increases. That was brave. But in this case it may well have backfired. With Fox 29 cameras rolling, Nutter was unlucky enough to encounter the wife of a soda factory worker, and she had no problem telling him that his proposed two-ounce tax on sugary drinks put her husband's job at risk.
Take a look.
Moments later, Nutter was interviewed live by the Fox anchors.