Archive: March, 2010
Patrick Kerkstra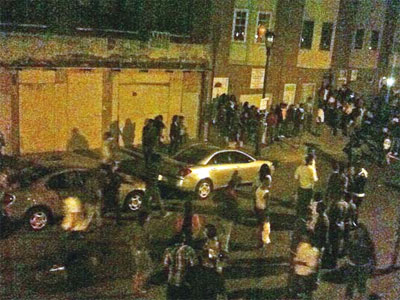 Mayor Nutter urged parents and guardians to help the city as it works to control a recent series of "flash mobs," the sudden gathering of hundreds of teens at sites throughout the city. While the vast majority of participants have been non-violent, there have been some reported assaults, and authorities are worried that the episodes could erupt into broader violence.
"People are still allowed to get together in variety of places throughout the city, that's one of the wonderful freedoms that we enjoy as Americans. But there are limits in terms of appropriate behaviors and activities," Mayor Nutter said.
Nutter said the city would soon be announcing a series of steps designed to deal with the flash mobs. He would not say exactly when those measures would be announced.
Patrick Kerkstra
Friday was a big day for the 54 patronage employees of the Board of Revision of Taxes who are trying to hang on to their jobs as the Nutter administration overhauls the agency.
Mayor Nutter, who took over day-to-day control of the agency last year through a temporary agreement with its board, is converting the patronage positions to standard civil service jobs. In order to survive the transition, the workers had to pass civil service exams consisting of 70 or 92 questions, depending on the position.
Not all the employees applied to take the test. More than 20 opted out, meaning they will soon be out of work. For some, the prospect of giving up political activity - which is forbidden for city employees - was unacceptable. For decades, they'd gotten around that rule by staying on the payroll of the School District of Philadelphia, where the same rules do not apply.
Patrick Kerkstra
See the press release below:
---
Philadelphia, March 22, 2010 – Mayor Michael A. Nutter today announced changes to the City's re-entry program for ex-offenders which include changes in the program's name, mission and location. In January, Mayor Nutter signed an executive order creating the Mayor's Taskforce on Re-Integration. This name change from the Mayor's Office of Re-Entry (MORE) to Mayor's Office of Reintegration Services for Ex-Offenders (RISE) signified a change in the Office's philosophy from providing direct services to a managed re-integration model where RISE hires qualified service providers and engages in monitoring performance-based contracts. The program also physically moved offices. RISE is now located in Center City, which is much more accessible from all parts of the city.
"When an inmate leaves the Philadelphia prison system, we want to make it easier for them to successfully resume their lives. Our goal as a city is to increase the number of jobs not jails," said Mayor Nutter. "The changes to the re-entry program not only make RISE more accessible to all Philadelphians but also smarter in its provision of resources."
Jennifer Lin
Las Vegas gaming chief Steve Wynn will get a special tutorial on Philadelphia's civic vision for the central Delaware River waterfront from someone who cares deeply about the issue: Mayor Nutter.
Wynn called the mayor Wednesday to introduce himself.
"The mayor welcomed the opportunity to meet with Mr. Wynn and to learn more about his plans," Nutter spokesman Doug Oliver said Thursday.
Jeff Shields

City Councilman Darrell Clarke on Monday floated a proposal to cut back the proliferation of unsightly satellite antennas on building facades. Clarke thinks he can regulate the placement of dishes without running afoul of the FCC, though he's sure to get opposition from satellite companies and landlords. Clarke's draft bill would forbid property owners from placing satellites on the building's street-front side if possible. It also would require the removal of satellites not in use (some companies leave satellites they have installed, even is the service is cancelled). The earliest he could introduce it is Thursday.
Here's Clarke's draft bill, which has not yet been introduced:
AN ORDINANCE
Miriam Hill
Two city unions have endorsed increased taxes as a way to fill the city's $150 million budget deficit. Fraternal Order of Police President John McNesby sent a letter to City Council "respectfully but urgently asking you to do whatever is necessary up to and including the imposition of new revenue sources in order to maintain the level of service and protection provided by Philadelphia's Police."
District Council 33, which represents blue-collar workers, also sent a letter to Council recognizing that "the city needs new revenue sources to continue to deliver the vital city services that our members provide which most of the citizens of the city have made clear they support."
District Council 33, however, also urged council to consider options that would be "more fair and progressive," than Mayor Nutter's proposed trash-collection fee and tax on sugared beverages. The union said it instead would favor an increased property tax because they can be deducted from federal taxes.
Jeff Shields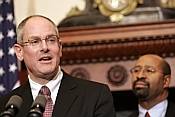 Dr. Donald F. Schwarz, a respected pediatrician, left a lucrative, high-ranking position at Children's Hospital of Philadelphia in 2008 to join Mayor Nutter's cabinet as the deputy mayor for health and opportunity.
In a 2008 profile (see below), the soft-spoken but highly-effective Schwarz was widely praised, with one admirer suggesting his driving motivation might be "sainthood."

Today Schwarz proved that even saints get booed in Philadelphia. Teamsters packing Council Chambers jeered as Schwarz testified in favor of Nutter's proposed 2-cents-per-ounce tax on all sweet drinks, and when Schwarz insisted that a person giving up just one 20-ounce soda a week would lose 7 pounds in a year, the boos rained down. The Teamsters say the tax threatens their jobs delivering soda.
Although we previously predicted that this was Schwarz's first public booing, he said after the hearing that he gets booed all the time in this job (though never before it). He's in charge of libaries, DHS, he's been to Bustleton to face 1,200 angry residents opposing a methadone clinic. He may be, in fact, a boo-magnet.
Jeff Shields
The sweet-drinks tax being debated in City Council Wednesday morning has caught the attention of Pittsburgh Mayor Luke Ravenstahl, who is now talking about a similar tax to solve his city's own considerable budget problems, as reported in today's Pittsburgh Post-Gazette.
A number of states are considering lesser versions of Philly's proposed, steep 2-cent-per-ounce tax on sugary drinks from Gatorade to Coke to chocolate milk. A 1-cent-per-ounce tax in New York state appears dead, while Colorado will lift the exemption for soda on the the state 2.9 percent sales tax on May 1. California is considering a tax linked to teaspoons of sugar, a tax expected to add 10 or 11 percent to the cost of soft drinks.
Nowhere else has a tax-per-ounce on soft drinks passed. An almost identical 2-cent-per-ounce proposal in Mississippi has been pronounced dead. The Yale Rudd Center for Food Policy and Obesity tracks proposals across the country on its website.