Claudia Vargas @InqCVargas
Real estate tax collection has declined in Philadelphia for the second year in a row, starving the school district of at least $12 million.
As of March 31, the end of the third quarter, the city had collected $1.09 billion in property taxes. That's a decline of $21 million from 2013 year-to-date collection of $1.11 billion, City Controller Alan Butkovitz said Monday.
The controller said that he didn't know why there would be a further drop in tax collection again this year.
Julia Terruso
The Philadelphia Bar Association released its second and final round of recommendations, Tuesday for city judicial elections, though some candidates have since withdrawn from the race.
This year Philadelphia has a record high number of bench vacancies – 12 open spots on the Court of Common Pleas and three on the municipal court. The opportunity drew more than 90 candidates to file paperwork to run for the two benches in March.
With minimal requirements: You must be 21, a Philadelphia resident and a licensed attorney; a $176,572 paycheck and a random process for picking the order names appear on the ballot, it's an enticing gig to go for.
Julia Terruso
The Greater Philadelphia Chamber of Commerce announced its list of endorsed candidates for City Council this morning, backing all but two incumbents in the contested races.
For the Second District, the Chamber picked incumbent Kenyatta Johnson over Ori Feibush and in the Seventh, they selected Councilwoman Maria Quinones Sanchez, also the incumbent, over Manny Morales.
For the at-large contests, the chamber backed incumbents Ed Neilson and Blondell Reynolds Brown and endorsed challengers, developer, Allan Domb; former Reading Terminal Market chief, Paul Steinke and former city council aide, Derek Green.
Claudia Vargas @InqCVargas
Philadelphia's severely underfunded pension fund mailed out $31 million in retiree bonuses on Friday.
Next year, the pension board will mail out another set of checks worth about the same, for a total of $62 million in pension bonuses, city officials said Friday.
The bonuses are part of a deal that mayoral candidate James Kenney struck as a city councilman and one for which he has been criticized.
Claudia Vargas @InqCVargas
The Nutter administration is seeking proposals to design and operate an online auction of 1,000 tax liens.
The firm who wins the contract will be designing a pilot program to help the Nutter administration decide how to best manage tax lien sales.
"This is a pilot and we're testing various concepts," McDonald said. "We understand there may be significant levels of investor interest."
Julia Terruso
A former assistant district attorney and candidate for judge has agreed to pay a $300 ethics fine for jumping the gun on fundraising for her campaign while still a city employee.
Deborah Watson-Stokes, an employee in the District Attorney's office from 1990 to February 2015, agreed to the terms in an agreement released by the Ethics Board, Thursday.
The city rules regarding political fundraising are extremely strict. They prohibit most city employees from fundraising and any political activity while on the payroll.
Julia Terruso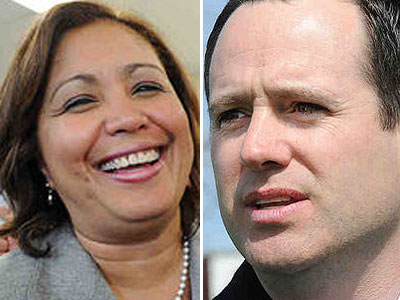 Councilwoman Maria Quinones-Sanchez picked up a plum endorsement, Wednesday when a former challenger and current Democratic ward leader backed her reelection campaign.
Danny Savage, a former councilman who Sanchez unseated in 2007 and defeated again in 2011, threw his support behind Sanchez, saying she's the best person to lead the Seventh District.
"We might not have always agreed in the past on how to get things done but we both have the same goal to help the people and the communities of the 7th Councilmanic District," Savage said. "She's been a key individual on City Council with legislation to help people move forward and she also doesn't forget about quality of life issues."
Claudia Vargas @InqCVargas
City Controller Alan Butkovitz announced a plan Wednesday to revitalize manufacturing in Philadelphia.
If the top five Eds and Meds anchor institutions were to increase their purchase of local goods by 25 percent, it could result in 1,250 new manufacturing jobs, Butkovitz said. He announced his proposal at the Global Dye Works building in the Northeast, which serves as an incubator for various small manufacturers.
The controller's analysis found that Eds and Meds currently spend about $860 million a year in manufacturing goods. But only $136 million, or 16 percent of total purchases, is spent on locally made products.