Claudia Vargas @InqCVargas
The Montgomery County man who has been feeding Philadelphia's homeless for a quarter-century against all odds, including facing eviction from his home, is continuing to attract fans and funds.
After we told you the story of Cranford Coulter, who founded and runs the King's Jubilee ministry out of the Souderton home he was about to lose, donations poured in from around the world. With $45,000 in donations, Coulter was able to pay off the debt and interests that put his home on the February sheriff's sale and continue to make timely mortgage payments. He also helped two families going through tough times.
On Monday, Coulter said he had just exhausted the influx of money he received this winter. But help keeps coming in and he keeps churning out those weekly meals.
Claudia Vargas and Troy Graham
AFSCME District Council 33 President Pete Matthews asked City Council Thursday not to pass a budget until Mayor Nutter comes to an agreement with the city's blue collar workers, who have not had a new contract for five years.
"We can do this deal," Matthews said, during Council's caucus gathering before the regular Thursday meeting. "We don't want to go to the next mayor."
Matthews said he was willing to negotiate on the pension plan, but not furloughs and overtime. He called furloughs "totally unnecessary," because of the city's improved finances. He also doesn't want to restrict overtime for his members and said that the administration has the authority to sign or not sign overtime slips.
Claudia Vargas @InqCVargas
More than a year after Mayor Nutter vetoed a bill that would require businesses to pay workers when they are sick, he is creating a task force to reexamine the issue.
Nutter will be announcing the task force and its members at a news conference this afternoon.
Co-chairs of the task force, Natalie Levkovich, executive director of the Health Federation of Philadelphia, and Lisa Crutchfield, Philadelphia Chamber of Commerce vice president, said they were recently asked by the mayor to lead the team.
Claudia Vargas @InqCVargas
A group of about three dozen minimum wage activists holding up yellow "Enforce Now" flyers stood outside mayor Nutter's Office Tuesday morning asking for immediate enforcement of a minimum wage extension.
"The mayor has the power," the group chanted as they waited for someone in the mayor's office to come out.
Before amassing on the east wing of the second floor, the group attended City Council's Committee on Commerce and Economic Development hearing. There, the committee approved to move the bill that would require all city subcontractors, not just contractors as currently mandated, to pay their workers 150 percent of the federal minimum wage, or $10.88 an hour.
Claudia Vargas @InqCVargas
The Philadelphia Board of Ethics has fined City Commissioner Stephanie Singer $500 for having a commissioner's office employee do work that Singer benefited from personally and politically.
The board announced a settlement with Singer Thursday.
The case stemmed from an August 2013 complaint. According to the settlement, Singer asked a City Commissioners employee to pull variety of elections result data and organize it into an spreadsheet. Singer then posted the data on Campaign Scientific LLC, which she created, and Philadems.org, which has a link to donate to Singer's campaign.
Troy Graham @troyjgraham
Democratic gubernatorial nominee Tom Wolf met privately with members of Philadelphia City Council Thursday before their regular meeting, thanks to the invitation of Majority Leader Curtis Jones Jr.
Wolf also spoke in the pre-meeting caucus, telling a room full of elected officials, staff, lobbyists and reporters that he was "a fan of this great city."
"I want to assure you that someone from York County … has a great appreciation for Philadelphia," he said. "I understand that what happens in Philadelphia is important to Pennsylvania."
Claudia Vargas @InqCVargas
A 29-year veteran of the Philadelphia Fire Department was chosen to succeed Fire Commissioner Lloyd Ayers when the department's chief retires next week.
Derrick Sawyer, currently fire deputy commissioner for operations, will take the lead in the department June 14, Mayor Nutter announced Wednesday.
Sawyer, 54, is a Philadelphia native who joined the department in 1985 and has served in a number of positions.
Claudia Vargas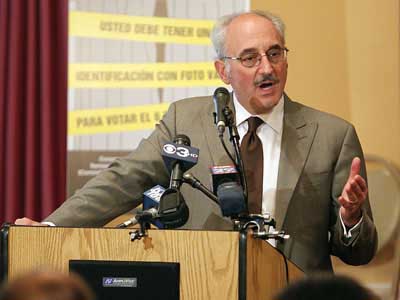 Zack Stalberg, president and CEO of government watchdog group Committee of Seventy, has announced he is retiring next month.
This is the second retirement for the former Philadelphia Daily News editor. Stalberg, 67, left the newspaper business in 2005 to take the helm of Committee of Seventy. He and his wife, Deb, will be heading to New Mexico for retirement.
A successor has not been chosen yet, the organization said in a statement.