Claudia Vargas @InqCVargas
Philadelphia's severely underfunded pension fund mailed out $31 million in retiree bonuses on Friday.
Next year, the pension board will mail out another set of checks worth about the same, for a total of $62 million in pension bonuses, city officials said Friday.
The bonuses are part of a deal that mayoral candidate James Kenney struck as a city councilman and one for which he has been criticized.
Claudia Vargas @InqCVargas
The Nutter administration is seeking proposals to design and operate an online auction of 1,000 tax liens.
The firm who wins the contract will be designing a pilot program to help the Nutter administration decide how to best manage tax lien sales.
"This is a pilot and we're testing various concepts," McDonald said. "We understand there may be significant levels of investor interest."
Julia Terruso
A former assistant district attorney and candidate for judge has agreed to pay a $300 ethics fine for jumping the gun on fundraising for her campaign while still a city employee.
Deborah Watson-Stokes, an employee in the District Attorney's office from 1990 to February 2015, agreed to the terms in an agreement released by the Ethics Board, Thursday.
The city rules regarding political fundraising are extremely strict. They prohibit most city employees from fundraising and any political activity while on the payroll.
Julia Terruso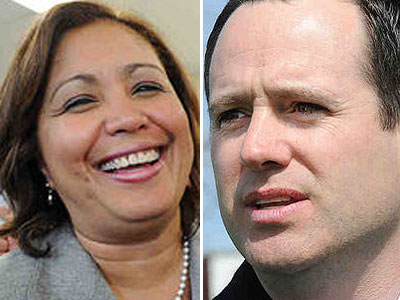 Councilwoman Maria Quinones-Sanchez picked up a plum endorsement, Wednesday when a former challenger and current Democratic ward leader backed her reelection campaign.
Danny Savage, a former councilman who Sanchez unseated in 2007 and defeated again in 2011, threw his support behind Sanchez, saying she's the best person to lead the Seventh District.
"We might not have always agreed in the past on how to get things done but we both have the same goal to help the people and the communities of the 7th Councilmanic District," Savage said. "She's been a key individual on City Council with legislation to help people move forward and she also doesn't forget about quality of life issues."
Claudia Vargas @InqCVargas
City Controller Alan Butkovitz announced a plan Wednesday to revitalize manufacturing in Philadelphia.
If the top five Eds and Meds anchor institutions were to increase their purchase of local goods by 25 percent, it could result in 1,250 new manufacturing jobs, Butkovitz said. He announced his proposal at the Global Dye Works building in the Northeast, which serves as an incubator for various small manufacturers.
The controller's analysis found that Eds and Meds currently spend about $860 million a year in manufacturing goods. But only $136 million, or 16 percent of total purchases, is spent on locally made products.
Julia Terruso
Close to 50 mayoral forums have been held this election season. Tuesday night, candidates for City Commissioner gathered for their first – and likely only public Q&A, attended by about 60 people.
A quick civics lesson – the city's three commissioners – whose salaries range from $107,000 to $134,000 a year, oversee the city's elections and voter registration. They serve four-year terms.
This year, six Democratic candidates are running for two majority party seats. Incumbent Republican Commissioner Al Schmidt is running unopposed for the minority seat.
Chris Hepp
State Sen. Anthony H. Williams was endorsed Tuesday by the Guardian Civic League, a local chapter of The National Black Police Association.
Former Police Commissioner Sylvester Johnson was among those who spoke in Williams' favor, saying that he was taken with Williams' advocacy of community police as a tool in reducing crime and ending tensions between police and the black community.
"Community policing is not a program. It is a mindset from the top down," Johnson said,
Julia Terruso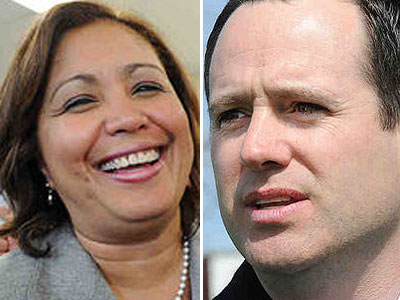 If you researched the root cause of the ongoing battle between Councilwoman Maria Quinones Sanchez and Democratic ward leaders in her district, you'd likely find former Councilman Dan Savage. He was the party-backed councilman she unseated in 2007 and the challenger who lost to her again in 2011.
The fury that resulted has put Latino ward leaders on a mission to reclaim Quinones-Sanchez' seat ever since.
Now for the irony.