Troy Graham @troyjgraham
Democratic gubernatorial nominee Tom Wolf met privately with members of Philadelphia City Council Thursday before their regular meeting, thanks to the invitation of Majority Leader Curtis Jones Jr.
Wolf also spoke in the pre-meeting caucus, telling a room full of elected officials, staff, lobbyists and reporters that he was "a fan of this great city."
"I want to assure you that someone from York County … has a great appreciation for Philadelphia," he said. "I understand that what happens in Philadelphia is important to Pennsylvania."
Claudia Vargas @InqCVargas
A 29-year veteran of the Philadelphia Fire Department was chosen to succeed Fire Commissioner Lloyd Ayers when the department's chief retires next week.
Derrick Sawyer, currently fire deputy commissioner for operations, will take the lead in the department June 14, Mayor Nutter announced Wednesday.
Sawyer, 54, is a Philadelphia native who joined the department in 1985 and has served in a number of positions.
Claudia Vargas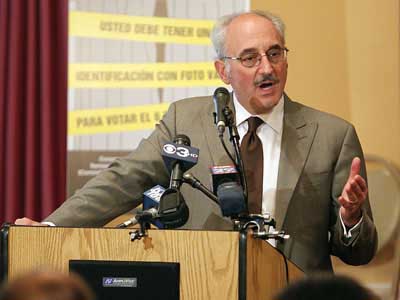 Zack Stalberg, president and CEO of government watchdog group Committee of Seventy, has announced he is retiring next month.
This is the second retirement for the former Philadelphia Daily News editor. Stalberg, 67, left the newspaper business in 2005 to take the helm of Committee of Seventy. He and his wife, Deb, will be heading to New Mexico for retirement.
A successor has not been chosen yet, the organization said in a statement.
Claudia Vargas @InqCVargas
State Sen. Anthony Williams held a meeting Friday afternoon with various city, labor and business leaders to sell them on the idea of why he would be a good mayoral candidate in 2015.
Williams hired Washington D.C.-based 270 Strategies — made up largely of people who worked on both Obama campaigns — to run his senate reelection campaign but also to prepare for a likely 2015 run.
"Today was the first gathering of significant folks who have surrounded me in the last few years to say we would be interested in you running for mayor and reveal to them what I've been working on the last few years," Williams said after the meeting and presentation.
Troy Graham @troyjgraham
The president of the largest local in AFSCME District Council 33 last week sent a letter to Controller Alan Butkovitz, urging him to run for mayor.
Butkovitz, who began his third term as controller this year, has said he would consider running, but he cannot declare his candidacy without first resigning from office.
Lorenzo North, president of Local 159, which represents correctional officers and other city employees, said he felt compelled to send the letter because Butkovitz has been "100 percent behind correctional officers."
Claudia Vargas @InqCVargas
A group of school activists went to City Hall today with 40,000 signatures on a petition calling for city and state support in abolishing the School Reform Commission.
The lead petitioners, who include members of the Pennsylvania Working Families, teachers and parents, want the city to get control back of its schools. The way to do that, they believe, is by asking for a City Charter amendment that would ask the Pennsylvania General Assembly and the Governor to get rid of the SRC.
The group submitted to the City Clerk more than 40,000 petition signatures calling for a citywide referendum on the November ballot asking:
Claudia Vargas @InqCVargas
A small group of Philadelphia residents went around City Hall today distributing copies of signed petitions asking City Council to keep Philadelphia Gas Works public.
"I'm trying to make sure I don't get pushed out of my house between real estate taxes and Philadelphia Gas Works," Madeline Shikomba, of South Philadelphia, said. She had a sign hanging from her neck that read: "Yo Nutter: Citizens & Safety, Not Sale!.... Don't sell PGW."
Shikomba and about eight other residents, mostly seniors, walked to the various council offices to request council members vote against the sale. They said the have 4,000 signatures on their petition.
After being accused last week of jeopardizing the extension of the city's extra 1 percent sales tax and threatening a needed source of funding for Philadelphia's schools, City Council introduced a bill Thursday that should somewhat alleviate those concerns.
The bill introduced last week would extend the sales tax only if state legislators first gave a handful of permissions – a strategy Mayor Nutter called "risky and dangerous."
The bill introduced Thursday on behalf of Council President Darrell L. Clarke would extend the sales tax even if the state does nothing.