Archive: September, 2010
Miriam Hill
Philadelphia's former Managing Director, Camille Cates Barnett, has a new job at the University of Pennsylvania. She will be a scholar at the Penn Institute for Urban Research, also known as Penn IUR.
She will research "best practices and innovations in urban governance,:" according to a University news release. She also will write articles and lecture on those topics to undergraduates.
Her position was funded with a grant from the William Penn Foundation. - Miriam Hill
Miriam Hill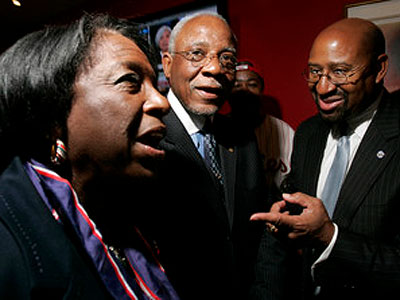 City Council took the first step toward killing Philadelphia's DROP retirement program by introducing a bill on Mayor Nutter's behalf to end the perk. The legislation may go nowhere because Council members have not reached any concensus about whether to eliminate the Deferred Retirement Option Program, which lets city employees retire with a large lump sum payment and their pensions at a lower amount.
Majority Leader Marian B. Tasco introduced the bill.
The effort to eliminate DROP also is expected to run into legal challenges from the city's unions, who say laws protecting pensions apply to this benefit.
Miriam Hill
There were so many irregularities in this summer's election of Vito Canuso as chairman of the Republican City Committee that the party must hold a new election, a GOP state committee has decided.
It's not clear yet what the decision means for Canuso, who was not immediately available for comment. Ward leaders elect the party chair, and there were disagreements about which ward leaders had been elected legitimately. Canuso said he won the vote, but backers of Al Schmidt, a former city controller candidate who now works for state Republicans, said he had won. Kevin Kelly, who is trying to reform the City Committe and oust Canuso, brought the issue to the credentials committee of the Pennsylvania Republican party.
On Thursday, the credentials committee told the parties they would have to hold a new election.
Marcia Gelbart
It's Monday morning. Do you know where your mayor is?
The answer, according to Mayor Nutter's schedule, is this: Mayor Nutter this morning is at the Philadelphia Marriott Hotel, delivering remarks at the annual conference of the National Association of Government Defined Contribution Administrators, Inc.
There truly is an organization for everything.
DELETE THIS TEXT AND PUT YOUR NAME HERE
Philadelphia's Managing Director Rich Negrin on Monday appointed Brian Abernathy as his new Chief of Staff. Abernathy replaces Steve Kennebeck who is leaving for a job with the federal government.
Bridget Collins-Greenwald, who is currently Deputy Commissioner of Operations for the Department of Licenses and Inspections, will assume the position of Deputy Managing Director made vacant by Abernathy's appointment.
Click here for Philly.com's politics page.
Marcia Gelbart
Will Philadelphia residents soon receive news from their government on their cell phones? Will the city's public access cable station on Ch. 64 become less "boring" (as a Daily News reporter described it in a story today)?
These and other questions arise from Mayor Nutter's hiring of a new communications director. The mayor officially announced more than a week ago that Desiree Peterkin Bell, who has served in that position for Newark Mayor Cory Booker, would be joining his staff.
She begins her Philadelphia job Sept. 20, but Nutter formally introduced her today at a City Hall news conference. Her job won't be to interact with reporters day-to-day - the mayor will soon be hiring a new press secretary to do that - but she will oversee that position and and Nutter's overall communication efforts.