Archive: September, 2009
Marcia Gelbart
Remember Mayor Nutter, the so-called reform candidate? Well, he is getting ready to push government reform issues - which were sidetracked during the months-long budget fight with Harrisburg - again to the forefront of his agenda.
The administration is nearing completion on a set of initiatives meant to rattle - to some extent - certain government functions as we know them.
Beginning tomorrow, these in-the-works initiatives will undergo scrutiny during a two-day "Reform Team Summit" organized in large part by Managing Director Camille Barnett and also Mary Horstmann, director of the Mayor's Office of Private Sector Initiatives.
Jennifer Lin
Three years in the making, the SugarHouse Casino plans to break ground on its slots parlor Oct. 8 at 3 p.m.
Leigh Whitaker, a casino spokesperson, said the ceremony will be attended by the lead investor in the project, Chicago developer Neil Bluhm; Mayor Michael Nutter; City Councilmen Frank DiCicco and Darrell Clarke; and the chairman of the Pennsylvania Gaming Control Board, Gregory Fajt.
"It's not open to the public," she said.
Jeff Shields
The Committee of 70 today called for School District to end the practice of funding employees at the Board of Revision of Taxes. The decades-old tradition allows for Democratic and Republican committee members of ward leaders to hold a city job while continuing their political work. Such political activity is banned for regular city employees.
Click here for Philly.com's politics page.
Removing BRT Employees From the School District's Payroll
Inquirer Online Desk
With three other parades struggling to march in the next few weeks, including the Steuben Day Parade on Saturday, the Puerto Rican Day Parade on Sunday, and the Pulaski Day Parade on Oct. 4, an umbrella organization representing six ethnic parades wrote Mayor Nutter yesterday to ask him to change the policy he instituted last fall, when the city's budget crisis became apparent.
Click here for Philly.com's politics page.
Jeff Shields
City Councilman Bill Greenlee got some grumbles from the business community when he first introduced his Domestic Violence Leave bill, which requires employers to allow four to eight weeks of unpaid leave for domestic violence victims who can document their situation. Business leaders said the bill could prove to be a hardship, particularly on small businesses.
The law contained a one-year sunset provision to measure its impact. A year later, no evidence at all of hardships on businesses due the law has shown up, Greenlee said. So on Thursday he will introduce legislation to make the law permanent. Council members Darrell L. Clarke, Bill Green and Jim Kenney are co-sponsors.
The law is meant to allow victims of domestic abuse to attend to "court proceedings, consultations with the police or a lawyer and/or medical emergency shelter assistance," Greenlee's office said in a press release today.
Marcia Gelbart
Mayor Nutter is on his way to Harrisburg - again - this morning to push for passage of House Bill 1828.
The legislation is awaiting action by the Senate, whose leaders have not yet indicated whether they will support the measure, or when a vote would occur. Senate Republicans are scheduled to meet and discuss the bill - which would close a $700 million gap in Philadelphia's five-year budget - at 2:30 p.m. this afternoon.
Meanwhile, the city inches closer to its promise to send out 3,000 notices tomorrow to employees who would lose their jobs as of Oct. 2. That cost-cutting action would be part of the Plan C "doomsday" budget Nutter says he will have to implement if the legislature fails to act.
Patrick Kerkstra
The mayor's press office has just issued this release.
---
MAYOR NUTTER TO PHILADELPHIANS: PLAN C STOPS NOW
Harrisburg, September 17 – Mayor Michael A. Nutter has instructed the command staff of the city government to halt the implementation of Plan C following the Pennsylvania Senate's approval of House Bill 1828. This afternoon the Pennsylvania Senate voted 32-17 to concur with House Bill 1828, sending the legislation to Governor Rendell for his signature.
Patrick Kerkstra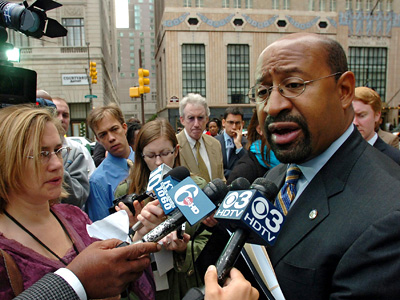 After months of agonizing delays, state lawmakers granted final approval today to a temporary Philadelphia sales tax hike and a two-year reprieve on city pension payments, a pair of critically needed measures that plug the final $700 million hole in a multi-year deficit that once stood at $2.4 billion
The legislation, which was just approved by an 32 to 17 vote in the state Senate, will, at least for now, bring Philadelphia's budget and five-year plan fully into balance, ending a political and fiscal drama that has consumed City Hall for over a year.
The bill — which Gov. Rendell is expected to sign shortly — eliminates the need for Mayor Nutter's fallback budget, better known as Plan C.