Archive: August, 2010
Jeff Shields
PHA Board chairman John F. Street on Tuesday said the board's five members will meet next week to discuss the federal probe into the agency in the wake of the scandal involving executive director Carl Greene.
The meeting, called "to discuss current agency activities and the board's investigation," is scheduled for 3 p.m. Sept. 9 at the Board's offices, 12 S. 23rd Street.
The Board suspended Greene on Thursday, with pay, while it conducts an investigation over the next month into four separate sexual harassment cases against Greene. Three were settled for $648,000 and a fourth is proposed for $250,000. The FBI and U.S. Department of Housing and Urban Development Inspector General have also opened a criminal investigation.
Miriam Hill
Mayor Michael Nutter on Monday threw his support behind an Oct. 2 rally in Washington, D.C., where marchers will demand legislation to create jobs and expand resources for public education.
Nutter will not be able to attend the rally because of a scheduling conflict but says he hopes it will help solve the problem of unemployment and related ills that he and other Philadelphians see daily.
"We seem to have the resources to help everyone else around the world, and that's a part of our humanity. I get that," the Mayor said at a news conference. "But as they say, charity begins at home." - Miriam Hill
Miriam Hill
Vito Canuso and Republicans challenging his election as chair of their party's city committee will air their differences Sept. 9 at a Philadelphia hearing before the state party's credentials committee. A group led by former city controller candidate Al Schmidt is arguing that Canuso's election in June was invalid because of irregularities in decisions about which ward leaders were allowed to vote. Schmidt's camp says he would have won if City Committee had counted votes of all their ward leaders, while Canuso has said the election followed party bylaws. - Miriam Hill
Click here for Philly.com's politics page.
Miriam Hill
Desiree Peterkin Bell will be Philadelphia's new Director of Communications and Strategic Partnerships, Mayor Nutter said Thursday.
Bell, who had served in the same position for Newark Mayor Corey A. Booker, will be responsible for the long-term planning and oversight of Nutter's communications strategy and will work closely with the mayor and top administration officials as a senior advisor. - Miriam Hill

Click here for Philly.com's politics page.
DELETE THIS TEXT AND PUT YOUR NAME HERE
Philadelphia City Council has hired Bolton Partners, an actuarial firm based in Boston, to evaluate a study from Boston College that earlier this month said the city's DROP pension program had cost $258 million over the last 10 years.
Council President sent a letter to members informing them of the decision on Aug. 17. Mayor Nutter cited the Boston College report when he asked Council to kill the DROP, which stands for Deferred Retirement Option Program. DROP lets employees leave city employment with a large lump-sum pension payment.
Miriam Hill
Jeff Shields and John Shiffman

HUD's deputy secretary on Thursday dispatched a team of auditors to the Philadelphia Housing Authority "to conduct an audit of PHA's financial and management operations," ordering the agency to "freeze" any action against personnel including embattled executive director Carl Greene.
Deputy Secretary Ron Sims wrote today that "We are very concerned about the appropriate use of taxpayer dollars and so will be paying close attention to the team's findings," reads the letter, dated Thursday and send to PHA Board Chairman John F. Street, the former mayor. Mayor Nutter, City Controller Alan Butkovitz, and the PHA Board were copied on the letter.
Sims said he has asked the team to report back to him within 60 days with preliminary findings. "If recommended by the team, we are prepared to require a forensic audit of PHA's financial and management operations," Sims wrote.
Jeff Shields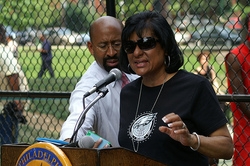 In the ongoing saga of the Philadelphia Housing Authority and executive director Carl Greene, Mayor Nutter has appeared to be hamstrung by having two appointees on the board that he didn't appoint -- former Mayor John F. Street and City Councilwoman Jannie Blackwell.
Street is Nutter's arch-rival and Blackwell is Council's top maverick.
Street ensured his appointment on the board, apparently through 2012, by reappointing himself to another five-year term in the summer of 2007, his final year in office. His original term expired in September 2006, according to a 2008 version of the PHA's website, which is not longer available. If that information is correct -- a PHA spokesman did not return calls on Wednesday -- then Street allowed his appointment to remain open before reappointing himself.
Amy Worden and Jeff Shields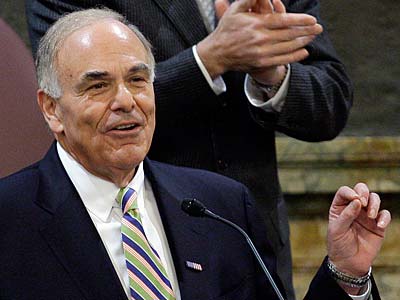 At long last, Gov. Rendell, whose mayoral administration gave birth to the city's Deferred Retirement Option Plan (DROP) in 1999, has contributed his two cents on the future of the program, which Mayor Nutter wants to eliminate because is allegedly costs the municipal pension fund $22.3 million a year.
At an unrelated appearance in Harrisburg Thursday, a reporter asked Rendell whether DROP was a mistake.
"We had no idea it would be implemented the way it was implemented. We had no idea elected officials would take advantage of it," Rendell said. "What sold us on it was that it was a way to reduce overall workforce at cost that was projected to be a bearable cost. If I knew then what I know now, obviously we wouldn't have done it."