Archive: August, 2008
Jeff Shields
City Hall was giddy last week that Peco donated 1,300 new energy saving compact fluorescent light bulbs. But as the U.S. Environmental Protection Agency and everyone else on the planet asks people to start using CFLs, they contain mercury that will get into the environment unless properly recycled.
Mark Alan Hughes, the city's director of sustainability, says anyone can recycle unbroken bulbs at local retailers including Home Depot and Ikea. The city also accepts bulbs at its household hazardous waste disposal events, the next one being September 13th at the Streets Department yard at 22nd Street and York Street. The city took in only 246 pounds of fluorescent tubes and CFLs last year, Hughes said, "But we can accept more."
Bottom line, don't break your bulbs. According to the EPA, all fluorescent bulbs contain a small amount of mercury that is released if they are broken. If you break one in your home, the EPA gives involved instructions on how to safely clean it up. Despite their mercury content, the EPA says, use of the bulbs — even if thrown into the trash — will result in less mercury in the environment, because mercury is produced in generating electricity at facilities such as coal-fired generating plants.

Jeff Shields
When Gov. Rendell gathered Mayor Nutter and a trio of state legislators Aug. 21 to encourage Foxwoods Casino to seek other sites for its planned $670 million slots parlor, he purposely kept the meeting away from his local office in The Bellevue.
Instead he found a welcome mat out at his former law firm, Ballard Spahr Andrews and Ingersoll.
But why hold such a high-profile, controversial confab at an ultra-connected firm that not only employed the governor himself as a $252,000-a-year partner, but also represented Donald Trump and company in its failed bid for a local casino license?
"There was concern that there would be a large number of people doing business in the Bellevue," Rendell spokesman Chuck Ardo said, "and this was an attempt to minimize the disruption."
Ballard Spahr was not involved, Ardo said. Adrian King, Rendell's former deputy chief of staff who now works at Ballard Spahr and represented the Trump project, said he didn't even know about the meeting until he ran into reporters outside.
Committee of Seventy President Zack Stalberg said Rendell has been using Ballard Spahr as neutral turf for years. Still, "It seemed like an odd place to have it," Stalberg said. "There's got to be a lot of other neutral territory around town other than a highly influential, connected law firm. They can always come to my office."
State Rep. Michael O'Brien, (D., Phila.), who will be part of a second summit with SugarHouse Casino, said grousing about the location of the meeting was "looking for bogeymen under the bed."
"The important thing is that the meeting occurred," O'Brien said.

Jeff Shields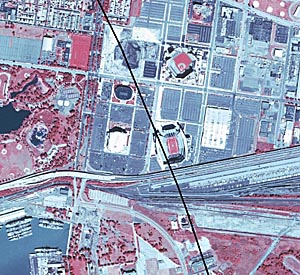 On Saturday we published a quick analysis of possibles alternative sites to be considered by Foxwoods Casino, which has supposedly agreed to look at moving its planned $670 million casino from the piece of land it owns on
Columbus Boulevard in Pennsport. While we outlined the likely candidates, there are other factors for each that space didn't permit. We lay them out in more detail here, in order of intrigue:
1) The Spectrum: There does seem to be talk at some level about land near the Spectrum, which is to be demolished to make way for PhillyLive!, an outdoor, mixed-use entertainment complex. Ike Richman, a spokesman for Comcast-Spectacor, which owns the Spectrum, said this last week: "As it pertains to Philly Live, the new mutli-entertainment complex that we are adding to the Wachovia Complex in a partnership with Cordish Company, our plans do not call for a casino and we are not considering one for the site."
An analysis by Inquirer graphics editor John Duchneskie (using a 10-mile radius drawn from the perimeter of the Harrah's Chester Racetrack and Casino) shows that the Spectrum and Wachovia Center and most of the adjacent land fall just within the 10-mile, non-competition limit, though the old Vet site and the Linc's parking lot fall outside. That would prevent Foxwoods from building on the Spectrum site without a change in the state gambling law that prohibited casinos within 10 miles of the Chester racino of Philadelphia Park in Bensalem.
Marcia Gelbart
The number of murders in Philadelphia continues to drop, just as Mayor Nutter promised they would when he took office in January. To date, murders are down about 22 percent from last year.
But other figures are rising — including the number of prisoners crowding Philadelphia's jails.
The daily population reached yet another record high Aug. 16, with 9,536 inmates in the system. That's 200 more than the number of inmates just four months ago, when yet another record was set.
If that rate continues, the daily jail count will supass 10,000 in a year.
Again, that's 10,000. Think about it as the number of undergraduates enrolled at the Univerity of Pennsylvania.
So what's being done? Nutter assigned Everett Gillison, deputy mayor for public safety, to lead a new Criminal Justice Advisory Board to coordinate a response to the rising figures. He initially hoped to hold a meeting — with police, prosecutors, defense lawyers, and the court — in June.
But to date, no such meeting has occurred.
Meanwhile, October is around the corner - the month in which the inmate count traditionally peaks anew.
Jeff Shields
From staff writer Craig McCoy:
How nasty is the Fumo trial going to get?
Well, Fumo's legal team has already filed a pre-trial motion raising questions about a key government witness - one who happens to be Fumo's son-in-law.
Christian Marrone was a Fumo legislative aide from 1997 to 2002. He and his wife, Nicole, have been bitterly estranged from Fumo since their marriage in 2003.
Prosecutors are expected to call Marrone to help prove their allegation that while Marrone was on the public payroll, Fumo detailed him to oversee renovations of the senator's Spring Garden mansion. In Fumo's indictment, Marrone was originally identified only as "Person No. 19," but prosecutors have since named him as a government witness.
Marrone now works in Washington in the Pentagon's liaison office with Congress. In July, Fumo's lawyers sought to subpoena his Pentagon personnel file, including background checks. They want to see if the file contains any damaging information on Marrone.
Prosecutors have asked a judge to quash the subpoena, saying there is nothing helpful to the defense in the file.
As for Marrone, he dismissed the move by Fumo's lawyers: "I think it demonstrates their desperation."
Patrick Kerkstra
Senior Nutter policy advisor Wendell Pritchett is leaving the city payroll, but to hear him tell it, he's not really quitting his job.

"I'm still going to be doing a lot of stuff for the mayor, I expect to be around not every day, but a lot," said Pritchett, who is returning to his faculty position at the University of Pennsylvania School of Law.

Pritchett has a book coming out this fall (topic: Robert Weaver, the nation's first African American cabinet member), and he hopes to spend time promoting it. That would have been tough on the city's payroll, but not on Penn's.
Patrick Kerkstra
Matt Taubenberger, a GOP candidate for the 170th Pennsylvania House district, sent a public letter to Mayor Nutter today chastising him for using taxpayer funds to take staff members to the Democratic National Convention. Taubenberger, who is the son of former mayoral candidate Al Taubenberger, used some fairly tough language. Here's part of the letter.

"Sadly, I think your decision to use taxpayers' money to fund your staff attending the Democratic National Convention sets a bad example by raising ethical questions during a time when the people of Philadelphia are crying out for honest and ethical government.

I write this letter in the hope that you would reconsider your decision and have your campaign pay for your staff's travel and accommodations and not only eliminate any and all ethical questions that surround this issue - but insure that taxpayers' money is not used for political purposes.

I believe you should pay for your staff's travel and accommodations the same way you finally decided to pay for your own travel and accommodations - from your campaign, or you should not bring them to Denver at taxpayer's expense."
Patrick Kerkstra
Ronald Cuie, who was appointed with much fanfare to the head the mayor's Office for the Re-Entry of Ex-Offenders in March, has been removed from his position and will serve as a "special assistant" to Deputy Mayor for Public Safety Everett Gillison.

"Ron came in with strengths in specific areas, and it was Everett's position that there was a better way to utilize Ron's skill set," said administration spokesman Doug Oliver.

Cuie, who could not be reached for comment, served three years in prison on robbery and aggravated assault charges before turning his life around after his release in 2003. Mayor Nutter has made the re-integration of ex-offenders into society a key piece of his anti-crime agenda, and Cuie was chosen to lead that effort.