Archive: July, 2010
Jeff Shields
What happens in Amsterdam, stays in Amsterdam, at least for now.
In the wake of Friday's Inquirer article on an early version of the city's uber-secret assessment of the Deferred Retirement Option Plan that was presented six months ago at a conference in that fine city, the academic group that hosted the press conference has taken the paper off its website.
Apparently Anthony Webb, one of three Boston College economists who authored the paper, was stepping beyond his agreement with the city in releasing information about the report. Webb also apparently did not expect his presentation, for the Network for Studies on Pensions, Aging and Retirement's pension workshop, held Jan. 27-29 at the American Hotel, to be posted online.
Jeff Shields
President Obama singled out the city's Mastery Charter Schools in a speech to the National Urban League on Thursday. In outlining his Race to the Top initiative and his program to turn around the 5,000 lowest performing schools, Obama cited Mastery's work and Philadelphia Democrat, U.S. Rep. Chaka Fattah. Here's what he said, from the White House transcript:
"Now, in some cases, that's going to mean restarting the school under different management as a charter school -– as an independent public school formed by parents, teachers, and civic leaders who've got broad leeway to innovate. And some people don't like charter schools. They say, well, that's going to take away money from other public schools that also need support. Charter schools aren't a magic bullet, but I want to give states and school districts the chance to try new things. If a charter school works, then let's apply those lessons elsewhere. And if a charter school doesn't work, we'll hold it accountable; we'll shut it down.
So, no, I don't support all charter schools, but I do support good charter schools. I'll give you an example. There's a charter school called Mastery in Philadelphia. And in just two years, three of the schools that Mastery has taken over have seen reading and math levels nearly double –- in some cases, triple. Chaka Fattah is here, so he knows what I'm talking about. One school called Pickett went from just 14 percent of students being proficient in math to almost 70 percent. (Applause.) Now -- and here's the kicker -- at the same time academic performance improved, violence dropped by 80 percent -– 80 percent. And that's no coincidence. (Applause.)
Marcia Gelbart
There's a homecoming in the works for Doug Oliver.
Mayor Nutter's spokesman since he took office, Oliver is expected soon to announce that he is leaving the administration for a senior level job with the Philadelphia Gas Works – where he worked for more than three years before the mayor took office.
Oliver this afternoon would not comment except to say, "I'm serving as the mayor's press secretary. If there is something to say, there will be an announcement."
Marcia Gelbart
City Councilman Jim Kenney this afternoon formally asked that the police immediately suspend the list of tow-truck operators they call to clear the roads and remove cars after auto accidents.
In the aftermath of gunshots being fired involving two tow-truck companies, Kenney suggested that the police instead use the nine tow-truck operators already under contract to recover stolen vehicles. Those operators, he said, have been vetted in ways that the other have not.
Speaking at a City Hall news conference, the councilman also said he has requested the city's Licenses & Inspections Department to thoroughly review each of the 96 companies on the police department's rotating list of operators. He said his own office's review found complaints and violations filed against 19 of them, mostly for overcharging customers.
Marcia Gelbart
Are you a thought leader?
Eagles President Joe Banner is.
Which is why he will join Philadelphia's Chief Service Officer, Catie Wolfgang andotherstomorrow to discussa plan for encouraging and increasing community service. The meeting coincides with a visit from a Washington official, Stan Soloway, from the federal Corporation for National and Community Service.
Marcia Gelbart
The mayor's reentry office for ex-offenders could soon have its third leader in three years.
The administration posted a job opening last month for a new executive director for the office known as RISE (Re-Integration Services for Ex-Offenders), and hopes to fill the position by September.
About 40 people applied, but just 10 or so are still in the running — including the office's interim head, Carolyn Harper, according to Deputy Mayor for Public Safety Everett Gillison.
Marcia Gelbart
The Nutter administration expects to distribute a list next week of fire engine and ladder companies that will close on a rotational basis as part of the plan for rolling closures, according to Deputy Mayor for Public Safety Everett Gillison. He said the schedule of temporary closures would provide information for about a year.
"We are trying to give as much information upfront to people as we can," Gillison said. He said the major caveat is that the fire commissioner and administration reserve the right to change or modify the schedule based on need or their judgment.
The administration will consider several factors in determining which fire companies close and when, including the size of the area covered by the engine or ladder company; the workload based on runs and EMS; the amount of time spent fighting fires in 2009; the proximity to other companies recently shut for a period of time; the capability of surrounding companies to respond; and the security of the firefighting facility itself.
Jeff Shields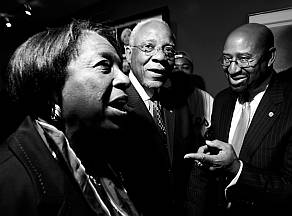 City Council Majority Leader Marian B. Tasco will have a prime seat today for President Obama's signing of the national financial reform bill.
The White House invited Tasco, an early opponent of predatory lending and advocate for foreclosure protection, to the 11:30 a.m. ceremonial signing of the Dodd-Frank Wall Street Reform and Consumer Protection Act of 2010.
See the City Council release below: