Archive: June, 2008
marcia gelbart
Today is D-Day for the city's municipal contracts, which expire at midnight. And while nobody is saying so, all indications continue to suggest extensions of the current agreements for the foreseeable future - be it a few days, or a few months.
The Nutter administration is maintaining its historic silence about the talks with the four separate unions - District Council 33, District Council 47, the police and the fire fighters.
But some information should shake free today. District Council 33, the blue-collar union, is expected to meet with the administration's negotiating team at 1 p.m. in what is the third formal set of talks between the sides. An official statement will likely be issued after that.
marcia gelbart
Pigeon poop.

For the city official in charge of city property, it's Joan Schlotterbeck's biggest challenge. And nightmare.

Just the other week, she had City Hall maintenance workers install plastic spikes along two high ridges in the south portal leading to the courtyard.
marcia gelbart
Wearing his ususal blazer and carrying a briefcase, Rick Redding was minding his own business last Friday as he walked briskly through the City Hall courtyard, just after noon, on his way to a business meeting.
Remembering that filming there of the new Transformers movie was soon to get underway, "I looked around for the movie shoot," he said. "And as I'm looking around, BAM! The fist."
Patrick Kerkstra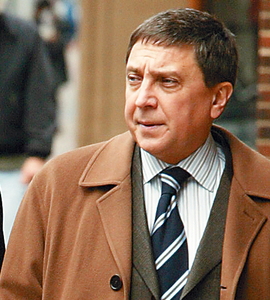 The tension's been building for months between Councilman Frank DiCicco and freshman Bill Green. Rolled eyes. Ill-concealed snickering. And plenty of behind-the-back badmouthing.
Today it all went public. In a scathing (and frankly kind of hysterical) letter addressed to Green (and thoughtfully CC'd to the mayor and all of City Council), DiCicco let it all hang out.
It begins: "I read with interest your letter in today's Daily News and continue to marvel at your inexperiences, your political naivete and your inability to see an issue for what it truly is."
marcia gelbart
As the city chugs along in building a 311 call system, City Managing Director Camille Cates Barnett is taking on a new project as well: Redistributing parking spots near City Hall and the surrounding municipal buildings.
Since that's where City Council, court personnel, and other politicos have long carved out their turf - not to mention members of the media - it's not going to be pretty - and Barnett knows that.
marcia gelbart
From reporter Ashwin Verghese:
Mayor Nutter this morning announced that the City Hall courtyard will be home to a new free summer film series open to the public. He also unveiled a list of summer concerts that will take place throughout Philadelphia's neighborhoods, replacing the Robin Hood Dell East, which is undergoing repairs.
Jeff Shields
Mayor Nutter, the scourge of pay-to-play culture in City Hall, is poised to turn over operations of the city's sludge plant to a partnership that has lavished nearly $100,000 in campaign contributions on politicians critical in the decision-making process, particularly Nutter's predecessor, Mayor John F. Street.
Philadelphia Biosolids Services LLC won City Council's approval Thursday for a 23-year deal that will privatize the city's sludge plant. Councilwoman Jannie L. Blackwell and 60 union workers -- who will be shifted to other city jobs -- have raised objections, saying that the city's 2004 request for proposals was tailored to Philadelphia Biosolids, the partnership that ended up as the only suitor for the contract.