Archive: April, 2008
Patrick Kerkstra
Local 98 business manager John Dougherty is "absolutely not" stepping down from his seat on the board of the Penn's Landing Corporation, said his spokesman Frank Keel, debunking a rumor floating around City Hall today.
As reported in yesterday's Inquirer, Dougherty is stepping down from his post as chair of the Redevelopment Authority. But that's it, Keel says.
Jeff Shields
The Philadelphia Bar Association will partner with the Philadelphia School District in the fall to lead students in discussions about ethics and the justice system. And who better to run the class than a Philadelphia lawyer, who according to Webster's New World Dictionary, is "a clever, shrewd, or tricky lawyer, esp. one skilled in taking advantage of legal technicalities."
Well, hell, all our kids could use a little instruction on that end, couldn't they? The volunteers will include judges, also, and lawyer/City Councilman Bill Green suggested that non-lawyers get involved also. "God knows we've got enough lawyers in Philadelphia," he said.
Cassandra Jones, the district's Chief Academic Officer, seems excited about the program, as a way to help teach students values and conflict resolution.
Patrick Kerkstra
Pennsylvania's primary election is over, but that doesn't mean folks have forgotten which candidate Mayor Nutter backed.
When introducing Nutter at a Pennsylvania Bar Association luncheon for minority lawyers on Friday, attorney Jettie Newkirk called him "Philadelphia's Obama."
Nutter, of course, is among Sen. Hillary Rodham Clinton's biggest fans, but he took the joke well.
Patrick Kerkstra
Senior mayoral policy advisor Wendell Pritchett told Heard in the Hall today that he dropped out of the Temple Law dean search before the school settled on someone else for the job. He was not passed over, as incorrectly reported on this blog last week. Heard in the Hall regrets the error.
Pritchett, who was one of three finalists for the job before he removed himself from consideration, said there were two reasons he took his name out of the hat.
Patrick Kerkstra
Public testimony sessions on the city budget tend to be predictable affairs, and for the most part today's was no exception.
There were earnest pleas for more funding for the arts. For culture. For libraries. For youth programs. For health centers. And so on.
"I'm falling asleep in here," one council member confessed to a reporter. And the session had hardly begun.
Patrick Kerkstra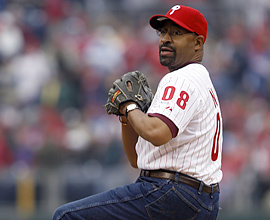 Mayor Nutter (who, let's face it, has enjoyed glowing press coverage for pretty much his whole career) ruminated on his relationship with the media in a Penn classroom today.
His "basic philosophy," Nutter said, was to start with the idea that the media are "not my biographers."
"It's not their responsibility, directly, to make me look good or make me look smart," Nutter said. "On the other hand, commensurately, it's not their job to make me look stupid, which they have not done."
Patrick Kerkstra
Mayor Nutter has yet another public appearance on his schedule in Philly's burbs this weekend. This time at the Lower Merion and Narberth Democratic Party Spring Dinner. Of course, it could be a favor to his pal Joe Manko, who was a big wheel in Lower Merion's democratic party before he moved to Philadelphia not long ago. But we'd bet Nutter would have been happy to show up even without that connection. He's been popping up all over the region in recent weeks. Rotary clubs, universities, political dinners.
Nutter seems to be emulating the Richard Daley leadership model, trying to assert himself not just as the leader of Philadelphia, but as a leader of the region.
Not that he's neglecting his Philly appearances. Before that Lower Merion supper, he's got three in town events. On a Sunday.
Patrick Kerkstra
Nutter policy advisor Wendell Pritchett will not be leaving the administration. He was one of three finalists for the vacant Temple Law School deanship, but the university announced today that the job would go to JoAnne Epps.
Pritchett failed to wow faculty and students, who got the distinct impression during interviews that he didn't want the job all that much. Epps, presently the associate dean, was probably the odds-on favorite all along.