Archive: March, 2010
Patrick Kerkstra
Mayor Nutter is getting pretty good at distributing federal stimulus checks. The latest recipients are local arts organizations. See the press release below.
---
MAYOR NUTTER ANNOUNCES CREATIVE INDUSTRY WORKFORCE GRANTS
Philadelphia, March 31, 2010— Today Mayor Michael A. Nutter awarded $500,000 in Creative Industry Workforce Grants to eight arts-related organizations. The awards ranged from $20,000 to $100,000 each. This funding will be used for specific capital projects that will yield both temporary jobs (including construction, installation, architectural and engineering jobs) and permanent jobs in the creative sector. Funding for the Creative Industry Workforce Grant program comes from the Community Development Block Grant program of the American Reinvestment and Recovery Act (ARRA). Created through a partnership of the Office of Arts, Culture and the Creative Economy and the Department of Commerce, the goal of the unique program is to nurture and develop the creative sector while fostering neighborhood development, business attraction and job creation.
Miriam Hill
The race for U.S. Rep. Bob Brady's seat is back on - on paper, anyway. Brady's sole challenger, Republican and political unknown Pia Varma, on Tuesday appealed a Commonwealth Court decision from last week that removed her from the ballot in the First Congressional District because she failed to submit at least 1,000 valid signatures of registered voters on nominating petitions for her campaign. Varma's lawyer is Samuel Stretton. The appeal, to the Pennsylvania Supreme Court, questions whether Varma was properly served with notice of the court date on the petition challenge and whether laws requiring that circulators of petitions live in the election district are constitutional.
Patrick Kerkstra
While Mayor Nutter has all but waved the white flag on his proposed $300 annual trash fee, his administration is still fighting hard for his proposed two-cents-per-ounce tax on sugary drinks, which would raise an estimated $77 million a year once the program is fully implemented.
Under intense pressure from lobbyists, Teamsters, shopkeepers and bottling company employees, City Council seemed poised as recently as last week to sink the soda tax. But as the budget season wears on, some council members say the proposed tax is still a possibility, given the array of distasteful alternatives.
Sensing an opening, the Nutter administration is now pressing its argument with council. The city is circulating materials countering anti-soda-tax arguments that the new levy would cost jobs and touting the features of the anti-obesity initiatives the tax would fund. Some highlights:
A "healthy bucks" initiative would give city Food Stamp recipients an extra $2 for every $5 they spend on qualifying fruits and vegetables. The $9.6 million program would be funded by the new tax.
While the tax as written would cover chocolate milk, the city is considering an "exception" for all milk products.
The administration contends that, instead of simply ceasing to buy bottled beverages, the tax would lead consumers to purchase diet drinks and bottled water instead, which would not lead to significant job loss.
Jeff Shields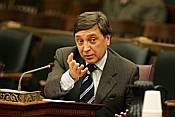 City Councilman Frank DiCicco Thursday proposed a 12 percent property tax increase to replace Mayor Nutter's proposed $300 trash fee, a plan DiCicco describes as more equitable despite the city's flawed property assessment system.
The proposal appears to have support on Council, and was co-sponsored by Majority Leader Marian B. Tasco and at-large Councilman James F. Kenney.
"At the end of the day, I'll do what I have to do to close the $150 million gap," Tasco said Thursday before Council's regular session, at which DiCicco introduced his bill.
Miriam Hill
Republican Councilman Frank Rizzo today lent his voice to opponents of the proposed sweetened beverage tax, saying it wasn't fair to single out workers in a single industry. "You know what I'm for? I'm for running this place better," he told a rally of several hundred beverage workers outside City Hall, just across the street from a statue of his father, the former mayor.
Rizzo, an at-large councilman, said finding efficiencies in government, including cutting jobs, was preferable. "We've really got to get tough now and downsize this government to the proper size," said Rizzo. (City Council has not offered to cut its own budget.)
The Teamsters, who say that about 2,000 of their 4,000 area members haul soda and other sweetened beverages, organized the noon rally. "We're here today to send my to the mayor that he's not going mess with anyone in soda or anyone else in the city with this regressive tax," said Danny Grace, Secretary-Treasurer and business manager of Teamsters Local Union 830.
Jeff Shields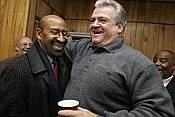 If you were an elected official without a chance of losing reelection, but you wanted to throw a party anyway and sell tickets at anywhere from $1,000 to, say, $10,000. Who would be crazy enough to host it for you?
The answer for Congressman and Philly Democratic Party boss Bob Brady: The most powerful people in town.
Even though potential Republican upstart Pia Varma just got kicked off the ballot after a challenge by a couple of Republicans (nobly represented by Democratic City Committee lawyer Steve Kaplan), Brady's April 9 fundraiser could be like stepping into one of those money-machines, though Brady won't have to grab the bills out of the air.
Patrick Kerkstra
At-large City Councilman Bill Green is searching high and low for ways to pare a few dollars out of Mayor Nutter's proposed $3.78 billion budget before council approves one of a variety of tax hikes under consideration. No line item, regardless of how small, is apparently safe from his review.
At the moment, he is grilling representatives of the Procurement Department. Why, he wants to know, has it taken so long for them to develop an electronic procurement system which would save the city money?
Earlier in the day, he warned recently hired city workers that, as far as he was concerned, their jobs were not safe and could be eliminated in the light of the budget crisis. At another moment, he laid into Budget Director Steve Agostini for failing to include revenue estimates from the potential roll out of a street furniture contract (which would make the city money off of advertising) in this year's budget. Agostini said it was his judgment that those revenues were too uncertain to include in the budget.
Patrick Kerkstra
Mayor Nutter's high-profile endorsement of Sen. Hillary Clinton over Barack Obama in the presidential primary briefly won him a share of the national spotlight. But Nutter - who needs federal help as badly as any big city mayor -has had nothing but good things to say about Obama ever since he sewed up the nomination.
Health care is no exception. The day after Obama's big legislative health care victory, Nutter said the president "deserves a tremendous amount of recognition."
"He never gave up on the commitment he made as a candidate and as President of the United States, and I know that on some days and nights it looked pretty dire," Nutter said. "I could not be more proud of his efforts."