Archive: November, 2010
Marcia Gelbart
Hoping to ease one headache, City Managing Director Rich Negrin recently shared with the private organizer of City Hall's "Christmas Village" that some city workers and residents were offended by the giant "Christmas Village" sign erected on Dilworth Plaza's northeast corner.
After all, there are also Jewish and Muslim vendors among the wooden booths that make up the Philadelphia replica of the traditional German Christmas Village, which officially opened Nov. 25.
There was also a story that reached Negrin about a little Jewish girl walking with her father who asked, Negrin said, "Dad, don't we get a village?"
Miriam Hill
City Council says it is ready to hear what residents have to say about procedures for letting the public testify before the legislative body. Council President Anna Verna issued a statement Tuesday outlining what she says are temporary procedures for allowing public comment at Council meetings.
Under old rules, people could comment at hearings on issues. But a Nov.18 Pennsylvania Supreme Court ruling said Council also must allow people to speak at its regular Thursday meetings. Verna's statement said Philadelphia residents and taxpayers may comment, but Council will not try to verify where people live and work. She asked that interested speakers sign up to comment by calling the Chief Clerk's office by 5 p.m. Wednesday at 215-686-3410 or 215-686-3411.
People also may sign up in Room 400 of City Hall the day of the meeting. No one will be denied the opportunity to provide public comment because they have not signed up in advance.
Read more here:
Click here for Philly.com's politics page.
Marcia Gelbart
Who is RiShawn Biddle?
That's just what the Nutter Administration may be asking itself after reading this article that Biddle penned in the latest issue of the conservative news magazine the American Spectator.
As you may guess, it's not exactly pro-Philly - or pro-Nutter.
Jeff Shields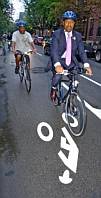 Mayor Nutter, the sustainability mayor, been appointed to a new Department of Energy Committee on renewable energy. See the city's press release below:
SECRETARY CHU APPOINTS MAYOR MICHAEL A. NUTTER TO DEPARTMENT
OF ENERGY ADVISORY COMMITTEE
Mayor Nutter to serve on the Energy Efficiency and Renewable Energy Advisory Committee
Miriam Hill
Mayor Nutter will take to the national television stage Sunday when he appears on Meet the Press.
Nutter will participate in a roundtable discussion with the Washington Post's E.J. Dionne, Repubican strategist Ed Gillespie and The Wall Street Journal's Peggy Noonan.
He will travel to Washington, D.C., for the chat. The roundtable will take a look at the people and issues likely to dominate the 2012 race for the White House. The group also will discuss the economy and jobs market.
Miriam Hill
Allan Frank, who as the city's chief technology officer tried to consolidate Philadelphia's information technology efforts, will stop working for the city in February.
More from the city's press release:
Mr. Frank will return to the IT industry where over the course of a 35-year career he became a respected regional and national leader. His last day in City government will be on Feb. 1, 2011.

Mayor Nutter also announced that Mr. Frank is not completely severing his public service ties to the City of Philadelphia. Mr. Frank has agreed to serve as chair of a new advisory body, the Mayor's Advisory Board on Technology.

"Allan has played a vital role in restructuring the City's IT assets, which in turn will enable the city to reform, streamline and lower the costs of its activities for the benefit of all city residents," Mayor Nutter said. "Allan has been an outstanding public servant who brought a wealth of insight from the private sector. I'm very pleased that he's agreed to serve as chair of our new Advisory Board."

Tommy Jones, the first Deputy CIO, will serve as interim CTO upon Mr. Frank's departure. The City will begin a nationwide search for Mr. Frank's successor.

"Working for Mayor Nutter and having the opportunity to advance this Administration's goals, particularly in government efficiency and public programs in the technology space, has been the most rewarding experience of my career," said Mr. Frank. "As a private citizen, I want to continue my efforts to help cultivate the technology industry in the City and region as well as to increase digital inclusion and literacy."

During his tenure as the City's first CTO, Mr. Frank led an IT reform strategy to consolidate all information technology assets, people, operations and financial resources under the Division of Technology. Previously, IT was spread across 33 operating City agencies. As a result, the City is now better positioned to leverage technology to enable operating departments improve efficiency and effectiveness through investments in technology.

Under Mr. Frank's leadership, Philadelphia was selected as one of five cities nationwide for Code for America, a nationally recognized fellowship program, focusing on providing private sector technology expertise to cities. Philadelphia will host a group of highly skilled technologists to help design and develop a unique citizen engagement application to better connect, communicate, and collaborate between the City and residents.

Mr. Frank also played a key role for the City and a variety of nonprofits in winning $18 million of Federal broadband stimulus funding to support computer centers, training programs and jobs that serve areas of the City with low levels of broadband subscription.

In his new position as chairman of the Mayor's Advisory Board on Technology, Mr. Frank will lead the board as it builds a visible and engaged stakeholder group of business, educational and community institutions to drive a technology vision for the future.

The Board will also strive to develop a technology strategy in the five-county Philadelphia region, assist the City in developing new initiatives and best practices and market the City's tech efforts, including the acquisition of funding for new technology projects.


Miriam Hill
Last week, Bloomberg reported that Philadelphia officials met with turnaround firms including Alvarez & Marsal to determine whether the city should hire an adviser to study cost cuts.
That story quoted Managing Director Richard Negrin as saying Philadelphia had no plans to hire the firm. On Monday, Negrin repeated that.
"We're not in the process of engaging them for anything," Negrin said.
Miriam Hill
Mayor Nutter was, in his own words, "laying the labels on the table" recently with Nick Spitzer on his public-radio show American Routes.
The show, a mix of history, folklore and great American music, recently featured the Philadelphia sound.
Former DJ Mix Master Mike, better known as Mayor Nutter, shared his secrets for getting people to shake their booties. "No one can stay in their seat if you do Hamilton Bohannon 'Let's Start the Dance,'" Nutter said.