Archive: November, 2009
Patrick Kerkstra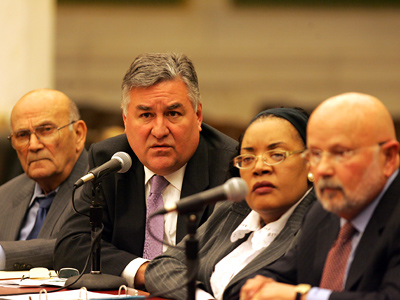 The six members of the beleaguered Board of Revision of Taxes defended their management of the agency, the role of patronage in its operations and the performance of their employees at a public hearing this morning, where they faulted City Council and the Nutter administration for Philadelphia's inequitable and inaccurate property tax assessment system.
No vote was taken at the hearing, which was called for the board to consider adoption of a memorandum of understanding that would temporarily cede BRT control of property assessments to the Nutter administration. A final vote has not been scheduled, though board member Robert Nix said it could come within a week.
Instead, the morning hearing was dominated by impassioned remarks from BRT members and employees, who likened recent criticism of the agency to a "mob scene." Board members saved their harshest remarks for the Committee of 70, which has called for BRT reforms, and for the Inquirer, which has for over a year documented the agency's missteps.
Patrick Kerkstra
STATEMENT FROM MAYOR NUTTER ON THE PASSING OF HIS FATHER
Philadelphia, November 27 – Mayor Michael A. Nutter has issued the following statement on the passing of his father, Mr. Basil D. Nutter, Jr.
"On behalf of my family I would like to convey our deepest gratitude for the many expressions of condolence and concern that we have received from members of the public. To know that the thoughts and prayers of so many Philadelphians are with us is of great comfort at this difficult time. My father was a great inspiration to us and we will miss him dearly. We are taking this time to remember and give thanks for the countless good times that we spent with him."
Jeff Shields
Delinquent city taxpayers would be disqualified from seeking zoning variances under a bill slated for introduction in City Council this morning.
"With the city in dire need of funds, and owed over $1 billion, this will be yet another tool to recover monies owed to the city," Rizzo said.
Rizzo's chief of staff, Stewart Graham, said the bill had been vetted by the city law department to make sure it passes Constitutional muster. The bill would require anyone seeking a variance for their property to receive certification from the Revenue Department that all their taxes are paid up to date, or are subject to a payment agreement with the city.
Jeff Shields
A half-million dollars in stimulus money will go toward creating jobs in Philadelphia's creative economy, the city announced Tuesday.
Chief Cultural Officer Gary Steuer said, in a press release, that the city expects to award 10 grants of between $20,000 and $100,000, mostly to organizations or companies that create jobs in low- to moderate income neighborhoods.
Applications are due by Dec. 18. See the press release below:
Patrick Kerkstra
Julia Chapman, Mayor Nutter's director of legislative affairs, resigned today effective immediately. Chapman was among Nutter's longest serving and most trusted advisers, serving as the chief of staff of Nutter's council office for 11 years before he was elected mayor.
The press release announcing Chapman's long-rumored departure was distributed after 6 p.m. today. A copy appears below.
---
PHILADELPHIA, November 13, 2009 — Mayor Michael A. Nutter announced today that he has accepted the resignation of Ms. Julia Chapman, Director of Legislative Affairs for the Office of the Mayor, effective immediately. Ms. Chapman has served in this position since Mayor Nutter took office in January 2008.
Jeff Shields
City officials said they will save more than $6 million next year on health-care costs for less than a quarter of its employees, without increasing worker contributions or "significant" benefit changes.
In an announcement clearly directed at the city's four major municipal unions now working without a contract, the city today at 2 p.m. will notify 5,000 employees not represented by unions - as well as 1,900 union workers who participate in the city-run health care program - that benefits will change beginning Jan. 1.
The city will save nearly $6.3 million by re-bidding medical, prescription, dental and vision programs, by going to a self-insured plan, and reducing some health benefits. Those changes to health benefits include increased co-pays for specialists in some programs, and increased out-of-pocket limits in all programs. The changes will mean no increase in contributions for those employees.
Patrick Kerkstra
City Controller Alan Butkovitz today accused private tow truck operators in Philadelphia of exceeding legal limits on tow fees and running cash-only businesses, which is prohibited by city law.
Butkovitz said the tow company violations were blatant and widespread, which the controller blamed on law enforcement by the city's department of Licenses and Inspections, which regulates the city's private towing industry.
"It seems like there's open contempt for what the rules are because L&I has left such a gap in enforcement that these companies actually believe that they're making the law," said Butkovitz at a morning press conference.
Jeff Shields
One year after Mayor Nutter announced the closure of fire companies, pools and libraries to combat a financial crisis of "incredible proportions," his administration announced that the city would face a $31 million deficit unless further reductions are made next year.
City Budget Director Stephen J. Agostini and Nutter's chief of staff, Clay Armbrister, laid out for City Council Monday afternoon the ingredients to the newest alarm, which include faltering wage tax revenues, expected state revenue that didn't make it into the state budget, and costs expected from new casinos.
Agostini has already asked department heads to slice their spending by 7.5 percent next year as he prepares to present a 2011 budget to Council in January or February. Agostini would not say how the city would close the deficit.