Archive: January, 2013
Bob Warner
The Republican floor leader of the state Senate, Dominic Pileggi of Delaware County, said the Traffic Court indictments boosted his resolve to pass legislation abolishing the court.
"They confirm my opinion that the Traffic Court is not an institution that has any reason to continue to exist," Pileggi told reporters in a conference call. "They accelerate the urgency of enacting the reforms that I proposed."
Since proposing the court's abolition three weeks ago, Pileggi said, he had yet to hear from a single state lawmaker or other public official defending the court.
BOB WARNER
Some of City Council's Democratic members are maneuvering to strip City Councilwoman Blondell Reynolds Brown of her leadership position as Council's majority whip, in reaction to a Board of Ethics investigation that found she had used $4,700 in campaign contributions for personal expenses, among scores of other offenses.
Sources said Brown had warned her colleagues in advance that the Ethics Board was investigating the financing of her 2011 campaign, but she had suggested the probe focused on bookkeeping problems. Some Council members privately expressed amazement at the conduct detailed in the actual report, released Monday.
It revealed dozens of previous-unreported donations, running into tens of thousands of dollars, and her use of a fictitious expenditure to cover up the repayment of a personal $3,300 loan from Chaka Fattah Jr., the son of the West Philadelphia congressman. The campaign listed the $3,300 as a payment to a printing firm.
Miriam Hill
Former State Sen. Vincent Fumo, 69, was recovering Thursday from bypass surgery in Kentucky, sources said.
Fumo, who has been serving a 5-year sentence in federal prison stemming from charges that he defrauded the Pennsylvania Senate and a nonprofit, is expected to leave the hospital and return to his Ashland, Ky., prison early next week.
Doctors had discovered three blockages during an exam. Sources said the surgery went well
Miriam Hill
The bike race is back on.
Although Bob Brady has not yet publicly identified financial backers, the congressman on Thursday said he had formed a nonprofit to organize a race he is calling the Philly Cycling Classic, to be held on June 2, the date previously reserved for the Philadelphia International Cycling Championship. That race was cancelled in January when organizers could not find a sponsor.
Brady, who prides himself on preserving events such as the Mummers Parade and the Dad Vail Regatta that he says define Philadelphia, immediately began seeking ways to save the bike race, best known for its climb up Manayunk's Levering Streets and Lyceum Avenue, a section of the course known as the wall.
Miriam Hill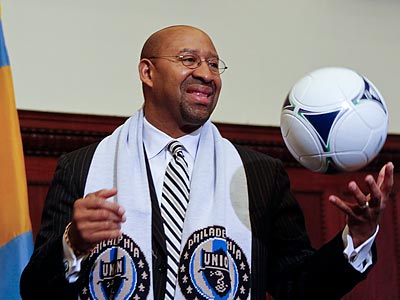 At first blush, Mayor Nutter isn't much of a sports fan.
He had a free box available at every professional sports event in the city in 2012, but the latest list of people who used the mayor's seats showed Nutter went to just nine contests all year - four 76ers games, three Eagles games, and one each for the Flyers and Phillies.
But the figures are wrong, according to spokesman Mark McDonald.
Troy Graham
State Sen. Anthony Hardy Williams has created a new political action committee, Believe Again, viewed in political circles as a fund-raising vehicle to fuel an eventual run for mayor.
Williams, who ran for governor in 2010, has acknowledged he's considering the mayoral race, most recently in an interview with the Philadelphia Tribune, but he hasn't formally declared his candidacy.
The next Democratic primary for mayor won't be until May 2015.
Miriam Hill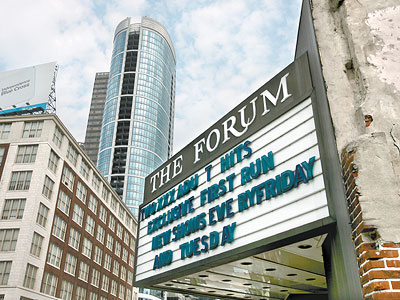 The owner of the Forum Theater has obtained a permit to demolish the Market Street property, according to records from the city's Department of Licenses and Inspections.
Theater owner Richard Basciano could not be reached for comment immediately but he has said that he wants to knock the property down as soon as possible as part of a plan to develop the 2100 and 2200 blocks of Market Street, where he owns multiple parcels.
The Forum, believed to be Center City's last porn theater, for decades inhibited development in the area because other businesses did not want to locate near it.
Miriam Hill
Did you have problems voting during last year's presidential election? If so, the Nutter administration wants to hear from you.
The city is investigating why higher-than-expected numbers of voters had to use provisional ballots Nov. 6.
If you want to tell you story, find out how here: