Archive: December, 2010
Marcia Gelbart
First this:
Al Schmidt, a former GOP city controller candidate and chief gadfly to the city's Republican Party establishment, is running for office again.
Schmidt is expected to announce his candidacy for Philadelphia City Commissioner tomorrow morning at the Union League.
Miriam Hill
Councilman Wilson Goode Jr. announced that a bill he sponsored to give tax credits to companies that create jobs passed out of Council's Committee on Commerce & Economic Development.
Here is his press release:
City Council's Committee on Commerce & Economic Development has approved the "Job Creation Opportunity Extension Bill", introduced by City Councilman W. Wilson Goode, Jr., extending a two-year employment stimulus program under which a credit against the City's business privilege taxes will be given to businesses that create new jobs within the City of Philadelphia. The businesses will receive a $3000 credit for each new job created for tax years 2012 and 2013, in addition to 2010 and 2011.

The Job Creation Tax Credit Program was established in May 2002 to encourage businesses to expand employment within the City of Philadelphia. It is based on the Commonwealth of Pennsylvania's Job Creation Tax Credit program and offers a credit against the firm's Business Privilege Tax liability for each new job created. The program can be utilized by companies of any type or size located anywhere in the city.

Through 2009, 60 firms have participated in the program, promising the creation of 4,463 jobs. The five year period allowed by the initial ordinance to create new jobs has expired for 22 of these 60 firms. As a result, the promised job creation may be reduced from 4,463 to 2,790. To date, 1,026 jobs have been certified as created, resulting in the issuance of $1,630,297 in tax certificates, of which $1,502,322 has been claimed.

Following certification of job creation, participating firms are awarded certificates for the tax credit, either $1,000 or 2% of the annual wage for each job created (for applicants filing after 6/11/2009, the credit is either $3,000 or 2% of annual wages paid for each job created in 2010 and 2011).

Miriam Hill
Al Schmidt, who will declare his candidacy for City Commissioner Thursday, says he also will disclose documents showing misuse of public resources by elected officials for political purposes, a potential violation of the law.
In a release detailing his 8:30 a.m. Thursday announcement, he says he will provide "in black & white - copies of documents that show the misuse of public resources for partisan political purposes in city elections. . . This includes elected officials at the federal, state, and local level in Philadelphia -- Republicans and Democrats. The information was received from a right-to-know request from the City Commissioners and Board of Elections."
That's as much as he is saying right now. Stay tuned to Heard in the Hall for more information.
Miriam Hill
Deputy City Commissioner Renee Tartaglione has settled charges with the Philadelphia Board of Ethics that she used her own money to pay for campaign materials for a state representative in 2008. Tartaglione's recent resignation from her post came as part of the settlement.
In the release announcing the settlement, the ethics board said that Tartaglione, who has worked in her job for 27 years and is the daughter of City Commissioner and ward leader Marge Tartaglione, admitted to nine violations of the city charter that prohibit city employees from most types of participation in politcal campaigns.
She also agreed to pay a $2,700 fine.
Tartaglione and her husband, ward leader Carlos Matos, have long tangled with State Rep. Angel Cruz. Cruz has accused them of supporting Jonathan Ramos against him in primaries.
The board of ethics said Tartaglione ordered 4,500 campaign posters, 20,000 palm cards, and 64,000 bullet ballots that promoted the candidate. She also ordered 2,000 bullet ballots with the candidate's opponent's name but the wrong ballot button number for the opponent, the ethics release said.
Click here for Philly.com's politics page.
Jeff Shields
There was plenty of high-minded tax policy being discussed at last week's City Council hearings, but the mayoral politics were just as rich.
Bill Green and Maria Quiñones Sánchez pushed a formidable bill that challenged popular tax-reform notions. Some, however, wondered whether Green wasn't a little anxious to get the bill passed before year's end, as a resume-topper for a challenge to Mayor Nutter in the Democratic mayoral primary in May. Green has not ruled out a 2011 run.
Green rejected that notion and, true to form, turned it on Nutter.
Jeff Shields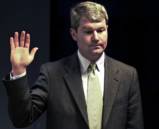 Heard in City Hall reported last week that electrician's union chief John "Johnny Doc" Dougherty was shedding no tears at the downfall of State Rep. Dwight Evans, the Philadelphia Democrat who lost his position as his party's ranking member on the House Appropriations Committee. And we reported that Dougherty might also have had some influence on what happened to Evans, even if it meant sacrificing power to Western Pennsylvania.
Well, Johnny Doc wasted no time playing his advantage. For the last five years the electricians have held one of the big bashes at the annual Pennsylvania Society gala in New York, and with this year's event scheduled for this weekend, who might be the featured guests of honor? How about Gov.-elect Tom Corbett and Sam Smith, who will become speaker of the house in January? Both are Western Pennsylvania Republicans.
Word has it that the party wasn't even going to be held this year because of the poor economic climate and the delicate issue of partying at the Waldorf Astoria while many tradespeople are out of work. But then Corbett reached out to Dougherty, just to say he was looking forward to his event this year. And the party was on!
Jeff Shields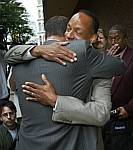 With the emergency controversy over the naming of the Christmas Village outside City Hall resolved on Wednesday, by Thursday morning, City Council didn't have much to say about the issue. That was until Councilwoman Jannie L. Blackwell stepped forward with an act of Christmas/Hanukkah/Kwanzaa kindness.
In deference to Mayor Nutter declaring that the Christmas Village would not have to change its name to "Holiday Village," Blackwell declared that her chief counsel, John Christmas, would not be required to change his surname, even at the risk of offending various religious groups, atheists and agnostics.
"We're also glad that we can continue to call John Christmas...'John Christmas' and not 'John Holiday,'" Blackwell pronounced, to wild applause.
Marcia Gelbart
This report from Inquirer reporter Jeff Gammage:
Who said the mayor doesn't have a sense of humor?
His playfulness was on full display this morning when Nutter was asked to speak at the Tir Na Nog pub in Center City, where a crowd of anxious soccer fans awaited word on whether the United States would be awarded the 2022 World Cup.