Archive: August, 2009
Patrick Kerkstra
Mayor Nutter's Task Force on Tax Policy & Economic Competitivness has unveiled some preliminary recommendations, which will be the subject of a town hall meeting in Room 400 of City Hall from 4 p.m. to 6:30 p.m. on Thursday. The recommendations don't include suggested tax rates, but are meant rather to sketch out some broad policy ideas. For folks familiar with the conclusions of the much-larger and much-more-widely-publicized Tax Reform Commission of 2003, the new recommendations will not include many surprises.
In short, the task force thinks the city's tax burden is too high and too reliant on wage and business taxes. Better, the task force thinks, to increase property taxes and reduce reliance on the other levies once the city and the BRT finally fix their property assessment system. There are some interesting observations on the need to enhance tax collection efforts, and a recommendation to launch a tax amnesty program and reduce interest rates and penalties on tax delinquents in an attempt to lower the delinquency rate. But the basis recommendations have changed little in the past six years.
It remains to be seen what, if anything, council and the mayor will do with the conclusions. Remember, Mayor Nutter - who named the task force - sought to raise property taxes this past year in an attempt to deal with the budget crisis. Council preferred a wage tax hike. Ultimately of course they settled on the sales tax proposal, which is still awaiting approval in Harrisburg.
Click here for Philly.com's politics page.
Patrick Kerkstra
Under mounting public pressure, State Senate Majority Leader Dominic Pileggi predicted today that a pair of budget-rescuing measures sought by Mayor Nutter would be approved, but he warned that there would not be a vote for at least several weeks.
If Pileggi is right, and Harrisburg approves the penny-per-dollar city sales tax hike and pension restructuring that Philadelphia has asked for, the city would avoid the mass layoffs and most of the crippling service reductions — such as closures of most libraries and all recreation centers — that Nutter has warned will be necessary if the legislation fails.
City officials responded warily to Pileggi's remarks, noting that each day that the State Senate does not act digs the city into a deeper fiscal hole. For each month that passes, the city misses out on $10 million in lost sales tax collections.
"Time really isn't on our side. We need to get something done quickly. We're already in mid-August and we still don't have closure on our budget," said Philadelphia Finance Director Rob Dubow.
Jeff Shields
Christopher Wright, the city Council aide convicted of conspiracy and fraud for his connection to a pair of developers and their lawyer, was sentenced to 48 months in prison today and must pay a $1,000 fine.
Wright, former chief of staff to Republican City Councilman Jack Kelly, must report to prison in 45 days.
The U.S. Attorney's Office had asked U.S. District Judge Eduardo C. Robreno for a 6 1/2 year sentence, a punishment that would exceed former state Sen. Vincent Fumo by nearly two years.
The U.S. Probation Office recommended a sentence of 27- to 33-months. Robreno this morning decided the range should be 51-63 months, .
Monica Yant Kinney
Still clamoring for more info on the whys and hows of Philadelphia parking after reading my column? Have I got some leftovers for you:
* Valet parking zones are a great deal for restaurants, at just $250 per year, but tourism companies like Ride the Ducks pay way more: $5,000 per reserved space.
* Authorized parking for city employees and other VIPs, it turns out, is both an outdoor and indoor affair.
The city spends $500,000 a year for 390 employees to park in private lots or garages. Seem high? That's actually down from $800,000 after officials canceled the perk for people who didn't need it or weren't using it.
Jeff Shields
Federal prosecutors took back their scorching criticism of U.S. District Judge Ronald L. Buckwalter Wednesday, two days after blasting his 55-month sentence for former State Sen. Vincent Fumo as "a travesty."
Assistant U.S. Attorney Michael Bresnick, in the case of former City Council aide Christopher Wright, today amended his Aug. 3 sentencing memorandum in which he took issue with Buckwalter's sentence for Fumo and urged Wright's judge to disregard the potential precedent it could set.
Wright, former chief of staff to Councilman Jack Kelly, is to be sentenced by U.S. District Judge Eduardo C. Robreno on Monday after being convicted of conspiracy in a public corruption indictment in February. In his original memo, Bresnick wrote:
"The Fumo sentence was, as scores of citizens stated in unsolicited letters and phone calls to our office and to the district judge's chambers, a travesty. Besides imposing insufficient punishment for the offenses at issue, its worst legacy will arise if other judges follow that court's mistaken lead, and use the Fumo sentence as a baseline for public corruption offenses. That should not happen. This court should not follow a path of condoning and lightly punishing breaches of the public trust by public officials."
Marcia Gelbart
The city and state budget crisis is really messing up vacation plans for lobbyists, legislators, the mayor and the governor.
Gov. Rendell, for one, had expected to go away with his wife on an African safari. But with no Pennsylvania budget in hand, that trip has been postponed.
Nutter had likewise made plans for some R&R - he called it "private family time" and wouldn't disclose where or when - but said those plans are being changed now as well. "I had some, I had to put them on hold."
Click here for Philly.com's politics page.
Marcia Gelbart
Here's a statement just issued by the mayor's office on the passage of House Bill 1828 by 112 votes to 85:

"Today's passage of House Bill 1828 (HB 1828) is a big step forward for Philadelphia, and I would like to pay tribute to the hard work, dedication, and leadership of so many state representatives, especially members of the Philadelphia delegation led by State Representative Jewell Williams, State Representative Dwight Evans, Speaker Keith McCall, Majority Leader Todd Eachus, and State Representative Cherelle Parker.

I'm further encouraged that this legislation passed with clear bi-partisan support and with support from across South Eastern Pennsylvania. This is not a party issue. This economic crisis does not distinguish between Democrats and Republicans.

It has taken a gargantuan effort to get us this to this point, but the hard work is far from over.

In order for the City of Philadelphia to receive the tools that we need to fix our own budget crisis we need approval by the House, the Senate and the Governor. We now need the Senate to consider and vote on our two measures – the temporary increase of the sales tax and the changes to our pension payments.

As Governor Rendell said earlier today there is no legislative or other practical reason why the Senate cannot act on this right away. The approval that we are asking for is not related to the broader issue of the state budget. It is a separate piece of legislation.

The measures that we have proposed do not cost the Commonwealth of Pennsylvania a single penny. What they do is enable Philadelphia to deal with its own problems and to avoid the consequences that have been laid out in Plan C. Without the temporary increase in the sales tax and the changes to our pension payments we will have no choice but to implement the plan, cutting 929 uniformed police officers, almost 200 positions from the Philadelphia Fire Department, closing all regional and branch libraries, pools and rec centers, and eliminating around 3,000 positions from the city government.

Time is of the essence. If we do not have approval from Harrisburg by August 15th at the latest, we will have to move forward with implementing elements of this plan, beginning with a new Five Year Plan that we would have to present to the Pennsylvania Intergovernmental Cooperation Authority (PICA) within 15 days. This timeline has been established by PICA.

We have already made substantial cuts here in Philadelphia, closing a $2.4 billion budget gap with $1.7 billion in cuts, efficiencies, fee increases and halting scheduled wage and business tax cuts. The House has done its part by passing House Bill 1828. Now HB 1828 moves to the Senate for action. I believe that we have consistently made a convincing case for our measures and I look forward to working with the Senate to ensure swift passage of this legislation."
Click here for Philly.com's politics page.
Marcia Gelbart
We can't see Mayor Nutter right now since he is in Harrisburg. But one would assume he is feeling at least a small degree of relief since the Pennsylvania House just approved a penny-per-dollar increase of the city's sales tax, raising it from 7 percent to 8 percent.
The vote on House Bill 1828 was 112-85. (Here's the roll call vote.)
The legislation will also allow the city to defer payments for two years into the pension fund.
Now onto the next challenge - the state Senate, where leaders have said they won't consider acting on the Philadelphia legislation until a state budget is in place. Here's the story from today's Inquirer.
Jeff Shields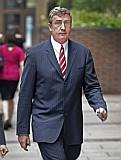 The U.S. Attorney's Office wants a 6 1/2 year sentence for former City Council aide Chris Wright, a punishment that would exceed former state Sen. Vincent Fumo by nearly two years.
Calling Fumo's 55-month sentence a "travesty," assistant U.S. Attorney Michael Bresnick argued in a court filing Monday night that Wright, former chief of staff to Councilman Jack Kelly, deserves much more than the 27- to 33-month sentence recommended in the federal probation officer's presentencing report.
"A federal jury of Christopher Wright's peers has declared loudly and unmistakeably that he has violated the public's trust by depriving it of his fair, honest and impartial services as a public employee," Bresnick argued in the U.S. Attorney's sentencing memorandum.
Wright was convicted Feb. 24 on three of 13 counts that accused him of conspiring to sell his services as Kelly's top aide to developers Hardeep Chawla and Ravinder Chawla and Andrew Teitelman, the Chawla brothers' company attorney who doubled at Kelly's campaign treasurer. Ravinder Chawla and Teitelman were also convicted on conspiracy charges, while Hardeep Chawla was acquitted.
Marcia Gelbart
Mayor Nutter slipped out of Philadelphia yesterday - and stayed the night in Harrisburg. He's roaming the Capitol hallways again today.
Spokesman Doug Oliver says Nutter left Philadelphia about 1 p.m. yesterday, a few hours after holding a news conference in Northeast Philadelphia about the devastating budget decisions he might be forced to make if the General Assembly does not approve a city sales tax increase and pension changes, including a two-year delay in city payments into the fund.
In fact, the House is poised to vote on those changes - House Bill 1828 - today. But as the Inquirer reports, the Senate is, for the moment, unwilling to take any similar action until a state budget agreement is reached.
No word yet on exactly who Nutter is visiting today, or what his agenda otherwise entails.