John D. McDaniel, the former campaign manager for City Councilwoman Blondell Reynolds Brown, was charged with wire fraud Wednesday for alleging stealing about $100,000 from Brown's campaign.
The charges were filed by U. S. Attorney Zane David Memeger in an information.
After working on Brown's 2011 reelection campaign, McDaniel was hired by the Nutter administration and put into an airport patronage job, but he was fired last week after the city Board of Ethics documented scores of irregularities in Brown's campaign finance reports.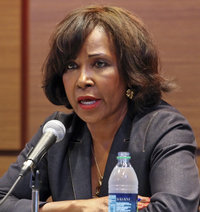 The use of an information to file the charges means that McDaniel waived his right to have the case presented to a grand jury. It is usually a sign that the defendant intends to plead guilty and, sometimes, to cooperate with prosecutors in pursuing other potential defendants.
It is not clear what that means for Brown, who has acknowledged using campaign funds to repay a $3,300 loan from Chaka "Chip" Fattah Jr., son of the Congressman by the same name, in December 2010, as well as putting $1,400 in campaign contributions into her personal account in May 2011.
The Councilwoman repaid $3,300 to her campaign account from personal funds last April 11 – about 16 months after the campaign's payment to Fattah Jr., and after it became clear from newspaper stories that the feds were looking into Fattah Jr.'s financial affairs.
The committee's payment to Fattah was disguised in campaign finance reports as a payment to a printing firm. Brown told The Inquirer this week that was McDaniel's idea, that she had expected the payment to be listed as going to Fattah Jr., but she signed her campaign finance reports without ever checking how the payment had been described.
The charges against McDaniel, 39, are punishable by a maximum sentence of 30 years in jail and a $250,000 fine, according to the U. S. Attorney's office.
Brown is not identified by name in the federal information, but it refers to McDaniel as the former campaign committee treasurer for a Philadelphia councilperson and alleges that he found several ways to steal money from the campaign: by withdrawing cash from ATM machines and bank counter withdrawals; writing and cashing checks to himself; and writing checks to another political committee he controlled, the Progressive Agenda PAC, and then taking money from Progressive Agenda.
McDaniel concealed the theft by filing false and incomplete campaign finance reports, the federal prosecutors alleged.
Calls to McDaniel and his attorney, Charles M. Gibbs, were not immediately returned.
The case was investigated by the FBI. Assistant U. S. Attorney Paul L. Gray is the prosecutor.