Julia Terruso
Three city prosecutors under fire for sharing sexist, racist and homophobic emails completed sensitivity training Friday, according to a release from the District Attorney's Office.
The session was given nearly three months after District Attorney Seth Williams promised the prosecutors would receive the training, and after weeks of mounting criticism that the three remain on the public payroll.
Until Monday's statement, Williams had ignored repeated requests for information about the promised sensitivity training and whether the prosecutors, Frank Fina, Marc Costanzo and Patrick Blessington had received it. Monday's statement said that Williams took the training as well.
Julia Terruso
Two entertainment industry heavyweights have signed on to produce the Democratic National Convention.
Emmy Award winning producer Ricky Kirshner and long-time creative producer Vicangelo Bulluck will together plan and implement stage design, lighting, music and entertainment for the political party at the Wells Fargo Center July 25-28.
Organizers have said they will raise $84 million to cover the cost of the convention – that's nearly double the papal visit.
Claudia Vargas, Inquirer Staff Writer
Mayor-elect Jim Kenney will be holding four town hall meetings in the North, South, Northeast and Strawberry Mansion sections of the city during the first week of December.
Kenney and members of his transition team will be at the town halls to list to citizens' concerns and ideas as Kenney prepares to be Mayor in January.
"To move all of Philadelphia forward, we need all Philadelphians to be at the table," Kenney said in a statement. "These town halls will provide an opportunity for community members to speak directly with me and members of our transition team, so that our administration is prepared to meet the challenges and opportunities these Philadelphians face every day."
Claudia Vargas, Inquirer Staff Writer
Mayor-elect Jim Kenney hates the idea of being evaluated on his first 100 days in office. It's just not enough time, he says.
But during a radio interview Tuesday, Kenney said the first tangible thing Philadelphians can expect to see in his administration is improved police and community relations.
"I think if I have to put 100 days on it… beginning of improvement of community policing and better improvement between community and police relations. That will be addressed on Day 1," Kenney said during a WURD-AM (900) Tuesday evening.
Julia Terruso
If you get off the subway at City Hall this morning, be prepared to walk through a huge inflatable black tunnel leading to the mouth of an Eagles beak.
As you cross through that tunnel, audio of roaring fans plays and green neon lights guide the path toward a group of cheering public relations people encouraging you to flap your wings, an Eagles' brass band and cheerleaders.
Happy Friday before the Eagles-Cowboy's game, Philadelphia.
Chris Brennan, Inquirer Staff Writer
Michael Nutter, mayor of Philadelphia, on Wednesday blamed Tuesday's light voter turnout in part on Anthony Clark, chairman of the three-member board of City Commissioners that oversees elections.
Michael Nutter, Democratic leader of the 52nd Ward, circulated a sample ballot for the May 19 primary election that encouraged voters to support Clark's bid for a third term.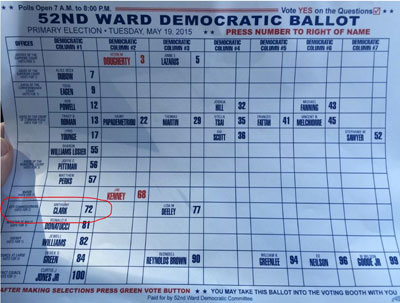 Julia Terruso
Mayor-elect Jim Kenney released the list of people on his transition team - a massive collection of more than 100 names.
Rep. Dwight Evans will co-chair the committee along with Alba Martinez, former city human services commissioner. Jessie Bradley, who worked on Nutter's 2007 mayoral campaign, is transition director.
"These groups will be focused on ensuring objectivity, community involvement, diversity and excellence in the Kenney Administration's policies and personnel," spokeswoman Lauren Hitt said in an email announcing the names. "They will also contribute to the final transition report that will be released in January."
Claudia Vargas @InqCVargas
The ever colorful, T. Milton Street sounded off on some of the city's current events Thursday outside of the District Attorney's Office.
Street, who ran for mayor in the Democratic primary, had planned a press conference to release more Porngate images but canceled it last minute because of the threat of rain.
"We didn't know if it was going to rain, we have professional sound equipment coming out here so people can hear and we didn't want to get it wet," he explained. But he promises to reveal the never-seen-before pornography emails from state officials next week.