Archive: November, 2012
Katherine K. Dahlsgaard, Ph.D., Lead Psychologist - The Anxiety Behaviors Clinic, CHOP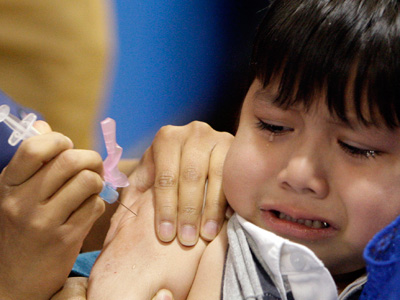 By Katherine K. Dahlsgaard, Ph.D.
American children receive over 30 shots for vaccinations during the course of their lives. That doesn't include Novocain shots at the dentist's office and injections to draw blood for tests. Yet In a recent study, 63% of children reported mild-moderate fears of receiving shots (as did about 24% of adults). Estimates vary, but studies have suggested 2-8%of children have injection phobias (i.e., extremely intense fears combined with high anticipatory anxiety that results in impairment in everyday living).
While intense fears may need counseling, parents can help kids overcome mild to moderate fears with these steps:
Katherine K. Dahlsgaard, Ph.D., Lead Psychologist - The Anxiety Behaviors Clinic, CHOP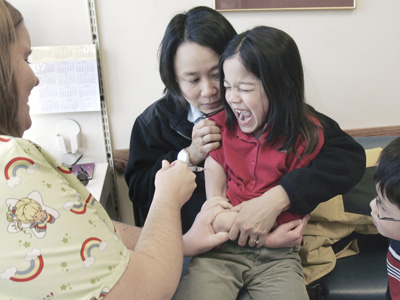 By

Katherine K. Dahlsgaard

, Ph.D.
It's flu season, which means it's flu shot season, which means it's a good time for some parental tips to help your child calmly face those shots with confidence.
Yes, there is an inhaled flu mist vaccine available, but – as a psychologist who specializes in anxiety – I usually advise parents and children/teens with whom I work to choose the shot each time, ensuring that years don't go by between confrontations with the dreaded needle. At least 30% of children report mild-moderate fears of receiving shots (as do about 20% of adults). It is estimated that
2-4% of children have injection phobias
(i.e., extremely intense fears combined with high anticipatory anxiety that results in impairment in everyday living); among adults, injection phobia is estimated at 4% –
10%
. The
median age of onset is 5.5
.
Children's regular exposure to shots is part of a healthy life. American children will receive around 20 shots for vaccinations during the course of their lives. Although the majority of these
will be completed by age 6
, several vaccinations occur
during the tween and teen years
, and young people frequently will require shots of Novocain at the dentist's office or experience needle injections for blood draws. Without frequent, successful experience with shots, mild fears can lead to full blown phobias. Needle phobic children can grow to become needle phobic adults – and adults, unlike children, can and do refuse medical treatment because of their fears (by simply avoiding routine trips to the doctor's/dentist's office and even medically necessary interventions). This can result in decreased quality of life and
significantly increased risk of mortality
.
Here is what I recommend:
Do not wait until the day of the doctor's appointment to surprise your child with the news that he'll be getting a shot. Many parents do this, reasoning that if they tell their child in advance, "he will worry about it all week." However, NOT telling your child in advance a) suggests that YOU think shots are so overwhelming and awful that he should, too, and b) denies your child a chance to develop and practice a good coping plan.

Tell him about the shot matter-of-factly, modeling calm behavior. If he expresses distress, you can empathize and reassure him that it's a normal reaction: "I understand that you're nervous – lots of people don't like shots."

Do not overly reassure your child ("It'll be okay! It'll be okay!") or tell him, "Don't worry – it won't hurt." First, shots do hurt, which he already knows. Second, the greater purpose here is to help him realize he can act bravely even when things are painful.
Tomorrow: Six ways to help your child be brave about shots -- including videos that take away the psychological "sting."
Katherine K. Dahlsgaard

, Ph.D., is lead psychologist at the Anxiety Behaviors Clinic in the Department of Child and Adolescent Psychiatry and Behavioral Sciences at the Children's Hospital of Philadelphia
.
Sari Harrar
By Sari Harrar
Infant sleep positioners (ISPs) promise to reduce risk for sudden infant death, prevent "flat heads" in babies who would otherwise sleep on their backs, and "keep baby safer and cooler." But a new Centers for Disease Control and Prevention
report
says these devices contribute to the top cause of injury-related deaths in babies: Suffocation.
"Some specific ISPs have been cleared by the Food and Drug Administration (FDA) for the management of gastroesophageal reflux or plagiocephaly (asymmetry of the skull)," the report says. Those are available by prescription. "However, many unapproved ISPs have been marketed to the general public with claims of preventing Sudden Infant Death Syndrome (SIDS), improving health, and enhancing sleep comfort."
Thirteen babies died due to suffocation with the use of sleep positioners between 1997 and 2011. They ranged in age from 21 days to four months old. Eight were boys; 14 had been born prematurely. Three were one of a pair of twins. Most had been placed on their sides to sleep -- rather than on their backs, as recommended by pediatricians' groups. But the babies couldn't breathe when their mouth and nose was trapped against one of the positioner's foam-and-cloth bolsters.
The CDC's advice to parents? Only use a positioner prescribed by your child's doctor. "
Despite other manufacturers' claims regarding SIDS prevention or other health benefits, the FDA has never cleared or approved an ISP for preventing or reducing the risk for SIDS. Cleared ISPs should only be used by prescription for treatment of specific medical conditions."
After a similar warning was issued by the FDA and the Consumer Product Safety Commission in 2010, the FDA contacted all manufacturers requesting that all sales be halted until companies submit safety and effectiveness data that not only support the medical claims of their devices but also demonstrate that benefits from use of the product outweigh the risks for suffocation. But the CDC warns that hand-me-down positioners are still out there -- and should be avoided.
Beth Wallace Smith, RD, Children's Hospital of Philadelphia
Is it just me, or is anyone else surprised that it's time to thaw a turkey?
Ready or not, it's time for everyone's favorite food-filled holiday. Thanksgiving gives us the opportunity to share some time with those special to us and over a beautiful meal. But if yours is anything like my family, you will inevitably find a rotating cast of characters in their pajamas staring into an open refrigerator late into the evening hours for leftovers. (Isn't that the best part?)
Before you saddle your family up for next day turkey sandwiches, make sure your food is safe. Along with that big Thanksgiving meal comes the increased risk of food borne illness. This year alone, one-in-six Americans will have food poisoning, and the holiday party season is a prime target. So how do you keep your family safe?
Wash! Your! HANDS! - Seems easy enough, right? But when you are shuffling between dirty dishes and transferring leftovers, it's easy to cross contaminate bacteria between foods. Put all the leftover food away first, washing your hands before and after, then tackle the dishes and trash.
Chill out - Don't let foods sit out for more than two hours. Keeping foods at the appropriate temperatures decreases the risk of bacterial growth. When you are ready to store, put small amounts of foods in shallow containers, helping to cool foods quickly and evenly. Avoid storing foods in large containers where the center may take hours to reach the safe temperature of less than 40⁰ F.
Reheat, then eat - When you are warming up your meal the next day, use a meat thermometer to make sure your food reaches a temperature of 165⁰ F. This is a great resource on cooking and reheating foods Holiday Helper Temperature Chart
Know when to hold 'em, and know when to fold 'em - Most holiday favorites can stay in the refrigerator for 3-4 days, but after that it's time to toss them. Both cooked turkey and other meats can stay refrigerated for up to four days, or frozen for two to six months. Vegetables, soups, and stews also have a 3-4 day window in the refrigerator, and can be safely frozen for three months.
Christopher C. Chang, MD, PhD
A skin rash…itching…breathing problems…swelling. These can be warning signs that your child is having an allergic reaction to a medication he or she is taking. Some reactions -- like difficulty breathing, hives, fainting, dizziness or abdominal pain -- are a medical emergency that require a call to 9-1-1 and immediate action. But other times, drug reactions aren't true allergies (in one Canadian study, just one in four reactions to antibiotics in children were allergies) -- but how can a parent tell the difference?
In this post, Healthy Kids expert panelist Christopher C. Chang, MD, PhD, of Nemours/Alfred I. duPont Hospital for Children explains the basics.
By Christopher C. Chang, MD, PhD
Sari Harrar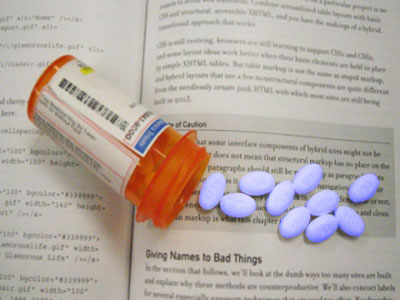 By Rima Himelstein
They're known as study drugs ... party drugs ... vitamin R, the smart drug, addy, a-bomb ...
Regardless of the slang or street names, they're actually stimulants like 'Ritalin' and 'Adderall', which are commonly prescribed to treat attention deficit hyperactivity disorder (ADHD). But like many other prescription drugs, they are getting in the wrong hands for the wrong reasons. Look on the Internet for a crash course on what our kids may be learning in between classes.
Frances Zappalla
By Frances Zappalla, DO
After reading a recent study released in Pediatrics that looks at mounting research showing that a child's media use may be linked to their body weight, we decided to call in a top doc to get some tips on how to combat the growing problem. Here, Dr. Zapalla shares her top 10 ways to entice a screen-loving kid to get moving:
Do you have parks, playgrounds or trails nearby?
Take children to places where they can run, jump, and climb. Don't discount your child's imagination…kids are great at inventing new games and entertaining themselves, they just need the opportunity and encouragement to play.
If your child doesn't like organized sports, try to figure out why so you can suggest other options.
Does he have trouble with hand-eye coordination? Try biking, walking or running short distances together. I'm a big believer in yoga, for children as well as adults. Check out yoga classes for kids in your area.
Exercise videos and video games that get your body moving, like Dance, Dance Revolution (DDR) and Wii games are a good way for kids to get physical activity.
Movement-oriented videos and games are a fun alternative to traditional exercise and still provide some of the same health benefits.
Schedule a regular daily time for physical activity.
For example, after homework and before dinner, take a one-mile walk. Moderate activity can be as simple as walking in the neighborhood or tossing a football around. Try to engage in more vigorous activity three times a week or as often as possible.
Put your kids on a TV/computer budget to not exceed two hours a day.
Give kids a TV allowance and help them to choose shows they really want to watch. Turn the TV on for pre-selected shows and turn it off afterwards. Keep the TV in a central location and out of kids' bedrooms.
Declare "Manual Labor Day."
Labor-saving devices have lowered our calorie-burning by as much as 500 calories a day. To counter these effects, go manual one day during the week: hang sheets out to dry, weed the garden, wash the dishes and the windows by hand, dust and mop, take the stairs rather than escalators or elevators and put down the remote.
Get an exercise buddy for yourself and your children.
Walking or working out with someone else increases your chances of staying with the program. Set walking dates with friends, decide on the amount time (for example, a 30-minutes) and make it at least a weekly commitment.
Make physical activity a family challenge.
Challenge each other to do a few more reps or to go a little further with each walk. Make a chart and have kids record the family's activity to help you keep track.
Kick it old school in your own backyard or a local park.
Get a group of kids and grown-ups together for a cookout or campfire and some of those fun picnic games we all remember playing: duck-duck-goose, hot potato, and Simon says.
Plant a tree.
Talk about what kind of tree you want – one that will flower, provide shade, be a home for birds, etc. – and then as a family choose a tree and plant it. Kids will take pride in watching it grow, knowing that they helped.
Frances Zappalla, DO, is a pediatric cardiologist with the Nemours Cardiac Center at the Alfred I. duPont Hospital for Children in Wilmington, DE. She trained in pediatric cardiology at the Children's Hospital of Philadelphia and also completed a fellowship in integrative medicine at the University of Arizona Center for Integrative Medicine.
Garry A. Emmett, M.D., F.A.A.P.
By Garry A. Emmett, M.D., F.A.A.P.
I can blog again now that my married children and their families are out of my apartment in the aftermath of Superstorm Sandy -- with one family back in Hoboken and one family finishing their travels on working airplanes! My granddaughter, Rachel, is 2 ½ and is a lot of fun, but as our week together went on, this toddler was increasingly nervous about why her family had to leave home so suddenly and what had happened to her home and school (both, luckily, suffering almost no damage).
Children in general do not like change – disruptions of routine can make them very anxious. Preschool children especially may not understand that loss of a house or a beloved animal is permanent. Their parents also get very anxious. And while adults understand what is happening much more clearly, you may feel uncertain about how much to share with kids -- or how to talk with them about a disaster that's affected your own family, others in your community or people you hear about via the news media.