Archive: January, 2013
Anna Nguyen, Healthy Kids blog Editor
Pregnant women are now advised to receive the tetanus, diphtheria and acellular pertussis (Tdap) vaccine during each pregnancy to protect their newborns from whooping cough, according to the new vaccination guidelines for 2013 from the U.S. Centers for Disease Control and Prevention and the American Academy of Pediatrics released earlier this week.
"We've seen more pertussis cases in 2012, than in several decades," said Dr. H. Cody Meissner, a pediatrician from Tufts University School of Medicine who is also on the CDC's immunization committee.
Once the numbers come in, it's estimated that there will be 35,000 to 40,000 cases of reported whooping cough in 2012. Of these, 20 deaths were of children, and most of them died in the first two to three months of life. It's unclear why the numbers went up, but one reason could involve better reporting of the disease, Meissner said.
Stephen Aronoff, M.D., M.B.A
It's not only the flu striking hard this year. A new strain of norovirus is the cause of over 50 percent of outbreaks that began last fall. It is one of the most common causes of food borne diarrheal disease outbreaks.
Norovirus outbreaks originate with contaminated food, and usually occur in daycare centers, schools, prisons, and on cruise ships. It is spread by water, person-to-person contact, or by touching an infected surface. Introduction of the virus into the community leads to sporadic or widespread epidemics, much like influenza virus.
Humans appear to be the only species that harbor norovirus and as a result, humans not only spread disease, but serve as the reservoir for the virus. Unlike many infectious diseases, ingestion of a very small number of infectious particles can cause disease. The virus is hardy and can live on countertops, doorknobs and other surfaces for extended periods of time.
Beth Wallace Smith, RD, Children's Hospital of Philadelphia
Along with the winter dip in temperatures, also comes a rise in seasonal viruses. With a widespread flu outbreak this year, children are at an even higher risk of coming in contact with a virus that will keep them from school. Though the occasional stomach virus is likely inevitable, knowing what to feed your child shortly after a virus can help them bounce back and recover more quickly.
A viral gastroenteritis, or "stomach flu", occurs when a virus infects the lining of the stomach and/or small intestine, causing symptoms of nausea, vomiting, stomach cramps, diarrhea, and fatigue. After prolonged vomiting and diarrhea, the lining of the stomach and intestines become irritated, and change the ability of the body to digest and absorb food and beverages.
Though many symptoms of the viruses improve within 24-48 hours, it sometimes takes up to a week for the stomach and intestines to fully recover, and re-introducing foods at the right time can help to prevent further irritation.
Rima Himelstein, M.D., Crozer-Keystone Health System
"I can hear what you're listening to!" If you've said this to your teen when he or she is listening to an iPod or MP3 player through ear buds, you are not alone. I've had to say (yell) it to my own teens!
The fact is: our teens are risking hearing loss. Sound scary? It is. Ear buds are basically tiny little speakers worn in the ear canals. When ear buds are used to listen to high-volume sound over a long period of time, they can cause noise-induced hearing loss (NIHL). Our teenagers may painlessly, gradually, and unknowingly be experiencing just that. Here's the data:
One in three people develop hearing loss as a result of exposure to extreme noise.
More than 5 million children between the ages of 6 and 19 report NIHL.
Hearing loss in U.S. adolescents ages 12 to 19 increased from 14.9 to 19.5 percent since 1990.
The high cost of technology. Ownership of iPods and MP3 players among children and teens has increased from 18 to 76 percent between 2005 and 2010. Just imagine where we are in 2013—and right after the holidays!
Christopher C. Chang, MD, PhD
Sensitivity to mold is similar to pollen allergies and affects both adults and children. While allergies associated with outdoor mold spores peak in warm weather, indoor mold can pose problems year round.
Mold is another name for fungi – unsightly patches of brown, black, green, or yellow fuzzy growths. Mold, unwanted and usually unpleasant, is associated with damp basements, walls and carpets, dirty bathroom grout and musty smells. But without mold, we wouldn't have penicillin, blue cheese, bread, beer, wine or edible mushrooms! In other words, mold isn't all bad.
Most people, no matter where they live, are exposed to mold to some degree. Dampness and humidity provide the perfect breeding ground for mold. Mold is fairly ubiquitous, thriving on dampness virtually anywhere. To demonstrate an allergy, you must first be exposed and sensitized to the allergenic substance.
W. Douglas Tynan, Ph.D., Nemours/Alfred I. duPont Hospital for Children, Jefferson Medical Colg
Do you think guns in the home make your children safer? It's usually not the case. Last January, high school student Anthony Krueger locked himself in his room and shot himself under the chin twice after his mother called the police about his drug use. Stories like this highlight that one of the largest risk factors for teen suicide is the presence of a gun in the home.
In Krueger's case, the 17-year-old from Dover, Del. survived, but faces a long slow recovery from his injuries . Without access to a gun, an emotional argument can lead to broken doors and objects, screaming, tears and even a fist fight, but rarely does it end in death. With a gun present, the circumstances change.
Krueger's mother had bought the gun for protection, and allowed him access so he could "protect" his younger siblings while his mom was at work. His suicide attempt was featured in a Wilmington News Journal article earlier this month that looked at an adolescent suicide cluster in the state last year.
Beth Wallace Smith, RD, Children's Hospital of Philadelphia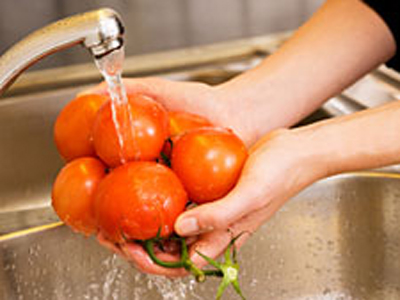 For many of us, we've only heard about food-borne illness in the news. You may have then checked your jar of peanut butter to make sure it wasn't recalled and moved on with your day.
However, for some, the repercussions of buying the wrong vegetable or cut of meat can literally mean life or death.
It seems absurd to me that in our industrialized world, too often we can't trust our own food sources. Luckily, things are starting to change.
Anna Nguyen, Healthy Kids blog Editor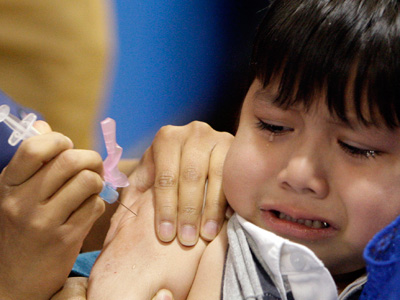 In light of recent concerns about vaccines, a review of scientific evidence supports the safety of the current vaccination schedule, according to an Institute of Medicine report released today.
The federal childhood immunization schedule covers children from birth through age 6 years and protects against 14 diseases, including the measles, mumps, and polio. Roughly 90 percent of American children receive most childhood vaccines advised by the federal immunization schedule by the time they enter kindergarten.
Children may receive up to 24 immunizations by the age of two and up to 5 injections in a single visit. Some parents have said this may present unnecessary risks because of the timing and number of vaccinations. These parents have requested delays of one or more immunizations, or have had fewer vaccinations given at each visit. Some parents also refuse immunizations because of a vaccine's potential side effects. The report points out these decisions may reflect the significant and sustained decline of vaccine-preventable diseases over the past several decades causing parents to believe that it's not worth the risk of an extremely rare negative reaction to a vaccine.