Sleep
Sari Harrar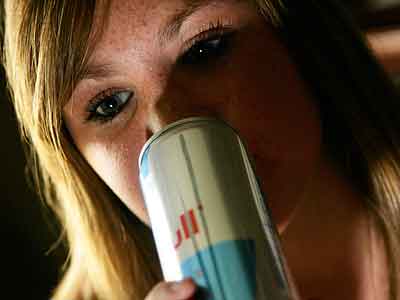 Teens and young adults spend an estimated $2.3 billion annually on energy drinks laced with caffeine and herbal stimulants. But these aggressively marketed and pricey beverages (called "drugs in a can" and "a pharmacological Molotov cocktail" by Oklahoma State University researchers in one recent report) do more than clean out their wallets.
Over 5,000 reported caffeine overdoses in recent years—46 percent in kids age 18 and younger—have been attributed to them, say University of Miami researchers in a 2011 study in the journal Pediatrics. With caffeine levels up to three to five times higher than a 12-ounce cola, these drinks may also contain rev-you-up herbal stimulants like guarana and yerba mate. Liver damage, kidney failure, respiratory disorders, agitation, seizures, psychotic problems, muscle break-down, off-rhythm heartbeats, high blood pressure, heart failure, heart attack and even death have been reported in energy drink users in Europe, the U. of Miami researchers warned. And kids taking medications for attention deficit disorders or who have diabetes or heart problems may be at extra risk.
Denmark, Sweden, Australia and Germany have partial or complete bans on their sale to kids. Last fall, Canada began requiring new warnings and stricter caffeine limits. What's happening in the U.S.? Here's what parents should know:
The U.S. has no standard definition of an 'energy drink.' The Food and Drug Administration only sets caffeine levels on cola drinks, allowing energy-drink makers to pack their beverages with more. (The American Beverage Association has voluntary guidelines for caffeine limits and warning labels, but not all drink makers comply.) Many contain even higher levels than may be listed on the label, because herbs like yerba mate also pack considerable amounts of caffeine.
They're marketed aggressively to preteens and teens. Flavors like strawberry lemonade and apple cherry and slogans like "party like a rock star!" and 'ultimate energy rush' are just the beginning. Energy-drink websites lure kids with come-ons about bands, athletes and celebrities. Coupons and free samples get them started.
Energy drinks don't help performance. They made timing, coordination, alertness and concentration worse in one Oklahoma State University study of student pilots. In fact, after triggering a burst of stress hormones and feel-good brain chemicals, your energy levels plummet.
One can isn't one serving. Many contain 2 or even 4 servings per can—but who (especially a thirsty teen) stops at a quarter-can? Drinking the whole thing means they've just downed two to four times more caffeine than they'd get from a single serving.
Sari Harrar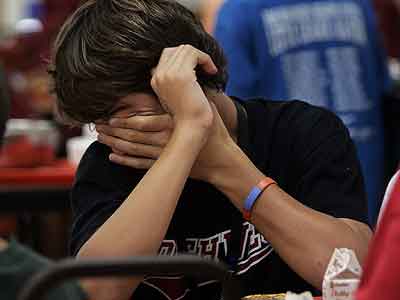 Whether your child is a newborn, third grader or high school senior, sleep is likely something you worry over. Now, a new study that you may have read about earlier this week in Healthy Kids suggests that kids have never gotten as much shut-eye as the experts recommended — and that a little less is probably OK.
Probably. News stories about the new study didn't mention some of the downsides of short-sleeping in kids. University of Michigan researchers, for example, have found that teens who sleep less than 6½ hours a night were two-and-a-half times more likely to develop high blood pressure and borderline high blood pressure. Case Western Reserve University scientists have reported that losing just one hour of sleep a night doubles a child's risk for becoming overweight. And it's no surprise that skimping affects schoolwork, too. A Brown Medical School study of 74 healthy, academically successful 6- to 12-year-olds voluntarily highlighted the difference that an earlier bedtime can make. When the kids slept less than 8 hours per night, they had trouble remembering facts they'd already been taught and were slower to pick up new information than when they got 9.7 hours per night.
The hidden bonus? When your child sleeps well, you sleep better. Your child's "perfect sleep number" may be higher or lower than his friends' of the same age. How do you find it and achieve it? These steps can help:
Sari Harrar
Worried that your kids are not getting enough sleep? Guess what? Parents have had the same worry for 100 years, according to research cited in this article from HealthDay.
(HealthDay News)—With televisions, computers, cellphones, school work and extracurricular activities, parents worry that their kids are so busy that they aren't getting enough sleep.
But a new review suggests this is not a new problem, and perhaps it might not be a problem at all.