Preventative Care - "Sick Days"
Peggy Dolan
Today's guest blogger Peggy Dolan is the Founder and Executive Director of the Kelly Anne Dolan Memorial Fund, an Ambler, PA-based nonprofit that advocates on behalf of and provides financial assistance to families whose children are seriously ill, physically and cognitively challenged, or severely injured.
Expenses can add up quickly for families dealing with a life threatening illness of a child. Parents generally realize early on that extensive medical bills and other out-of-pocket costs impact their ability to keep up with everyday household bills like utilities and rent.
At the Kelly Anne Dolan Memorial Fund, we advocate for families who are struggling to make ends meet due to a serious, life threatening diagnosis of one or more children. The added expenses for parents of sick children - such as job loss in order to be with a sick child, childcare cost for siblings, or tutoring for a hospitalized child who is unable to attend school - are often overlooked.
Rima Himelstein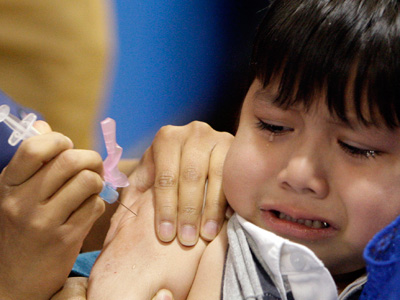 Protecting our children: it's on all of our minds right now, especially, and it will always be. That is why I decided to write my final blog for 2012 on one area in medicine where we can really provide protection: vaccination against disease. In fact, vaccination is one of the greatest gifts a parent can give a child.
Looking back helps us appreciate how far we've come. In 1796, an English doctor named Edward Jenner noticed that milkmaids who caught a mild disease from cows known as cowpox did not catch the deadly human disease known as smallpox. Smallpox killed millions of people for generations. Jenner took fluid from a cowpox blister and scratched it into the skin of an eight-year-old boy. A single blister appeared then went away. Jenner later gave the boy a tiny dose of smallpox and he did not become sick. From this experience came the smallpox vaccine.
Fast forward: a smallpox-free world. Smallpox vaccine was given to generations of children around the world, completely eliminating the disease by 1980. So we no longer need to vaccinate our children against smallpox … but smallpox is the only exception.
Sari Harrar
By Sari Harrar
Infant sleep positioners (ISPs) promise to reduce risk for sudden infant death, prevent "flat heads" in babies who would otherwise sleep on their backs, and "keep baby safer and cooler." But a new Centers for Disease Control and Prevention
report
says these devices contribute to the top cause of injury-related deaths in babies: Suffocation.
"Some specific ISPs have been cleared by the Food and Drug Administration (FDA) for the management of gastroesophageal reflux or plagiocephaly (asymmetry of the skull)," the report says. Those are available by prescription. "However, many unapproved ISPs have been marketed to the general public with claims of preventing Sudden Infant Death Syndrome (SIDS), improving health, and enhancing sleep comfort."
Thirteen babies died due to suffocation with the use of sleep positioners between 1997 and 2011. They ranged in age from 21 days to four months old. Eight were boys; 14 had been born prematurely. Three were one of a pair of twins. Most had been placed on their sides to sleep -- rather than on their backs, as recommended by pediatricians' groups. But the babies couldn't breathe when their mouth and nose was trapped against one of the positioner's foam-and-cloth bolsters.
The CDC's advice to parents? Only use a positioner prescribed by your child's doctor. "
Despite other manufacturers' claims regarding SIDS prevention or other health benefits, the FDA has never cleared or approved an ISP for preventing or reducing the risk for SIDS. Cleared ISPs should only be used by prescription for treatment of specific medical conditions."
After a similar warning was issued by the FDA and the Consumer Product Safety Commission in 2010, the FDA contacted all manufacturers requesting that all sales be halted until companies submit safety and effectiveness data that not only support the medical claims of their devices but also demonstrate that benefits from use of the product outweigh the risks for suffocation. But the CDC warns that hand-me-down positioners are still out there -- and should be avoided.
Beth Wallace Smith, RD, Children's Hospital of Philadelphia
Is it just me, or is anyone else surprised that it's time to thaw a turkey?
Ready or not, it's time for everyone's favorite food-filled holiday. Thanksgiving gives us the opportunity to share some time with those special to us and over a beautiful meal. But if yours is anything like my family, you will inevitably find a rotating cast of characters in their pajamas staring into an open refrigerator late into the evening hours for leftovers. (Isn't that the best part?)
Before you saddle your family up for next day turkey sandwiches, make sure your food is safe. Along with that big Thanksgiving meal comes the increased risk of food borne illness. This year alone, one-in-six Americans will have food poisoning, and the holiday party season is a prime target. So how do you keep your family safe?
Wash! Your! HANDS! - Seems easy enough, right? But when you are shuffling between dirty dishes and transferring leftovers, it's easy to cross contaminate bacteria between foods. Put all the leftover food away first, washing your hands before and after, then tackle the dishes and trash.
Chill out - Don't let foods sit out for more than two hours. Keeping foods at the appropriate temperatures decreases the risk of bacterial growth. When you are ready to store, put small amounts of foods in shallow containers, helping to cool foods quickly and evenly. Avoid storing foods in large containers where the center may take hours to reach the safe temperature of less than 40⁰ F.
Reheat, then eat - When you are warming up your meal the next day, use a meat thermometer to make sure your food reaches a temperature of 165⁰ F. This is a great resource on cooking and reheating foods Holiday Helper Temperature Chart
Know when to hold 'em, and know when to fold 'em - Most holiday favorites can stay in the refrigerator for 3-4 days, but after that it's time to toss them. Both cooked turkey and other meats can stay refrigerated for up to four days, or frozen for two to six months. Vegetables, soups, and stews also have a 3-4 day window in the refrigerator, and can be safely frozen for three months.
Sari Harrar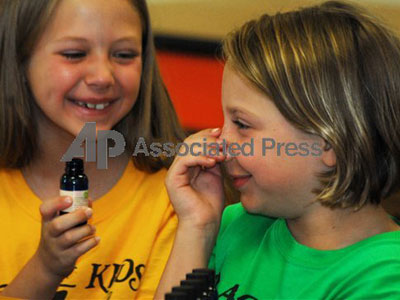 Beads. Rocks. Cheerios. Toys. Tissues. Curious little kids shove all sorts of objects up their nose -- and really thorough children cram stuff up both nostrils. If there's pain, bleeding or a yucky discharge from the nose in question, call the doctor right away. If you think the objects moved into your child's throat, it's time to go to the emergency room. But if something just seems…stuck…as new British report says trying an at-home expulsion technique called the "mother's kiss" might get it out safely.
According to a press release from the Canadian Medical Association (CMA), which published the study the Canadian Medical Journal, "The technique, known since the 1960s but not widely used, can help prevent the need for more invasive measures such as hook or forceps, and suction to remove objects."
How, exactly, do you do it? The CMA offers this description -- and, good news, you don't have to be a mom to do it. Just a responsible relative who can follow directions. The how-to: "In the mother's kiss, a child's mother or trusted relative covers the child's mouth with her mouth to form a seal, blocks the clear nostril with her finger then blows into the mouth. The pressure from the breath may then expel the object. The parent explains the technique to the child so that he or she is not frightened."
Katherine K. Dahlsgaard, Ph.D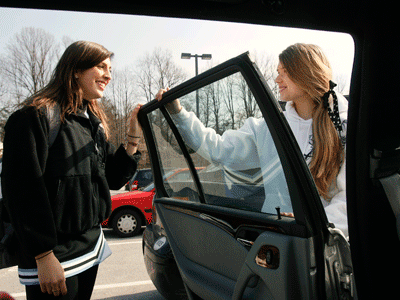 by Katherine K. Dahlsgaard, Ph.D.
At age 23, Herb Brooks was the last player cut from the 1960 American Olympic hockey team, which went on to win the gold medal. Twenty years later, however, Brooks organized and coached a rag-tag group of college students into the American team for the 1980 Olympics that beat the Soviet Union to win gold. Brooks is largely credited for one of the most staggering upsets -- as well as one of the most famous calls -- in American sports history. A little over twenty years after that, the movie Miracle documented this stunning triumph. Tragically, Brooks never made it to the premiere. He died in an automobile accident early one morning a few months before Miracle was released. The cause of the crash? Brooks fell asleep at the wheel.
Car accidents are the leading cause of death among teens. What may surprise you is that sleep deprivation is a factor in 20% of all car accidents. That's right: Not getting enough sleep (such as after pulling an all-nighter to study for that final exam) is a factor in 1 in 5 car accidents. More than half of these accidents involve drivers 25 and under.
Rima Himelstein, M.D., Crozer-Keystone Health System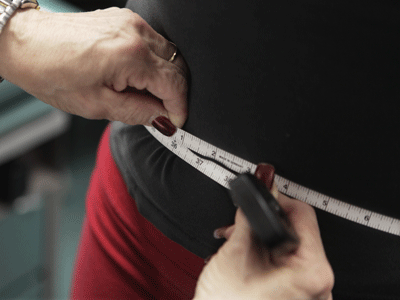 by Rima Himelstein, M.D.
What forces are adding to the obesity epidemic in teens? Here are key ones:
Fast food: 80 percent of teens underestimated the calories in their fast-food meals; they guessed 800 calories when the calorie count was really almost double that: 1,500.
Screen time: One third of teens spend close to 40 hours on TV and the computer every week and about 7 percent spend more than 50 hours.
No gym: Less than half of 9th-grade students and less than a quarter of 12th-grade students have physical education.
How it all adds up: Fast food plus screen time minus gym class equals obesity. It is no wonder that over 18 percent of children and adolescents are obese and that over 30 percent end up being obese as adults.
Sari Harrar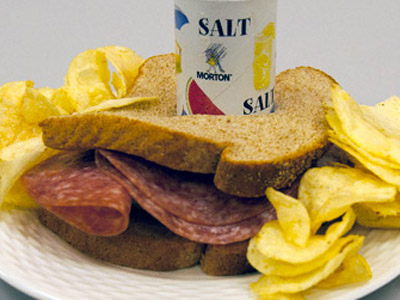 Is it time to hand kids the salt shaker, order movie popcorn with a side of sodium and stop worrying about the 1,230-1,420 milligrams of sodium currently allowed in school lunches by the USDA (as much as a Big Mac and fries)? Maybe that's extreme, but The Great Salt Debate flared up anew this week with a new study of salt's impact on health - this time in children and teens.
In one corner: A new Centers for Disease Control and Prevention look at 6,235 kids and teens. Over five years, kids who downed the most sodium were twice as likely to have high blood pressure or be at risk for it; among overweight and obese kids, the biggest salt-eaters were 3.5 times more likely to have boosted-up blood pressure. Scary fact: Overall, kids 8 to 18 in the study got 3,387 milligrams of sodium (the stuff that makes salt taste salty and that may raise blood pressure) - as much as adults eat and way more than the 1,200 to 2,300 recommended for kids of different ages.
In the other corner: A small but growing stack of studies finding no problems with sodium, at least for adults. One that got loads of press attention in 2011 followed 3,700 grown-ups for eight years and found that lower salt meant more heart-disease deaths and higher salt didn't mean more high blood pressure. That study's been criticized for using not salt intake but the amount of sodium people excreted, which may not accurately reflect the fact that you put extra salt on your French fries ... or work hard to keep your food low-sodium.