Obesity
Sari Harrar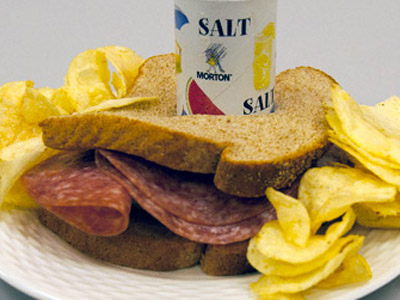 Is it time to hand kids the salt shaker, order movie popcorn with a side of sodium and stop worrying about the 1,230-1,420 milligrams of sodium currently allowed in school lunches by the USDA (as much as a Big Mac and fries)? Maybe that's extreme, but The Great Salt Debate flared up anew this week with a new study of salt's impact on health - this time in children and teens.
In one corner: A new Centers for Disease Control and Prevention look at 6,235 kids and teens. Over five years, kids who downed the most sodium were twice as likely to have high blood pressure or be at risk for it; among overweight and obese kids, the biggest salt-eaters were 3.5 times more likely to have boosted-up blood pressure. Scary fact: Overall, kids 8 to 18 in the study got 3,387 milligrams of sodium (the stuff that makes salt taste salty and that may raise blood pressure) - as much as adults eat and way more than the 1,200 to 2,300 recommended for kids of different ages.
In the other corner: A small but growing stack of studies finding no problems with sodium, at least for adults. One that got loads of press attention in 2011 followed 3,700 grown-ups for eight years and found that lower salt meant more heart-disease deaths and higher salt didn't mean more high blood pressure. That study's been criticized for using not salt intake but the amount of sodium people excreted, which may not accurately reflect the fact that you put extra salt on your French fries ... or work hard to keep your food low-sodium.
Sari Harrar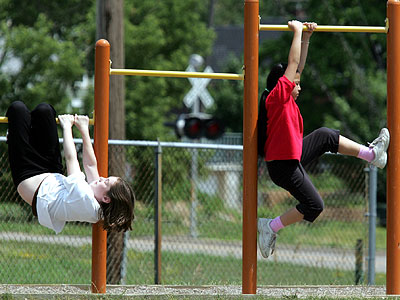 There are plenty of studies in the news these days warning that teens, preteens and even little kids have heart-disease risk factors that once only happened to adults ... but today a brand-new report paints a picture parents shouldn't miss. Researchers in Finland took a look at the arteries of 589 middle-aged people - and found that those who had signs of high blood pressure and/or high LDL cholesterol as teenagers were up to three times more likely to have calcium deposits in the blood vessels in their hearts.
About one in five women and men in the study had calcium deposits in their coronary arteries. That's bad news, because these calcium specks are an early sign of heart disease. Plaque's building in artery walls - and that can squeeze down the size of arteries that carry blood to the heart or trigger a heart attack if plaque breaks open. How did middle-aged calcium deposits relate to teen blood pressure and cholesterol levels?
Teens with the highest levels of "bad" LDL cholesterol were 37 percent more likely to have calcium-lined arteries as adults. How high? Average LDL level in this group was about 132 - a level considered high by the National Heart, Lung and Blood Institute. The ideal LDL level for kids and teens is below 110.
Sari Harrar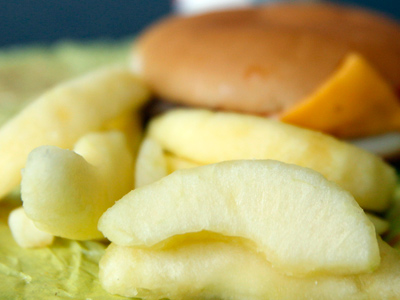 by Sari Harrar
A new Canadian study says that little kids are three times more interested in healthier fast-food options when they're the only ones that come with a toy. It's really no surprise…what parent hasn't had a little kid go wild in the backseat for a little plastic thingie in their fast-food sack and barely notice what they're eating? But…this study gave me a sneaky idea. Why not set your own "toys with good food only" rule at the drive-through?
Canadian scientists stacked the deck. They offered 350 kids, ages 6 to 12, McDonalds Happy Meals of better and worse nutritional quality -- but a little plastic Smurf toy came only with the good stuff. Kids could choose a hamburgers or a grilled chicken wrap with fries and a soda or with apple slices and bottled water. The kids were going to a YMCA day camp and ordered the meals from a form, so the researchers could manipulate which had the toys.
Beth Wallace Smith, RD, Children's Hospital of Philadelphia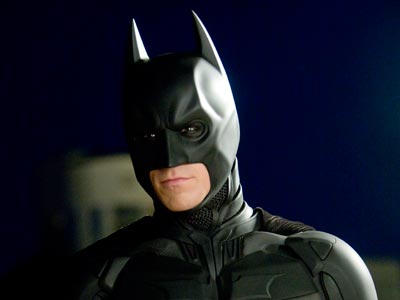 Every day, we hear something on the news about the obesity crisis in this country. And every day, parents, grandparents, doctors, dietitians, and the First Lady try to find a new way to encourage kids to eat healthy. In my profession, we preach that being an example to kids, parent encouragement, and filling your home with healthy options are some the keys to help your child know how to make the best choices when they are on their own. But a new study published by researchers at Cornell University shows we have been missing a "super" important piece of the puzzle.
Batman.
Yes, Batman, appears to be the key to wellness.
Sari Harrar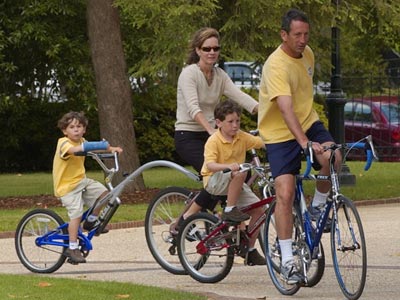 One of my summertime goals was to take more walks in our woodsy neighborhood with my daughter. We both need the exercise; walking together also gives us a chance to connect, relax and talk about things that we might not get to when things are busy at home. It's working! So I was happy to read about a brand-new study finding that, indeed, kids are more active when their parents are.
Researchers from National Jewish Health in Denver, Colo., followed 83 families who had signed up for a family intervention program aimed at preventing excessive weight gain in overweight kids, ages 7 to 14. Families received pedometers and were asked to increase their daily step counts by about 2,000 - roughly a mile. The results:
On days when mothers reached or exceeded their 2,000-step goal, children took an average of 2,117 additional steps.
On days when moms didn't hit their goals, kids got about 1,000 fewer steps.
The activity levels of fathers had a similar effect.
Kids and parents both increased their step counts on weekends, when families had more time to have active fun together.
Yesterday's steps didn't help today's totals. A parent's higher activity level one day didn't translate into a lot of extra steps for kids the next day. It's an of-the-moment kind of thing.
"It has long been known that parent and child activity levels are correlated," said lead researcher Kristen Holm, Ph.D. "This is the first intervention-based study to prospectively demonstrate that when parents increase their activity, children increase theirs as well. The effect was more pronounced on weekends."
Sari Harrar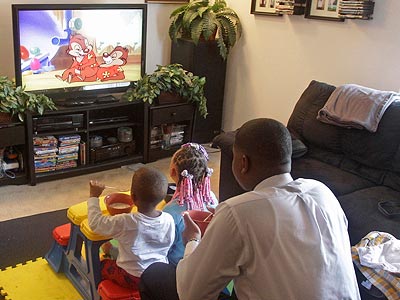 by Sari Harrar
Every extra hour of weekly TV that little kids watch translates into more abdominal fat and lower fitness levels years later, say University of Montreal researchers. In a new study, scientists asked the parents of 2- to 4-year-olds about their kids' TV-watching habits. They checked back when the kids were in fourth grade. Here's what they found:
More TV at age 2 ½ meant lower jumping ability by fourth grade. Every hour of TV kids watched at a young age meant their jumps were 1/10th of an inch shorter -- a small difference researchers say reflects lower leg-muscle strength and less time spent running around and having active fun.
More TV meant wider waistlines. Kids who watched 18 hours of television at age 4 ½ had waists that were 1/3 of an inch bigger -- a sign they had more abdominal fat, which can raise risk for diabetes and heart disease later in life.
How much TV is your kid watching? The antidote? Experts widely recommend limiting kids' screen time to 2 hours a day -- with less for younger kids. But in the real world, two-thirds of infants and toddlers watch a screen an average of 2 hours a day; kids under age 6 watch an average of about 2 hours of screen media a day, primarily TV and videos or DVDs; and kids and teens 8 to 18 years spend nearly 4 hours a day in front of a TV screen and almost 2 additional hours on the computer (outside of schoolwork) and playing video games.
Sari Harrar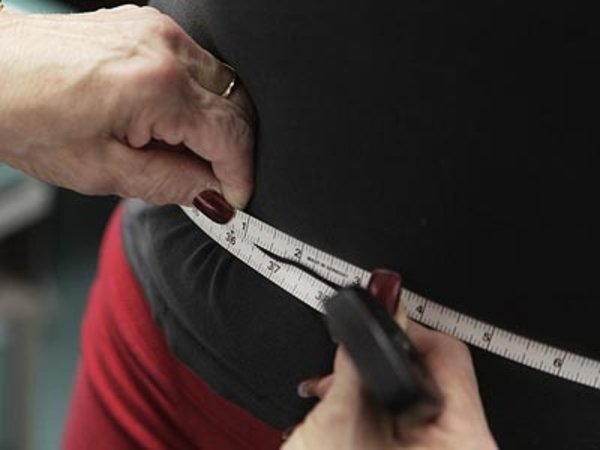 by Sari Harrar
Could your teen's circle of friends influence her body weight and activity level? A new study says yes. Loyola University researchers have found that high school students were more likely to gain weight if they had friends who were heavier than they were. Conversely, students were more likely to get trimmer -- or gain weight at a slower pace -- if their friends were leaner than they were.
Social networks also influenced how active kids were in sports.
Gary A. Emmett, M.D., Director of Hospital Pediatrics at TJU Hospital & Pediatrics Professor at Thomas Jefferson Univ.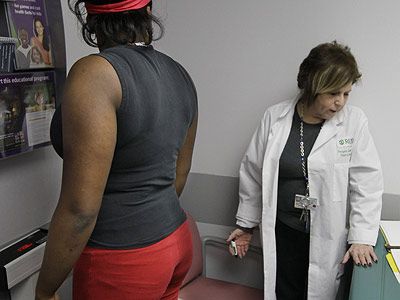 by Gary A. Emmett, M.D.
The obesity "epidemic" is now old news, but it is scaring the heck out of medical practitioners since we know that the very heavy children we are now seeing will have chronic illnesses such as Type II diabetes, hypertension, fatty liver, gall bladder disease and chronic hip problems 20 to 30 years earlier than their parents did.
This change in disease patterns will change society. Although all economic levels and all racial and ethnic groups are affected by trend toward being overweight, the Centers for Disease Control and Prevention reports that risk may be higher for kids from lower-income families. And University of Pennsylvania childhood obesity experts report that nearly a quarter of Mexican American adolescent boys were obese in 1999–2002, compared to 19 percent of African Americans and 15 percent of whites. And among teen-age girls, 24 percent of African Americans, 20 percent of Mexican Americans, and 13 percent of whites were obese.