Anna Nguyen, Healthy Kids blog Editor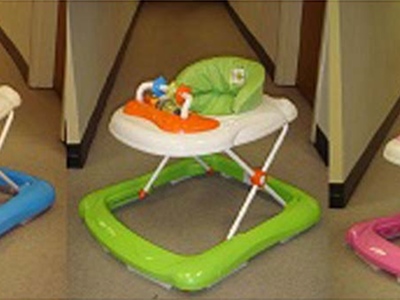 BebeLove recalled about 3,600 of its walkers because they failed to meet federal safety standards. They were sold for babies age 6 months or older. The walkers contain a plastic- covered foam padded seat with a plastic base and toy tray.
Style number 358 can fit through a standard doorway and is not designed to stop at the edge of a step as required by the federal safety standard. In addition, style number 368 contains leg openings that allow the child to slip down until the child's head can become entrapped at the neck. Babies using these walkers can be seriously injured or killed, according to the U.S. Consumer Product Safety Commission.
No injuries have been reported. For more information, go to the CPSC website.
---
Anna Nguyen, Healthy Kids blog Editor
Childhood obesity and access to health care remain some of the most pressing issues when it comes to children's health in Bucks, Delaware and Chester counties, according to recently released reports from Public Citizens for Children and Youth, a children's advocacy non-profit.
The reports found that nearly 20,000 children in Bucks, Chester, Delaware and Montgomery counties are uninsured. More than a quarter of those kids (5,692) are undocumented and cannot enroll in CHIP or Medical Assistance.
In the three counties, about 114,000 children are overweight or obese. In addition, disparities persisted between children of different races, ethnicities, insurance statuses and incomes.
Christopher C. Chang, M.D., Ph.D, Nemours/Alfred I. duPont Hospital for Children, Jefferson Medical Colg
Does your child get tired easily during or after exercise, or coughs after coming inside from being active outdoors? It could be exercise-induced bronchospasm (EIB) or exercise-induced asthma, a condition in which people experience constriction of the airway when they exercise, producing symptoms such as wheezing or coughing.
For some, it can lead to shortness of breath and an inability to continue the exercise. EIB is common in asthmatics, but may also occur in those who do not have asthma. For children with EIB, winter weather poses special concerns. The cold, dry air combined with rapid breathing during exercise are a combination that can trigger attacks of EIB.
The upper airways – the nose and mouth – act as an air conditioner, moisturizing and warming the air as it goes down into the lungs. When you are breathing rapidly, the dry, cold air doesn't have a chance to warm up. Cold air is, to begin with, drier than warm air, because air at lower temperature has a lesser capacity to hold water. That is why even stepping out into the cold sometimes "takes your breath away." The effects of cold and exercise are most pronounced with high ventilation sports, such as soccer, running, hockey and skiing.
Beth Wallace Smith, RD, Children's Hospital of Philadelphia
I will be honest with you. I'm not a really productive member of society until I've had 16 ounces of coffee. As adults, some of us have a caffeine fix the morning. But should we be concerned that kids are trending towards a serious caffeine addiction with a Starbucks on every corner and a convenience store full of energy drinks?
A new study from Pediatrics released online today evaluated the trends on caffeine intake in American children and adolescents. Surprisingly, the average caffeine intake hasn't increased in the last decade. The study found that 63 percent of toddlers and preschool children, and almost 75 percent of older children consumed caffeine daily. While the overall amount of caffeine intake didn't change significantly, the sources of caffeine did. The study reported that the intake of caffeine in children's diets has decreased from soda, but increased through energy drinks and coffee drinks. Intake from tea remains the second highest source of caffeine.
So the big question…is caffeine safe for kids? Caffeine is a drug found naturally in some plants (think coffee beans and tea leaves), and added to many other drinks (those neon-colored energy drinks). The myths were dispelled about caffeine intake stunting growth, but the experts still say the answer is a big "no." The American Academy of Pediatrics discourages the consumption of caffeine for all children in adolescents, and the United States has no guidance on the amount of caffeine that is safe for children.
Denise Jeffery RD, LDN
Denise Jeffery RD, LDN is a clinical dietitian for Healthy Weight Program at The Childrens Hospital of Philadelphia.
Brighten up your breakfast with this breakfast quesadilla that provides fruit, fiber, and protein to get the day started off right. Just remember you want to limit any nut butters to the serving size, since they can really add up in calories and fat.
Peanut butter, Strawberry, Banana Breakfast Quesadilla
Flaura Koplin Winston, MD, PhD, Scientific Director of the Children's Hospital of Philadelphia's Center for Injury Research and Prevention
Several years ago, I knew that our messages about child passenger safety were getting across to families. During a check-up, a mother asked whether it made sense to buy the new pink booster seat that her 7-year-old daughter wanted, asking me, "How much longer should she sit in a booster?" My answer: I'm so glad she likes her booster and that you are protecting your child! She needs to be in the booster until she reaches 4 feet 9 inches in height, likely not until your petite daughter reaches 12 years of age. While adult seat belts are better than no restraint at all, booster seats position the belt across the chest and thighs so that the belt can do the best job in protecting children.
For many parents, ensuring that their 15-month-old is securely fastened into their rear-facing child safety seat or their 7-year-old is in a booster seat is part of their daily routine. It may be hard to believe, but not so long ago these actions were more often "the exception" than "the rule" when it came to child passenger safety. Since the late 1990's, there has been a remarkable increase in child restraint system (CRS) use through age 8: from 51 percent in 1999 to 80 percent in 2007 (click here to view a chart showing this progress). This has translated into a 46 percent reduction of child traffic fatalities from 2001 to 2010. This progress can be attributed to increased legislation, education, and improvements to safety technology in motor vehicles.
While the good news is that today's parents and caretakers know the importance of using a CRS to keep their children safe in motor vehicles, there is a new challenge to be tackled - ensuring that children are accurately and securely restrained in the correct CRS. In 2004, a survey completed by the National Highway Traffic Safety Administration (NHTSA) found that 72.6 percent of child restraints observed in parking areas throughout the United States had at least one "critical" misuse, this included:
Not using the appropriate CRS for the child's age
Incorrectly attaching the CRS to the vehicle,
Not harnessing the child in the CRS correctly
Anna Nguyen, Healthy Kids blog Editor
Runway Global recalled about 820 girls' Sugarfly hooded jackets because they have a drawstrings in the hood around the neck area which can pose a strangulation hazard to children. This recall involves three styles of Sugarfly-branded hooded, woven cotton and woven polyester jackets for girls with a drawstring through the hood. They were sold exclusively at Burlington Coat Factory.
No injuries have been reported. For more information, go to the U.S. Consumer Product Safety Commission website.
---
Have a question for the Healthy Kids panel? Ask it here.
Anna Nguyen, Healthy Kids blog Editor
Lion Force recalled about 2,400 boys' puffer coats because they have a drawstring through the hood which can pose a strangulation hazard to children. Sold exclusively at Burlington Coat Factory, they are black hooded coats with dark gray drawstrings around the hood.
No injuries have been reported. For more information, go to the U.S. Consumer Product Safety Commission website.
---
Have a question for the Healthy Kids panel? Ask it here.