Vaccines and Medications
Stephen Aronoff, M.D., M.B.A., Temple University Hospital
Planning a trip abroad for the summer? Consider potential health risks that may lurk at your destination. It's important to check with your doctor to find out what precautions, such as vaccines or medications, can help protect your family.
Here's why. While virtually nonexistent in the United States, measles is still a common disease in many parts of the world, including Europe, Asia, Africa, and the Pacific. This vaccine preventable disease infects about 20 million people and kills about 164,000 people per year. The majority of these deaths are among children, and more than half of these deaths occur in India. Measles can also make a pregnant woman miscarry or give birth prematurely.
What about polio? It has been decades since a case of polio has been reported in the U.S. In fact, that disease has been completely eliminated worldwide. Right? Not so. Over the past several months, cases of polio have been reported in Somalia and Kenya. This disease, which begins like many other other viral illnesses, infects the nervous system and may leave its victims paralyzed; some patients even die.
Anna Nguyen, Healthy Kids blog Editor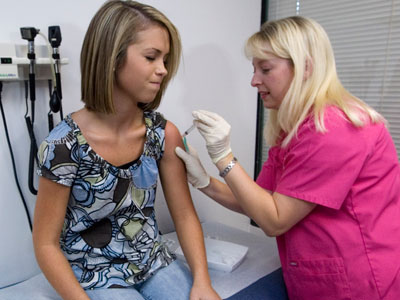 Despite the recommendation from experts, parents are increasing citing safety concerns as their reason to not vaccinate their teenage daughters against HPV, the virus that causes the most cases of cervical cancer, according to a recent study.
The study in the April issue of Pediatrics looked at vaccination rates among teens in the United States for several illnesses, including genital human papillomavirus. HPV, the most common sexually transmitted virus in the U.S., has been linked to cervical cancer, genital (anus, vagina, penis) cancers, and a type of head and neck cancer.
Researchers found a dramatic increase in the number of parents citing "Safety concerns/side effects" as their main reason for not vaccinating their daughters between 2008 and 2010. It jumped from 4.5 percent in 2008 to 16.4 percent in 2010.
Anna Nguyen, Healthy Kids blog Editor
Whooping cough is making a comeback. The Centers for Disease Control and Prevention reported 41,000 cases last year in the United States, the highest level in decades. One reason for these numbers could be that immunity from the vaccine diminishes each year after the fifth dose is given to children around four to six years of age, according to a recent study.
Other factors in this increase include a true increase in whooping cough, increased recognition and reporting by physicians, and improved lab tests to identify the disease.
Anna Nguyen, Healthy Kids blog Editor
Pregnant women are now advised to receive the tetanus, diphtheria and acellular pertussis (Tdap) vaccine during each pregnancy to protect their newborns from whooping cough, according to the new vaccination guidelines for 2013 from the U.S. Centers for Disease Control and Prevention and the American Academy of Pediatrics released earlier this week.
"We've seen more pertussis cases in 2012, than in several decades," said Dr. H. Cody Meissner, a pediatrician from Tufts University School of Medicine who is also on the CDC's immunization committee.
Once the numbers come in, it's estimated that there will be 35,000 to 40,000 cases of reported whooping cough in 2012. Of these, 20 deaths were of children, and most of them died in the first two to three months of life. It's unclear why the numbers went up, but one reason could involve better reporting of the disease, Meissner said.
Stephen Aronoff, M.D., M.B.A
It's not only the flu striking hard this year. A new strain of norovirus is the cause of over 50 percent of outbreaks that began last fall. It is one of the most common causes of food borne diarrheal disease outbreaks.
Norovirus outbreaks originate with contaminated food, and usually occur in daycare centers, schools, prisons, and on cruise ships. It is spread by water, person-to-person contact, or by touching an infected surface. Introduction of the virus into the community leads to sporadic or widespread epidemics, much like influenza virus.
Humans appear to be the only species that harbor norovirus and as a result, humans not only spread disease, but serve as the reservoir for the virus. Unlike many infectious diseases, ingestion of a very small number of infectious particles can cause disease. The virus is hardy and can live on countertops, doorknobs and other surfaces for extended periods of time.
Garry A. Emmett, M.D., F.A.A.P.
Parents expect almost miraculous cures when they take their sick child to the doctor. Why? The introduction of penicillin, the first really effective antibiotic 70 years ago, was a wonder drug that worked overnight.
Soldiers would be dying of pneumonia or a horribly infected leg. They would recover after 3 injections of penicillin and after 7 days they would be all better. Unfortunately, penicillin doesn't work well for pneumonias or wound infections anymore because of antibiotic overuse and growing bacterial antibiotic resistance.
It's important to understand that antibiotics aren't always the answer, and are intended to fight bacterial infections. Taking them for viral infections, such as a cold, most sore throats, acute bronchitis and many sinus or ear infections will not cure the infection, or keep others from getting sick, and may cause unnecessary and harmful side effects.
Anna Nguyen, Healthy Kids blog Editor
It was 3 a.m. when my youngest daughter, who will turn 1 soon, woke me up crying last month. Colette had been sleeping consistently through the night for the past few months. But now there was teething. Lately, she drooled more and ate less. I immediately grabbed Baby Orajel in hopes that it would help relieve her sore gums.
What I didn't know until recently is that the local anesthetic, benzocaine, found in Baby Orajel can lead to a rare, but serious condition called methemoglobinemia. It's a disorder in which the amount of oxygen carried through the blood stream is greatly reduced. In the most severe cases, it can lead to death.
Since the Food and Drug Administration first warned about potential dangers in 2006, the agency has received 29 reports of benzocaine gel-related cases of methemoglobinemia. Nineteen of those cases occurred in children, and 15 of the 19 cases occurred in children under 2 years of age, according to the FDA. Benzocaine can be found in such over-the-counter products such as Anbesol, Hurricaine, Orajel, Baby Orajel, and Orabase.
Rima Himelstein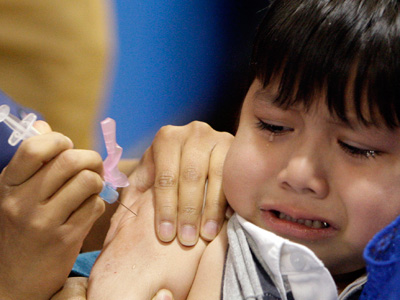 Protecting our children: it's on all of our minds right now, especially, and it will always be. That is why I decided to write my final blog for 2012 on one area in medicine where we can really provide protection: vaccination against disease. In fact, vaccination is one of the greatest gifts a parent can give a child.
Looking back helps us appreciate how far we've come. In 1796, an English doctor named Edward Jenner noticed that milkmaids who caught a mild disease from cows known as cowpox did not catch the deadly human disease known as smallpox. Smallpox killed millions of people for generations. Jenner took fluid from a cowpox blister and scratched it into the skin of an eight-year-old boy. A single blister appeared then went away. Jenner later gave the boy a tiny dose of smallpox and he did not become sick. From this experience came the smallpox vaccine.
Fast forward: a smallpox-free world. Smallpox vaccine was given to generations of children around the world, completely eliminating the disease by 1980. So we no longer need to vaccinate our children against smallpox … but smallpox is the only exception.