Preventative Care - "Sick Days"
Anna Nguyen, Healthy Kids blog Editor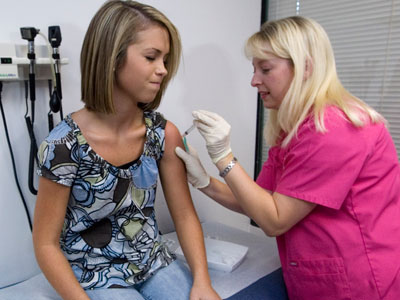 Despite the recommendation from experts, parents are increasing citing safety concerns as their reason to not vaccinate their teenage daughters against HPV, the virus that causes the most cases of cervical cancer, according to a recent study.
The study in the April issue of Pediatrics looked at vaccination rates among teens in the United States for several illnesses, including genital human papillomavirus. HPV, the most common sexually transmitted virus in the U.S., has been linked to cervical cancer, genital (anus, vagina, penis) cancers, and a type of head and neck cancer.
Researchers found a dramatic increase in the number of parents citing "Safety concerns/side effects" as their main reason for not vaccinating their daughters between 2008 and 2010. It jumped from 4.5 percent in 2008 to 16.4 percent in 2010.
Gary A. Emmett, M.D., Director of Hospital Pediatrics at TJU Hospital & Pediatrics Professor at Thomas Jefferson Univ.
When should an infant get solid food? For over 20 years, we have been saying after four months. Last year, the American Academy of Pediatrics changed that to a recommendation that an infant should get nothing but breast milk for the first six months of life, or infant formula if breast milk is not available.
A new survey of over 1,300 mothers showed that 40 percent fed the baby solid food before four months and almost 10 percent before four weeks, according to researchers from the Centers for Disease Control and Prevention in the April issue of Pediatrics, released online today.
Why are pediatricians worried about early feeding? Babies that are fed too early are more likely to be obese when they get older - that is proven. Doctors also worry that children fed early develop abnormal bowel flora (the germs in our gut that help us digest our food and prevent diseases such as celiac and inflammatory bowel diseases) and are more likely to get severe self-allergy diseases such as eczema and asthma. The evidence for these is not as strong as for obesity, but is a very strong suspicion.
Anna Nguyen, Healthy Kids blog Editor
Whooping cough is making a comeback. The Centers for Disease Control and Prevention reported 41,000 cases last year in the United States, the highest level in decades. One reason for these numbers could be that immunity from the vaccine diminishes each year after the fifth dose is given to children around four to six years of age, according to a recent study.
Other factors in this increase include a true increase in whooping cough, increased recognition and reporting by physicians, and improved lab tests to identify the disease.
Gary A. Emmett, M.D., F.A.A.P.
Adolescents have sex, whether parents want to face it or not. Teens need to know that one serious consequence of having sex is acquiring sexually transmitted diseases. To make matters worse, some STDs aren't easily treatable anymore.
Condoms help prevent STDs, but they are often not used (especially for oral sex) and therefore, these diseases can be easily spread. Fifty years ago, plain penicillin and sulfa would treat syphilis, gonorrhea and chlamydia, but mutating germs and the overuse of antibiotics have increasing diminished the effectiveness of these drugs.
The CDC recently announced the increasing presence of multidrug resistant gonorrhea in the United States. There are over 300,000 cases per year in the US. Some of the highest reported rates of infection are among sexually active teenagers in the US. Up to 12 percent of sexually active high school males have gonorrhea or chlamydia, and about 16 percent of sexually active females have either STD.
Gary A. Emmett, M.D., F.A.A.P.
Although the American Academy of Pediatrics did not issue any radical new ideas on preventing middle ear infections in children in a new report released yesterday, they did emphasize three issues, two of which were lifestyle issues.

Breastfed babies simply get less middle ear infections and so breastfeeding, especially with a strong family history of middle ear infection, is greatly encouraged for a minimum of 6 months.

Any smoking in the house greatly adds to the incidence of middle ear infections in children in that house.


In children over 24 months who mainly

have

pain in their ears and little else in symptoms, treating middle ear infections with pain medication such as acetaminophen and ibuprofen by mouth and lidocaine ear drops in the ear should be tried for 3 days before adding antibiotics. Such treatment has less side effects and works over 75 percent of the time.
Also, see my blog of 2 weeks ago on the different types of ear infection and their treatment. Similar to the recommendation in the report, my blog emphasizes not all ear infections require antibiotics and can get better on their own.

Hazel Guinto-Ocampo, M.D., Nemours duPont Pediatrics/Bryn Mawr Hospital
Taking your children to the emergency room can be a stressful experience. In a two part series this week, Hazel Guinto-Ocampo, M.D., chief of pediatric emergency services at Bryn Mawr Hospital, offers tips on how to prepare for a visit to the ER. Tomorrow, she'll go over what to expect in the ER and how to get best care for your child.
Having been involved in a recent fender-bender accident, it made me think that parents taking their child to the ER can be like an accident in some ways. Although you are mindful of preventing one and would want to avoid it at all cost - sometimes it happens anyway. This is especially true now that we're in the middle of another flu epidemic.

Here's how you can prepare for that unforeseen trip to the ER:


Pack for a potential wait. Although most ERs are streamlining processes to minimize waiting times, patients do wait especially in the fall and winter. Therefore, bring items to keep your child occupied and comfortable. Bring books, electronic games, and comforting items such as a blankie or favorite toy. Pack drinks and snacks, but always check with your nurse or doctor first before feeding your child.
Make arrangements for your other children if needed. Call relatives or friends to take care of your other children who may need to get picked up from school, or cared for at home. If at all possible, tag team with your spouse or older child, or make arrangements so you don't have to bring young siblings to the ER with you. This way, you can focus on the needs of your sick child, and your other children do not have to endure the waiting time, or watch their sibling undergo uncomfortable procedures.
Be ready to provide relevant information. These include: health insurance; your primary doctor and other doctors' names and contact information; allergy, immunization, past medical and surgical history; list of medications; and a chronological sequence of events leading to your child's ER visit. You may be asked this information by multiple providers.
Pack for a longer stay. Be prepared for the possibility that your child will get hospitalized. Pack items necessary for you and your child's hospital stay.
Understand that some of your expectations may not be met. Remember that emergency departments are set up so the ER physician can diagnose and start treatment mostly for life threatening conditions, and to provide comfort and pain relief. Even the most astute ER physician often cannot make an exact diagnosis for common complaints.

For example, a 10 year-old girl comes in with a sudden onset of right lower belly pain. Examination and tests are done, conditions such as acute appendicitis, twisting of the ovary, kidney stone, or urine infection are ruled out, and her pain is manageable at home. At this point, she may be ready to get discharged although an exact reason for her pain was not found.

Arriving at an exact diagnosis during the ER visit is especially difficult for long standing conditions. These are best evaluated and managed by the appropriate specialist during an office visit.

A good number of patients are referred to the ER because of a concerning complaint heard or finding seen by the primary physician during a phone call or office visit. The same finding may be gone once the patient is seen in the ER either because conditions change with time, or treatment recommended or started by the primary physician has taken effect. Therefore, your child might not always get the tests or treatments suggested by your primary physician.

A good ER physician's primary responsibility is to first, do no harm. Some tests and treatments may be unnecessary, can be uncomfortable, or can be potentially harmful or risky.
Stephen Aronoff, M.D., M.B.A
It's not only the flu striking hard this year. A new strain of norovirus is the cause of over 50 percent of outbreaks that began last fall. It is one of the most common causes of food borne diarrheal disease outbreaks.
Norovirus outbreaks originate with contaminated food, and usually occur in daycare centers, schools, prisons, and on cruise ships. It is spread by water, person-to-person contact, or by touching an infected surface. Introduction of the virus into the community leads to sporadic or widespread epidemics, much like influenza virus.
Humans appear to be the only species that harbor norovirus and as a result, humans not only spread disease, but serve as the reservoir for the virus. Unlike many infectious diseases, ingestion of a very small number of infectious particles can cause disease. The virus is hardy and can live on countertops, doorknobs and other surfaces for extended periods of time.
Beth Wallace Smith, RD, Children's Hospital of Philadelphia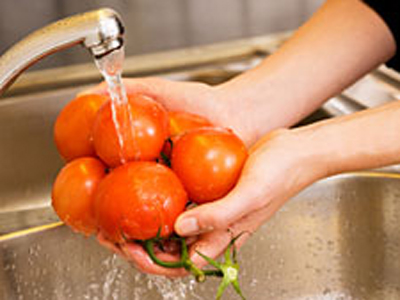 For many of us, we've only heard about food-borne illness in the news. You may have then checked your jar of peanut butter to make sure it wasn't recalled and moved on with your day.
However, for some, the repercussions of buying the wrong vegetable or cut of meat can literally mean life or death.
It seems absurd to me that in our industrialized world, too often we can't trust our own food sources. Luckily, things are starting to change.