Nutrition
Beth Wallace Smith, RD, Children's Hospital of Philadelphia
What's my secret favorite big-game indulgence? Wings. And being from upstate New York, I like to fancy myself as somewhat of a buffalo wing aficionado. Since it's not a great idea to be eating fried chicken wings on a regular basis, this recipe is the best of both worlds: a serving of vegetables and enough flavor to satisfy that buffalo wing craving.
Most kids won't be willing to try cauliflower on its' own, however, this buffalo cauliflower looks and smells as delicious as its fried meat counterpart. Make it even more enticing with a side of low fat bleu cheese and celery sticks. It's so easy that you can toss it in the oven at kick off, and it will be ready half-way through the first quarter.
Buffalo Cauliflower
Gary A. Emmett, M.D., Pediatrics Professor- Thomas Jefferson Univ. & Director, Hospital Pediatrics- TJU Hospital
Editor's Note: We would like to thank the readers who have submitted questions to Healthy Kids! Our experts will periodically answer questions in their areas of expertise.
Question: Please comment about the pros and cons of fruit juice in general and orange, in particular. One hears so many bad comments about juice. Many times it's compared to soda, which I think obfuscates the 'eating healthy' message. — Robert
Gary Emmett, MD, FAAP weighs in:
Beth Wallace Smith, RD, Children's Hospital of Philadelphia
Put that microwave popcorn back on the shelf. This is your new savory snack that the whole family will love, and you will love knowing how healthy it is for them. With just the right amount of cheese and a little garlic, these soybeans get crispy in the oven for the perfect eat-by-the-handful snack. Edamame or soybeans, are a naturally good source of protein, fiber, and iron. Edamame comes naturally in pods, but you can find them shelled with the fresh vegetables or in the freezer section.
But you might want to make a double batch…I bet these will be gone by the first quarter.
Ingredients:
1 (12 ounce) package of frozen edamame
¼ cup Parmesan cheese
1 tablespoon olive oil
1 teaspoon garlic powder
Beth Wallace Smith, RD, Children's Hospital of Philadelphia
When it comes to a game-time favorite, nothing is as good as pizza…until you try this stromboli. I know, you don't see how a stromboli could ever be healthy. Swap this with your regular pizza for a full serving of vegetables and so much flavor that you will never even miss the traditional meat filling. The roasted vegetables and cheese provide vitamin C, iron, fiber, and calcium, and the small slices are perfect for portion control. Enjoy each slice with some tomato sauce for dipping, and get ready for a big win at dinner time.
Roasted Vegetable Stromboli
Ingredients:
Beth Wallace Smith, RD, Children's Hospital of Philadelphia
What's a great game day recipe that you can start in the morning, walk away from, and will be ready at game time? Turkey chili. Why is this family-pleasing meal healthy? The beans provided a good source of fiber, and chili is an easy place to sneak in vegetables to a meal. This recipe is nutrition packed with two servings of vegetables, and swapping lean-turkey for beef cuts down the saturated fat content. Top it with baked corn chips for some crunch, and watch it disappear as fast as that offense moves.
Crock-pot Turkey Chili
Ingredients:
Beth Wallace Smith, RD, Children's Hospital of Philadelphia
School is in session! I could say that it was the whistles during drills from the high school football field that reminded me of fall sports season, but truthfully, it was the cross-country team that passed me running on Kelly Drive that made me think about being a teenage athlete.
Though many teens may not think daily about the direct effect each meal has on their sports performance, the rapidly growing market for sports drinks, nutrition bars, and nutrition supplements has made teenagers more aware of the role nutrition will play in their physical abilities.
Despite their engaging promises and attractive packaging, there is no super bar, drink, or supplement that will be better than an actual healthy diet for teenagers when it comes to making the most of their time the field.
Beth Wallace Smith, RD, Children's Hospital of Philadelphia
Back to school mode is in full swing, and more likely than not, there are a few parents that are standing in their kitchen thinking about the 180 school lunches that they will make their child this year. While school lunch programs are moving towards healthier choices, many parents and kids still prefer the DIY lunch from home.
Not only is lunch an important mental break for your child, but a healthy lunch will help to fuel their brains and allow them to stay sharp and focused during the remainder of the day. Since no parent wants to have a lunch box returned untouched, I've come up with some ideas for your most difficult lunchtime scenarios.
The Peanut-Free School: More and more schools are finding the need to eliminate peanuts and other tree nuts in order to avoid reactions in children with severe allergies. Hummus can be a hearty, healthy, kid-friendly alternative when peanut butter isn't allowed. Pair a small container of hummus with pita wedges, sliced cucumbers, and carrot sticks, or chop up some lettuce, tomato and other veggies to fill a pita.
Beth Wallace Smith, RD, Children's Hospital of Philadelphia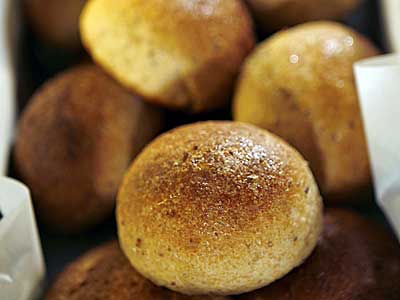 On a recent family vacation, I was given the task of picking out a few snacks at a rest stop for the remaining car ride. Knowing that there were many lobster rolls and ice cream sundaes to be had in the week ahead, I wanted to have some snack options that were healthy, but satisfying enough for a three and a five-year-old.
While my trained eye went directly to the package labeled "Whole Grain Crackers," I found myself immediately placing them back on the shelf. One quick look at the nutrition label indicated the product contained nothing more than the cheese-flavored snack crackers on the next shelf.
Many parents have heard that eating whole grains can help prevent cardiovascular disease, type 2 diabetes and certain cancers, and that providing children with healthy options early on in life will help to maximize overall nutrition. The problem is that many products on the grocery store shelves that are allowed to use the term "whole grains" do not contain the nutrition components that actually help to prevent these diseases; like fiber and antioxidants.