Learning Curve
Sari Harrar
In this week's Healthy Kids Minute, doctors at St. Christopher's Hospital for Children stress the importance of reading aloud to children from ages 0-5 as their brains develop.
Sari Harrar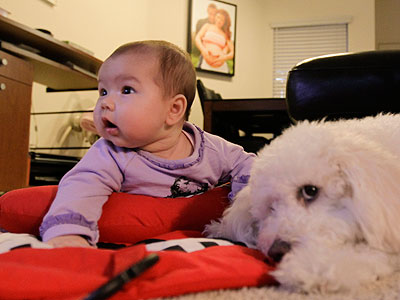 Researchers are calling it the "Goldilocks Effect": Turns out that babies' brains are wired to focus on "just right" experiences and information to help them learn.
In a fascinating new study from the University of Rochester, 7- and 8-month-olds quickly lost interest in video animations of balls, pacifiers and colorful boxes that were too ho-hum predictable or too complex. But they were riveted by those that held some surprises – like a ball appearing from behind a new set of boxes.
"The study suggests that babies are not only attracted by what is happening, but they are able to predict what happens next based on what they have already observed," said lead researcher Celeste Kidd, a doctoral candidate in brain and cognitive sciences. "They are not passive sponges. They are active information seekers looking for the best information they can find."
Sari Harrar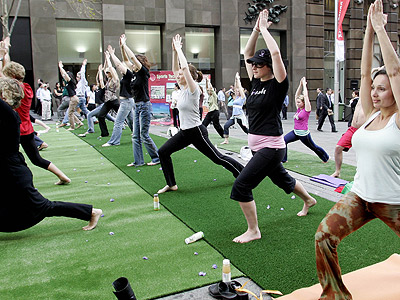 A brand-new study points the way to fun, feel-good exercise that's good for a teenager's body and mind: Yoga. Conducted by a researcher from Boston's Brigham and Women's Hospital, the study followed 51 11th- and 12th graders who took yoga classes or a regular high school phys-ed class for 10 weeks.
The students took a set of psychological tests before and after the program. The result? Mood problems, anxiety and negative emotions stayed the same or improved among yoga students, but grew worse among those taking regular PE. And nearly three out of four said they'd like to keep on doing yoga.
"Yoga may serve a preventive role in adolescent mental health," says lead researcher Jessica Noggle, Ph.D. Yoga may help kids learn to cope with stress because its emphasis on relaxation, mindfulness and breathing make it more than just another physical-fitness routine. According to ChildLight Yoga, a teacher-training program for yoga instructors who work with kids and teens, yoga:
develops/improves strength & flexibility
improves concentration, focus & attention
develops/improves balance & coordination
improves general body awareness
boosts self-confidence and self-esteem
improves sleeping patterns
encourages mind/body connection
promotes calm and ability to be less reactive
expands creative expression & imagination
promotes respect for self & others
Sari Harrar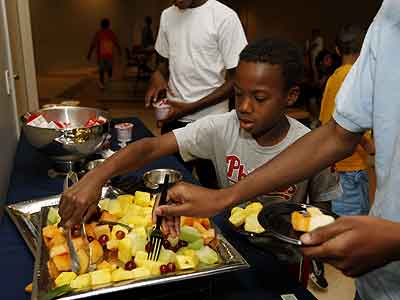 Below is the first blog entry from Beth Wallace, a registered dietitian at the Children's Hospital of Philadelphia, who will be blogging regularly for us on kids and nutrition.
When people meet me for the first time in a social setting and find out I am a dietitian, things generally go one of three ways:
They say, "Oh, great! You can put me on a diet," then check my plate to see what I am eating.

They immediately hide their food and say, "Please don't look at what I'm eating; I generally eat really well," then check my plate to see what I am eating.

They immediately ask me four to seven rapid-fire questions about the latest and greatest diet or new nutrition study, then check my plate to see what I am eating.
The consistent message is that everyone has questions about food — and no one wants to be judged. What people don't realize is that the last thing my colleagues and I want to do when we walk out of the hospital is evaluate what other people are eating (unless it looks really delicious), and then make a judgment about their weight, their health, or what they must feed their children.