Hazel Guinto-Ocampo
Hazel Guinto-Ocampo, M.D., Nemours duPont Pediatrics/Bryn Mawr Hospital
Holidays are meant for sharing, spending time with family and friends, and celebrating traditions. Although injuries are not necessarily more common during the Christmas holidays, keeping our kids safe will keep the holidays festive and maximize our enjoyment.
Studies focused on injuries during the Christmas season have reported eye trauma from Christmas trees, choking from Christmas ornaments, ingestion of toxic decorative plants, and falls associated with decorations. Here are some pointers to keep our kids safe during the holidays:
Secure and stabilize the Christmas tree so it doesn't topple when pulled.
Keep heavy ornaments and stocking hangers, out of reach so they don't fall and injure young children.
Keep electric wires secure to prevent tripping
Keep Christmas trees well-watered and at least 3 feet away from heat sources, and make sure electric tree lights are properly wired. Don't leave lit candles unattended. Refer to holiday fire safety tips from the U.S. Fire Administration.
Always supervise young children around fireplaces. They can touch the screen and burn their fingers.
For households with young children, avoid hanging small ornaments, and check that tree and shrub lights are secure, to prevent choking.
Keep decorative poisonous plants such as poinsettia, mistletoe, and holly, out of young children's reach. The poinsettia sap can cause skin and mouth irritation or vomiting. Eating a large amount of mistletoe berries can cause vomiting, diarrhea, increased heart, and respiratory rate, and rarely, shock or even death. Eating holly berries can cause vomiting and diarrhea. If your child ingests any of these plants, call the poison control center (1-800-222-1222) immediately for advice.
When it is cold, always dress children warmly, especially when shopping with them outdoors.
During parties, ask about your guests' food allergies. Request that guests with multiple food allergies bring alternate "safe" food from home.
Check out other holiday health and safety tips from the U.S. Centers for Disease Control and Prevention.
---
Hazel Guinto-Ocampo, M.D., Nemours duPont Pediatrics/Bryn Mawr Hospital
Magnetic toys are attractive to everyone. Parents want them for their kids because they're science-related, encourage creativity, affordable, and can keep them occupied for hours. Kids want them because they are cool. These addictive toys can be used to construct endless shapes and patterns and even relieve stress. That's why magnets, in sets of 50 to 200, are also sold as desktop toys. Tweens and teens also use magnets to create jewelry, and wear them to mimic tongue, lip, and nose piercings or studs.
Powerful magnets, made of neodymium-iron-boron, which are 10 to 20 times stronger than older magnets, called ferrite, have been increasingly available for purchase in the past few years.
Generally, most swallowed inedible objects or foreign bodies are not dangerous unless they get stuck such as bigger coins in the esophagus – the tube that connects the mouth to the stomach, or have the potential to erode though the walls of the stomach or intestines such as button batteries and sharp objects.
Hazel Guinto-Ocampo, M.D., Nemours duPont Pediatrics/Bryn Mawr Hospital
Codeine shouldn't be given to a child for pain relief after the removal of tonsils or adenoids because the medication could cause death, according to the the Food and Drug Administration. Children have these surgeries when frequent infections of the tonsils and/or adenoids cause breathing and ear problems.
The FDA recently issued a boxed warning - its strongest warning - about the risks of taking this widely prescribed pain medication after these commonly performed surgeries in children. Codeine is a narcotic opiate pain reliever, available by prescription, alone or in combination with acetaminophen or aspirin. It is also found in some cough and cold preparations.
The FDA's database from 1969 to 2012 identified 10 children who died, and 3 who suffered from an overdose, while taking codeine. The children ranged in age from 21 months to 9 years, were taking the appropriate dose of codeine, and showed signs of overdose within 1 to 2 days. Most of these children were taking codeine for pain relief following removal of their tonsils and adenoids, and had sleep apnea.
Hazel Guinto-Ocampo, M.D., Nemours duPont Pediatrics/Bryn Mawr Hospital
We often dread taking our children to the emergency room. It can be a stressful experience for both the child and parent. In a two part series this week, Hazel Guinto-Ocampo, M.D., chief of pediatric emergency services at Bryn Mawr Hospital, talks about how to make the visit to the ER run more smoothly. Yesterday, she gave tips on how to prepare for the ER. Today, you'll find out what you can expect once you get there and how you can help your child through the visit.
Here is a list of what will likely happen once you arrive at the ER, and tips to make the visit more pleasant and worthwhile.
1. Expect to wait and spend a few hours in the ER. Unlike other doctor visits where you have a specific appointment time, your turn depends on the severity of your child's sickness, and how many patients are in the ER within the time period you arrive.
Hazel Guinto-Ocampo, M.D., Nemours duPont Pediatrics/Bryn Mawr Hospital
Taking your children to the emergency room can be a stressful experience. In a two part series this week, Hazel Guinto-Ocampo, M.D., chief of pediatric emergency services at Bryn Mawr Hospital, offers tips on how to prepare for a visit to the ER. Tomorrow, she'll go over what to expect in the ER and how to get best care for your child.
Having been involved in a recent fender-bender accident, it made me think that parents taking their child to the ER can be like an accident in some ways. Although you are mindful of preventing one and would want to avoid it at all cost - sometimes it happens anyway. This is especially true now that we're in the middle of another flu epidemic.

Here's how you can prepare for that unforeseen trip to the ER:


Pack for a potential wait. Although most ERs are streamlining processes to minimize waiting times, patients do wait especially in the fall and winter. Therefore, bring items to keep your child occupied and comfortable. Bring books, electronic games, and comforting items such as a blankie or favorite toy. Pack drinks and snacks, but always check with your nurse or doctor first before feeding your child.
Make arrangements for your other children if needed. Call relatives or friends to take care of your other children who may need to get picked up from school, or cared for at home. If at all possible, tag team with your spouse or older child, or make arrangements so you don't have to bring young siblings to the ER with you. This way, you can focus on the needs of your sick child, and your other children do not have to endure the waiting time, or watch their sibling undergo uncomfortable procedures.
Be ready to provide relevant information. These include: health insurance; your primary doctor and other doctors' names and contact information; allergy, immunization, past medical and surgical history; list of medications; and a chronological sequence of events leading to your child's ER visit. You may be asked this information by multiple providers.
Pack for a longer stay. Be prepared for the possibility that your child will get hospitalized. Pack items necessary for you and your child's hospital stay.
Understand that some of your expectations may not be met. Remember that emergency departments are set up so the ER physician can diagnose and start treatment mostly for life threatening conditions, and to provide comfort and pain relief. Even the most astute ER physician often cannot make an exact diagnosis for common complaints.

For example, a 10 year-old girl comes in with a sudden onset of right lower belly pain. Examination and tests are done, conditions such as acute appendicitis, twisting of the ovary, kidney stone, or urine infection are ruled out, and her pain is manageable at home. At this point, she may be ready to get discharged although an exact reason for her pain was not found.

Arriving at an exact diagnosis during the ER visit is especially difficult for long standing conditions. These are best evaluated and managed by the appropriate specialist during an office visit.

A good number of patients are referred to the ER because of a concerning complaint heard or finding seen by the primary physician during a phone call or office visit. The same finding may be gone once the patient is seen in the ER either because conditions change with time, or treatment recommended or started by the primary physician has taken effect. Therefore, your child might not always get the tests or treatments suggested by your primary physician.

A good ER physician's primary responsibility is to first, do no harm. Some tests and treatments may be unnecessary, can be uncomfortable, or can be potentially harmful or risky.
Hazel Guinto-Ocampo, M.D., Nemours duPont Pediatrics/Bryn Mawr Hospital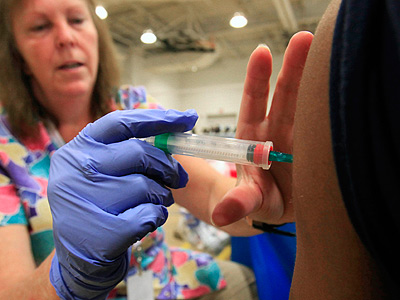 Editor's note: One overlooked reason for the increase in whooping cough cases in the U.S. this year: Adults who haven't gotten their booster shots. According to the Centers for Disease Control and Prevention, just 8 percent of American adults have received the Tdap booster shot since it became available in 2006. Immunity from vaccinations in childhood wanes — meaning adults can carry and pass along the infection, even if their own symptoms are mild. That's dangerous for babies, who aren't yet fully vaccinated. In fact, one study found that 73 percent of babies with pertussis caught it from adults.
In this blog post, emergency physician Hazel Guinto-Ocampo, M.D., reviews the current facts about pertussis — as well as advice for vaccinating kids and adults.
Although there has been a steady increase in the number of pertussis (whooping cough) cases in the U.S. since the 1970s, this year, new cases are developing at an alarming rate. The CDC has already received reports of more than 18,000 cases in 2012, more than twice as many as this time last year. This level has not been seen since 1959. In Washington state, because of the disturbing rise in the number of reported cases, a pertussis epidemic was declared in April. Other states reporting heavy pertussis activity include Oregon, Nevada, New York, Minnesota, and Kentucky. In Philadelphia, 33 cases were reported in June, compared to an average of 3 cases confirmed during the same time period in the past 5 years.
Hazel Guinto, M.D.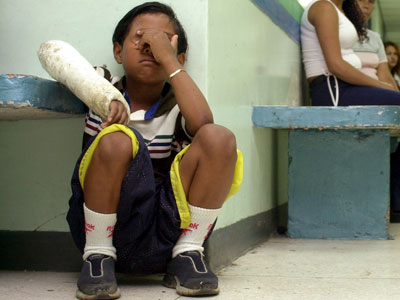 By Hazel Guinto-Ocampo, M.D.
The CDC recently released data showing that unintentional injuries remain the number one killer of kids, claiming the lives of 9,000 children in the U.S. in 2009 alone. Car crashes, suffocation, drowning, poisoning, fires, and falls are the most common ways children are hurt or killed.
According to the director of the CDC's National Center for Injury Prevention and Control, "Every 4 seconds, a child is treated for an injury in the emergency department, and every hour, a child dies as a result of an injury."
Hazel Guinto-Ocampo, M.D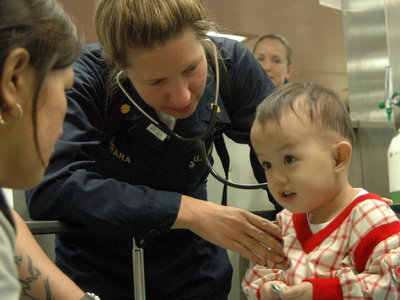 You've cleaned up your toddler's throw up for the third time and changed his diarrhea-soaked diapers twice in the past few hours. You're waiting for the nurse at your pediatrician's office to call you back. Your child is refusing to drink liquids and is looking miserable. You're wondering: What can I do? Should I take him to the ER? How much longer is this going to last? Will his younger sibling get it, too?
Your child most likely has the GI bug, also referred to as stomach virus, stomach flu or food poisoning. The more precise medical term is acute gastroenteritis. It is one of the most common reasons for hospitalization in children 5 years of age or younger. In the past few months, pediatricians' and family practitioners' offices and ERs in our area have been inundated with visits related to this illness. The most common culprit, accounting for half of all reported gastroenteritis outbreaks, is Norovirus. You may have heard about the Norovirus outbreaks in two New Jersey colleges - Rider and Princeton University, and at the Ruby Princess Cruise Ship in Florida, in February. In the U.S.,80 percent of Norovirus outbreaks occur between November and April.
Most outbreaks are caused by spread from infected people to others, touching things that have the virus in them, and consuming contaminated food or water. Rotavirus, Adenovirus, Sapovirus, and Astrovirus, are other viruses that have been identified as causes of acute gastroenteritis in children in our area. Here's what parents should know about the stomach bug that's going around: