Driver's Ed
Flaura Koplin Winston, MD, PhD, Scientific Director of the Children's Hospital of Philadelphia's Center for Injury Research and Prevention
Although learning to drive may be a rite of passage for most teens, teens with attention deficit hyperactivity disorder may need extra help in navigating the road to licensure. The symptoms of ADHD – difficulty with attention, challenges with emotion regulation, disorganization and impulsivity – heighten a teen's risk for unsafe driving behaviors and crashes. The presence of ADHD increased a teen's crash risk by two to four times, placing them at a higher crash risk than adults who are legally drunk, found a 2007 study.
I am often asked by parents of teens with ADHD for advice on determining whether their child is ready to drive, what to focus on with practice driving, and how to keep their teen safe after the learner permit phase when driving without supervision. Unfortunately, the evidence base is limited for proven effective ways to keep them safe during the learning-to-drive period and beyond. As we learn more, I will share guidance, but for now, what I can offer are suggestions based on experience.
When observing your teen's driving, keep in mind what safe driving requires for all drivers - situation awareness and appropriate response. To avoid a crash, a skilled driver perceives her environment, shifts attention dynamically to the most relevant road elements, comprehends potential hazards, predicts changes in the traffic environment and actions of other road users, and draws actions from memory to avoid crashes. If you observe that your teen is unable to perform any of these steps well, take this seriously. Your teen will likely only perform them less well when you are not in the passenger seat.
Flaura Koplin Winston, MD, PhD, Scientific Director of the Children's Hospital of Philadelphia's Center for Injury Research and Prevention
Today's guest blogger is Flaura Winston, MD, PhD, scientific director of Children's Hospital of Philadelphia's Center for Injury Research and Prevention, and a nationally-recognized expert on teen driving. She is one of the founders of the congressionally-sanctioned National Teen Driver Safety Week during the third week of October -- October 20-26 this year.
Motor vehicle crashes with teens behind the wheel are the leading cause of death in teens. Many parents may not realize that one of the most important things they can do to assure that their teen reaches adulthood is to help their teens navigate their way to safe, independent driving. To do this, parents need the facts. Did you know that parents may misinterpret their teen's driving mistakes as intentional risk-taking or lack of attention to detail?
A recent Children's Hospital of Philadelphia study found that 75 percent of serious teen crashes were due to a critical teen driver error, with three common errors accounting for nearly half of all serious crashes: driving too fast for road conditions, being distracted, and failing to detect a hazard. The study found that other primary factors were rare: environmental conditions, such as poor weather, vehicle malfunction, aggressive driving, or physical impairments such as drowsy driving.
Katherine K. Dahlsgaard, Ph.D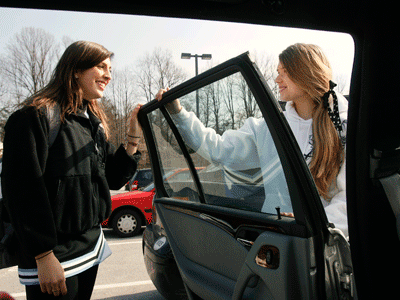 by Katherine K. Dahlsgaard, Ph.D.
At age 23, Herb Brooks was the last player cut from the 1960 American Olympic hockey team, which went on to win the gold medal. Twenty years later, however, Brooks organized and coached a rag-tag group of college students into the American team for the 1980 Olympics that beat the Soviet Union to win gold. Brooks is largely credited for one of the most staggering upsets -- as well as one of the most famous calls -- in American sports history. A little over twenty years after that, the movie Miracle documented this stunning triumph. Tragically, Brooks never made it to the premiere. He died in an automobile accident early one morning a few months before Miracle was released. The cause of the crash? Brooks fell asleep at the wheel.
Car accidents are the leading cause of death among teens. What may surprise you is that sleep deprivation is a factor in 20% of all car accidents. That's right: Not getting enough sleep (such as after pulling an all-nighter to study for that final exam) is a factor in 1 in 5 car accidents. More than half of these accidents involve drivers 25 and under.
Sari Harrar
In this week's Healthy Kids Minute: Mark Zonfrillo, M.D., of Children's Hospital of Philadelphia goes over the most current safety guidelines for young passengers in car seats.
Sari Harrar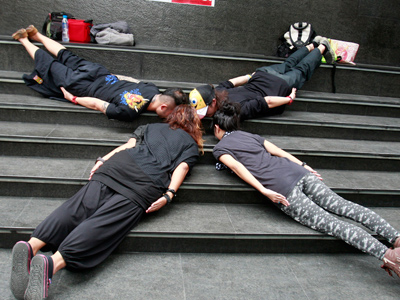 From sipping codeine-laced "purple drinks" to car-surfing, "planking" and vodka "eye-balling", dangerous teen "trends" can take deadly turns - yet often fly below parents' radar. Fueled by celebrities, internet instructions and Facebook fame, here's the latest on five that the parents of teens and preteens should know about:
#1. Purple Drink. This mix of soda, hard candies and codeine cough syrup can cause hallucinations, unresponsiveness, and lethargy. Popularized in hip-hop and rap music as "purple drank", the drink is now blamed for the death of a 14-year-old St. Paul, Minnesota girl earlier this month, according to a report in the Star Tribune newspaper. The concoction, also known as "lean" and "dirty Sprite" was mixed up and given to her by adults at a birthday party.
#2: Planking. Laying facedown with your hands stiff at your sides in an unlikely place, then having a friend snap a photo to post online sounds harmless. And often, planking's simply funny - as photos of teens planking on stools and even on a grand piano, posted on a Web site devoted to this internet craze show. No one's sure where it began. Some say it was invented in Australia, others say the 1993 movie The Program - in which a quarterback lies down in the middle of a highway - has inspired copycats. But it's dangerous. Planking's killed one Australian man, who fell from a seventh-floor balcony, and left another in a coma according to a Fox News report. Newer versions like "Batmanning" - hanging upside-down by your feet - and a Russian version called "skywalking" (climbing to dangerous spots on tall buildings) - aren't any safer.
Rima Himelstein, M.D., Crozer-Keystone Health System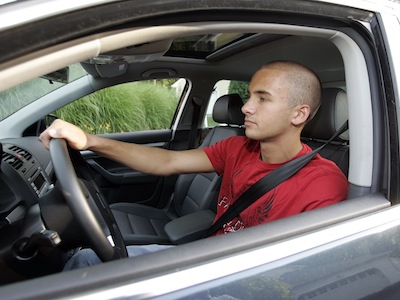 by Rima Himelstein, M.D.
As a pediatrician and parent, I was encouraged to read some of the results of the 2011 National Youth Risk Behavior Survey, which indicate that our teens are driving more safely than they did a decade ago:
Use of seatbelts increased from 74 percent to 92 percent.
Riding with a driver who had been drinking alcohol is down to 24 percent from 40 percent.
Driving after drinking alcohol decreased to 8 percent from 17 percent.
But we still have a long road ahead with teen driver safety: One of every three students recently texted or e-mailed while driving! And studies show that distracted driving causes 20 percent of all automobile accidents.
Sari Harrar
Approximately 30 children die each year from being left alone in cars. In today's Healthy Kids Minute, Richard Brodsky, M.D., of St. Christopher's Hospital for Children discusses hyperthermia and the importance of checking your backseat before you exit, even if you are just an occasional caregiver.
Sari Harrar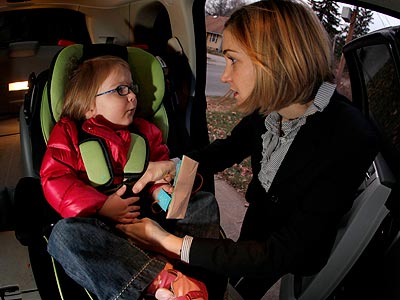 Think your child is ready to "graduate" to the next level of car-seat safety? Maybe not. New rules call for keeping babies and toddlers in rear-facing seats longer and keeping older kids in booster seats 'til they're 4-feet-nine-inches tall. Yet despite plenty of public-awareness campaigns, a new study says many kids are riding in unsafe seats - or without any real safety restraints.
A real-world check of how 21,476 kids were riding in cars - performed over three years by researchers from the National Highway Traffic Safety Administration who watched cars at fast-food restaurants, gas stations and childcare centers - found problems. Pediatricians from Mott Children's Hospital at the University of Michigan, Ann Arbor, say that less than 17 percent of little kids remained in rear-facing seats after age one, fewer than 2 percent used a booster seat after age seven and many over age six sat in the front seat.
How should kids ride in cars? The American Academy of Pediatrics recommends:
Rear-facing car seats at least until the age of two
Forward-facing car seats with a five-point harness for as long as possible until the child is the maximum weight and height suggested by the manufacturer of the seat
Booster seats until an adult seat belt fits properly, which is when a child is at least 4 feet, 9 inches tall (the average height of an 11 year old)
Riding in the back seat until the age of 13 - and wearing a lap and shoulder belt when a child is old enough to ride in the back, or the front, seat.