Colds and Flu
Gary A. Emmett, M.D., F.A.A.P
Influenza immunization season is here. Between mid-September and New Years' Day is the prime time to attempt to prevent the flu. People have more myths about "flu shots" than about almost any other medical procedure and certainly more than any other pediatric treatment. The "flu shot," which is killed vaccine, has been shown in carefully controlled studies to cause almost no side effects. Some people (less than 30 percent) do get a very sore arm for a few days, but that is about it.
Many people will tell you that I got a flu shot and "it made me sick, I had the flu " because immunization is given during the time when the most people get ill from other viruses. When compared to a similar group who did not take the influenza immunization, there was absolutely no increase in illness in the vaccinated group. But this time of year, we get primarily ill a lot from our loved ones such as our children in school and when you get ill near when you get a shot, you blame it on the shot.
Flumist, the nasal influenza vaccine, is also very safe, but it will very rarely give the vaccinee a mild case of the flu since it is a live vaccine. This is very uncommon, but does happen. Since it is a live vaccine, it is not recommended in patients with asthma or if someone who is immune-suppressed, such as someone on cancer chemotherapy, is living in the same house. The advantage of nasal flu over killed flu vaccination is that there is no shot in nasal flu.
Stephen Aronoff, M.D., M.B.A
It's not only the flu striking hard this year. A new strain of norovirus is the cause of over 50 percent of outbreaks that began last fall. It is one of the most common causes of food borne diarrheal disease outbreaks.
Norovirus outbreaks originate with contaminated food, and usually occur in daycare centers, schools, prisons, and on cruise ships. It is spread by water, person-to-person contact, or by touching an infected surface. Introduction of the virus into the community leads to sporadic or widespread epidemics, much like influenza virus.
Humans appear to be the only species that harbor norovirus and as a result, humans not only spread disease, but serve as the reservoir for the virus. Unlike many infectious diseases, ingestion of a very small number of infectious particles can cause disease. The virus is hardy and can live on countertops, doorknobs and other surfaces for extended periods of time.
Beth Wallace Smith, RD, Children's Hospital of Philadelphia
Along with the winter dip in temperatures, also comes a rise in seasonal viruses. With a widespread flu outbreak this year, children are at an even higher risk of coming in contact with a virus that will keep them from school. Though the occasional stomach virus is likely inevitable, knowing what to feed your child shortly after a virus can help them bounce back and recover more quickly.
A viral gastroenteritis, or "stomach flu", occurs when a virus infects the lining of the stomach and/or small intestine, causing symptoms of nausea, vomiting, stomach cramps, diarrhea, and fatigue. After prolonged vomiting and diarrhea, the lining of the stomach and intestines become irritated, and change the ability of the body to digest and absorb food and beverages.
Though many symptoms of the viruses improve within 24-48 hours, it sometimes takes up to a week for the stomach and intestines to fully recover, and re-introducing foods at the right time can help to prevent further irritation.
Garry A. Emmett, M.D., F.A.A.P.
Parents expect almost miraculous cures when they take their sick child to the doctor. Why? The introduction of penicillin, the first really effective antibiotic 70 years ago, was a wonder drug that worked overnight.
Soldiers would be dying of pneumonia or a horribly infected leg. They would recover after 3 injections of penicillin and after 7 days they would be all better. Unfortunately, penicillin doesn't work well for pneumonias or wound infections anymore because of antibiotic overuse and growing bacterial antibiotic resistance.
It's important to understand that antibiotics aren't always the answer, and are intended to fight bacterial infections. Taking them for viral infections, such as a cold, most sore throats, acute bronchitis and many sinus or ear infections will not cure the infection, or keep others from getting sick, and may cause unnecessary and harmful side effects.
Peggy Dolan
Today's guest blogger Peggy Dolan is the Founder and Executive Director of the Kelly Anne Dolan Memorial Fund, an Ambler, PA-based nonprofit that advocates on behalf of and provides financial assistance to families whose children are seriously ill, physically and cognitively challenged, or severely injured.
Expenses can add up quickly for families dealing with a life threatening illness of a child. Parents generally realize early on that extensive medical bills and other out-of-pocket costs impact their ability to keep up with everyday household bills like utilities and rent.
At the Kelly Anne Dolan Memorial Fund, we advocate for families who are struggling to make ends meet due to a serious, life threatening diagnosis of one or more children. The added expenses for parents of sick children - such as job loss in order to be with a sick child, childcare cost for siblings, or tutoring for a hospitalized child who is unable to attend school - are often overlooked.
Rima Himelstein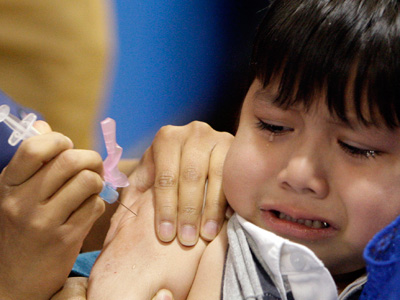 Protecting our children: it's on all of our minds right now, especially, and it will always be. That is why I decided to write my final blog for 2012 on one area in medicine where we can really provide protection: vaccination against disease. In fact, vaccination is one of the greatest gifts a parent can give a child.
Looking back helps us appreciate how far we've come. In 1796, an English doctor named Edward Jenner noticed that milkmaids who caught a mild disease from cows known as cowpox did not catch the deadly human disease known as smallpox. Smallpox killed millions of people for generations. Jenner took fluid from a cowpox blister and scratched it into the skin of an eight-year-old boy. A single blister appeared then went away. Jenner later gave the boy a tiny dose of smallpox and he did not become sick. From this experience came the smallpox vaccine.
Fast forward: a smallpox-free world. Smallpox vaccine was given to generations of children around the world, completely eliminating the disease by 1980. So we no longer need to vaccinate our children against smallpox … but smallpox is the only exception.
Sari Harrar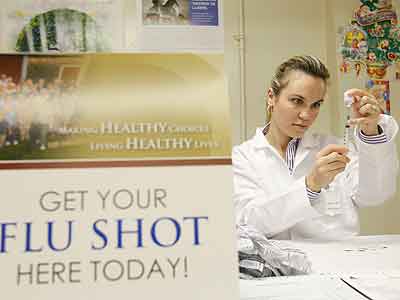 By Sari Harrar
The flu officially arrived in Pennsylvania last week when the first lab-confirmed cases of the 2012-13 influenza season turned up according to the state department of health. Delaware has had one confirmed case and flu activity in New Jersey is reported to be low despite the rising number of people in emergency rooms with flu-like symptoms. This raises an important question: Have your kids gotten their flu vaccines?
The most compelling reason to have children vaccinated comes from a new Centers for Disease Control and Prevention report, that says 894 kids younger than 18 died from the flu or flu complications between the 2004-2005 and the 2011-2012 flu season. Lead researcher Karen Wong says that 60 percent of the deaths occurred in kids with underlying health conditions such as asthma, neurological disorders or genetic disorders. Forty percent of deaths were among otherwise healthy kids. Healthy kids died more quickly after catching the flu-- within 4 days of showing flu symptoms compared to seven days for kids with other health issues.
Sari Harrar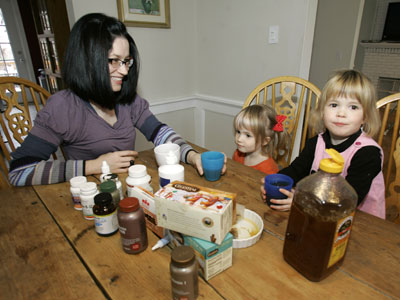 Sore throat season's coming and with it one of the big guessing games of parenthood: "Is it strep - or not?" About 30 percent of kids who get trundled off to the doctor with a sore throat are actually playing host to streptococcus bacteria. This super-contagious bug hits infectious heights from October to April, especially among 5 to 15-year-olds, who often pick it up when classmates cough, sneeze or leave it behind on desks and doorknobs.
But though doctors prescribe antibiotics for 70 percent of sore throats, infection experts announced this week that plenty are actually look-alike viral infections - and don't need drugs or even a trip to the doctor's office. And that's not the whole strep story. For the past few years, doctors have been noticing that about one in 10 sore throats in teenagers aren't strep either - but are caused by nasty bacterium called Fusobacterium necrophorum that can lead to a sometimes-deadly condition called Lemierre syndrome.
Like strep infections, these sore throats need antibiotics, too. Since there's no test for a Fusobacterium necrophorum infection, groups like the American Academy of Family Physicians suggest doctors look for potential signs of trouble and prescribe bacteria-fighting drugs, usually penicillin.