Archive: January, 2013
Anna Nguyen, Healthy Kids blog Editor
It's been a nasty flu season, to say the least. Starting early this winter, it's dominated by a strain that usually makes people experience more severe symptoms. We asked blog contributor Stephen C. Aronoff, M.D., M.B.A., from Temple University Hospital and a specialist in pediatric infectious diseases, to weigh in on this year's flu season effect on children.
What's happening with this year's outbreak?
On an almost annual basis, outbreaks of influenza occur in the U.S. and around the world. Because the strains of the virus that cause these annual outbreaks differ from year-to-year, new vaccines are developed annually. This year's outbreak is mixed with two-thirds of the cases caused by Influenza A (H3N2) and one third caused by Influenza B. The vaccine for this season should cover both of these strains. At the present time, infection in Pennsylvania and nationwide is considered to be widespread.
Garry A. Emmett, M.D., F.A.A.P.
Parents expect almost miraculous cures when they take their sick child to the doctor. Why? The introduction of penicillin, the first really effective antibiotic 70 years ago, was a wonder drug that worked overnight.
Soldiers would be dying of pneumonia or a horribly infected leg. They would recover after 3 injections of penicillin and after 7 days they would be all better. Unfortunately, penicillin doesn't work well for pneumonias or wound infections anymore because of antibiotic overuse and growing bacterial antibiotic resistance.
It's important to understand that antibiotics aren't always the answer, and are intended to fight bacterial infections. Taking them for viral infections, such as a cold, most sore throats, acute bronchitis and many sinus or ear infections will not cure the infection, or keep others from getting sick, and may cause unnecessary and harmful side effects.
Peggy Dolan
Today's guest blogger Peggy Dolan is the Founder and Executive Director of the Kelly Anne Dolan Memorial Fund, an Ambler, PA-based nonprofit that advocates on behalf of and provides financial assistance to families whose children are seriously ill, physically and cognitively challenged, or severely injured.
Expenses can add up quickly for families dealing with a life threatening illness of a child. Parents generally realize early on that extensive medical bills and other out-of-pocket costs impact their ability to keep up with everyday household bills like utilities and rent.
At the Kelly Anne Dolan Memorial Fund, we advocate for families who are struggling to make ends meet due to a serious, life threatening diagnosis of one or more children. The added expenses for parents of sick children - such as job loss in order to be with a sick child, childcare cost for siblings, or tutoring for a hospitalized child who is unable to attend school - are often overlooked.
Anna Nguyen, Healthy Kids blog Editor
It was 3 a.m. when my youngest daughter, who will turn 1 soon, woke me up crying last month. Colette had been sleeping consistently through the night for the past few months. But now there was teething. Lately, she drooled more and ate less. I immediately grabbed Baby Orajel in hopes that it would help relieve her sore gums.
What I didn't know until recently is that the local anesthetic, benzocaine, found in Baby Orajel can lead to a rare, but serious condition called methemoglobinemia. It's a disorder in which the amount of oxygen carried through the blood stream is greatly reduced. In the most severe cases, it can lead to death.
Since the Food and Drug Administration first warned about potential dangers in 2006, the agency has received 29 reports of benzocaine gel-related cases of methemoglobinemia. Nineteen of those cases occurred in children, and 15 of the 19 cases occurred in children under 2 years of age, according to the FDA. Benzocaine can be found in such over-the-counter products such as Anbesol, Hurricaine, Orajel, Baby Orajel, and Orabase.
Garry A. Emmett, M.D., F.A.A.P.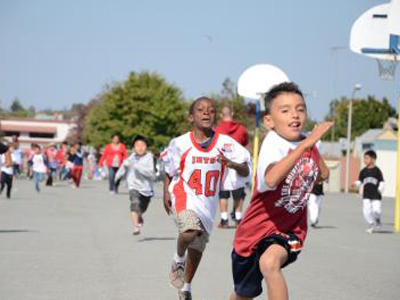 Kids are getting less time to simply play these days in school. More and more schools have cut recess, gym classes, and organized sports.
Here's why:
1) In times of less available money, "extra-curricular" activities such as art, music (do not get me started on less music) and physical activity are cut first
Beth Wallace Smith, RD, Children's Hospital of Philadelphia
Ten! Nine! Ate!
Well, I know I may have indulged a little too much over the last few days! Does anyone else feel the same way? It's time to get myself back on track. The New Year presents us with a fresh opportunity to make a healthy commitment to ourselves and our families.
Little changes can make a BIG impact on the health of your family. By swapping a few items and adding a fresh idea, your entire family can have their healthiest eating year yet. I urge you to make all of these changes, but do them one at a time. Pick the resolution that is easiest for your family, then add another one every month or two.