Elizabeth Coover, RD, LDN is a clinical dietitian for the Healthy Weight Program at the The Children's Hospital of Philadelphia.
Here is a Turkey Day makeover dish that is sure to please the whole family. The key to keeping this recipe light is to measure ingredients and serve an appropriate portion. This casserole uses less of the recommended sugar and butter but remains sweet and fluffy.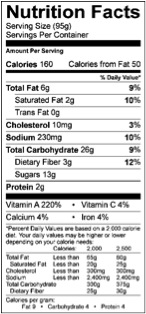 Additional tips: Remove the pecans for a nut-free dish and mix in ground cinnamon and ginger for a spicy addition.
Just a Little Suga' Sweet Potatoes
Ingredients:
2 1/2 pounds sweet potatoes, peeled and cut into 1-inch cubes
1/2 cup packed brown sugar
1/4 cup butter, softened
1 teaspoon salt
1/2 teaspoon vanilla extract
1/2 cup finely chopped pecans, divided
Cooking spray
1 cup mini marshmallows
Directions:
1. Preheat oven to 375°F.
2. Put the potatoes in a large pot and add just enough cold water to cover them. Bring to a boil. Once boiling, reduce the heat, and let simmer for 15 minutes or until very tender. Drain the potatoes and cool for a few minutes.
3. Place potatoes in a large bowl. Add the sugar, butter, salt, and vanilla to the bowl. Mash sweet potato mixture with a potato masher or large spoon. Fold in 1/4 cup of the pecans.
4. Scrape potato mixture into an even layer in an 11 x 7-inch baking dish coated with cooking spray. Sprinkle the remaining 1/4 cup pecans and marshmallows evenly on top.
5. Bake at 375° for 25 minutes or until golden. Cut into 15 squares and serve.
Serving size: 1 square or ½ cup casserole
Adapted from CookingLight.com
---
Have a question for the Healthy Kids panel? Ask it here.
Read more from the Healthy Kids blog »