Liz Coover, RD, LDN is a clinical dietitian for the Healthy Weight Program at The Children's Hospital of Philadelphia.
There is nothing more comforting on a wintery day than a warm cup of soup.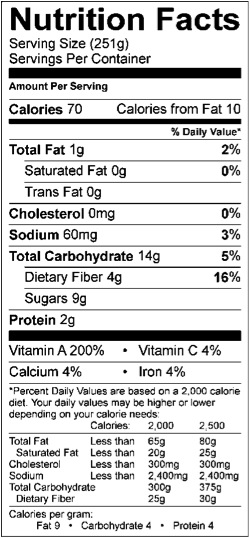 Feed your family the energy they need to conquer snow filled weekends with this nutritious pumpkin soup.
Pumpkin is the key ingredient to this savory recipe – it adds a creamy texture without all the fat. And with 4 grams of filling fiber per serving, this soup makes a perfect side to any sandwich.
Pumpkin Soup

Ingredients:
2 cups of pureed pumpkin (from fresh, frozen or canned)
½ teaspoon of pepper
¼ teaspoon of nutmeg
1/8 teaspoon of ground coriander
1 apple, peeled, core removed and chopped
1 teaspoon of canola or vegetable oil
2 cups vegetable broth
½ cup of 100% apple juice
½ cup of water
½ cup fat free milk
Directions:
In a large bowl, mix together the pumpkin, pepper, nutmeg, and coriander. Set aside.
Heat the oil in a large pot over medium heat on the stove. Add the chopped apple and cook, stirring for about 5 minutes.
After 5 minutes, add the pumpkin mixture to the pot. Slowly add in the vegetable broth, apple juice, and water. Stir together and heat the soup until hot, but not boiling.
Remove the soup from heat. Pour in the fat free milk. Stir well and serve.
Serving size: 1 cup
Servings per recipe: about 6 servings
---
Have a question for the Healthy Kids panel? Ask it here.
Read more from the Healthy Kids blog »