Healthy eating doesn't need to be complicated! Keep it simple yet super tasty with this delightful summer recipe. The tomato mixture in this recipe is placed over the chicken but can also be used as a salad or a salsa. Serve this meal with a side salad for added veggies.
No Need for Bread - Chicken Bruschetta
Ingredients:
4 grilled or baked boneless, skinless, chicken breasts
2 large tomatoes, diced into ¼ inch pieces
1 clove garlic, minced
1/3 cup red onion, minced
2 tbsp fresh basil, chopped
2 tbsp balsamic vinegar
1 tbsp olive oil
¼ tsp salt
¼ tsp pepper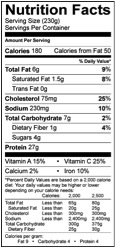 Directions:
1. In a small bowl, whisk together the balsamic vinegar, olive oil, salt and pepper
2. In separate bowl, toss the tomatoes, garlic, red onion and basil with the dressing.
3. Serve the tomato mixture on top of the chicken.
Note: Instead of chicken, you can try grilled or baked fish or grilled eggplant or zucchini.
Servings per recipe: 4
The nutrition facts include one chicken breast and about ¼ cup of the tomato mixture.
This recipe has been adapted from Danielle Ingerman, a nutrition student volunteering at the Healthy Weight Program at the Children's Hospital of Philadelphia.
---
Have a question for the Healthy Kids panel? Ask it here. Read more from the Healthy Kids blog »