Check out this easy cheesy made over recipe the next time your family is craving macaroni and cheese!
Mac and Cheese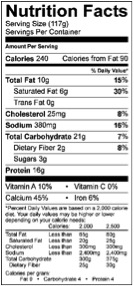 Ingredients:
6 ounces whole wheat dried elbow noodles
2 tablespoons of light butter spread, divided
1 tablespoon of whole wheat flour
1 ½ cups 1% milk
1 ½ teaspoons of Dijon mustard
1/8 teaspoon ground black pepper
4 ounces part skim mozzarella cheese, shredded
8 ounces reduced-fat cheddar cheese, shredded
2 tablespoons plain bread crumbs
Directions:
1. Preheat an oven to 400 degrees Fahrenheit.
2. Bring a pot of water to a boil, add the macaroni and cook until soft, about 6-8 minutes. Strain and set aside.
3. Using the empty pot from the pasta, on low heat, add 1 tablespoon of light butter until melted, then add the flour, and whisk until a light paste forms.
4. Heat the milk in a microwave safe bowl for 90 seconds until warm. Using a whisk, gradually add the milk into the butter/flour paste mixture making sure to remove any flour lumps.
5. Add the mustard and black pepper, and whisk occasionally on low heat for about 5-7 minutes until the milk coats the back of a spoon.
6. Add the mozzarella and cheddar cheese by the handful to the milk mixture one at a time and mix until smooth. Add the last 1 tablespoon of butter, then add the macaroni and combine so that the cheese sauce is evenly coating the pasta.
7. Pour the macaroni mixture into a 8x8 glass baking dish. Evenly top with the breadcrumbs, and bake in the oven for 8-10 minutes, until bubbly and breadcrumbs are slightly browned.
8. Cut into 8 squares and serve.
Serving size= ½ cup
Servings per recipe= 8
Adapted from Vetri Foundation
---
Have a question for the Healthy Kids panel? Ask it here. Read more from the Healthy Kids blog »