Strawberries are certainly sweet enough as they are, but adding a few additional ingredients can take strawberries to another level. Try this sweet treat for your next special occasion instead of the usual cake, pie or cookie dessert that is often laden with fat and sugar.
Light 'n Fluffy Stuffed Strawberries
Ingredients: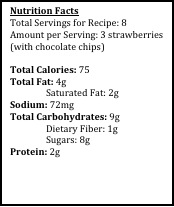 1/2 cup of reduced fat cream cheese
2 tablespoons of powdered sugar
½ teaspoon of vanilla extract
24 large strawberries
Mini chocolate chips (optional)
Directions:
1.Let cream cheese soften at room temperature for 15 to 20 minutes. Mix softened cream cheese together with sugar and vanilla extract in a small bowl.
2. Cut the green tops off of the strawberries and dig out the white middle of the strawberry (tip: cut around the white inside of the fruit with a small knife and the middle should pop right out).
3. Fill each cored strawberry with about 1 teaspoon of the filling.
4.Top each strawberry with ¼ teaspoon of mini chocolate chips if desired.
Serving size: 3 strawberries
Servings per recipe: 8
Adapted from Emily Bites blog
---
Have a question for the Healthy Kids panel? Ask it here. Read more from the Healthy Kids blog »