Elizabeth Coover, RD, LDN is an clinical dietitian for the Healthy Weight Program at The Children's Hospital of Philadelphia.
Looking for a quick week night meal that is healthy and delicious? This flavorful spin on the traditional Sloppy Joe recipe is made healthier with lean ground turkey for less artery-clogging fat, and a mix of herbs and spices to help cut out the salt. Traditional canned Sloppy Joe sauces can really pack on the added salt and sugar.
The best thing about this recipe is that it is easily adjusted. If your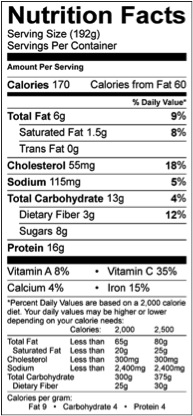 family is looking for a meatless meal, substitute low sodium canned beans for the turkey. Add shredded carrots or zucchini for more vegetables. And if you are looking to add more fiber to your diet, look for whole wheat rolls that have at least 3 grams of fiber per roll.
Just a Little Sloppy Joe — Serves 6
Ingredients:
1 pound lean ground turkey
1 medium onion, chopped
1 green pepper, chopped
½ cup 100% pineapple juice
6 ounce can of tomato paste
½ cup water
1 tablespoon Worcestershire sauce
2 garlic cloves, minced
½ teaspoon dried basil
½ teaspoon dried oregano
6 whole wheat rolls
Directions:
Spray a large sauté pan with cooking spray. Cook ground turkey, onion and green pepper until the temperature of the turkey mixture reaches 165 degrees on a meat thermometer, or until juices run clear, no pink shows, and peppers and onions are soft.
Drain liquid and fat from meat mixture.
Add pineapple juice, tomato paste, water, Worcestershire sauce, garlic, basil, and oregano to the turkey mixture and cook on medium heat for 15 to 20 minutes.
Split mixture evenly on whole wheat rolls.
* Nutrition Facts do not include rolls.
Recipe from The Healthy Weight Program at The Children's Hospital of Philadelphia's Nutrition in the Kitchen cookbook.
---
Have a question for the Healthy Kids panel? Ask it here.
Read more from the Healthy Kids blog »