Chips and salsa are a perfect match when it comes to barbeque snack fare. The jarred version is easy, but is often loaded with sodium! Mix it up and add flavor by making a homemade salsa. Black beans and fresh summer vegetables pair well with a lime-cumin dressing that is light on salt and spice. With a sodium content of only 105 mg for a half cup, this makes a great swap for prepared jarred salsa – which can have up to 1000 mg of sodium in half cup, half the amount you need in your day.
Confetti Corn and Bean Salsa
Ingredients: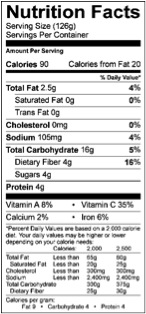 1 red bell pepper
½ of a red onion
1 medium-sized tomato
1 ½ cups of cooked black beans
2 cups fresh corn kernels
2 tablespoons of lime juice
1 tablespoon of olive oil
¼ teaspoon hot sauce
2 cloves of garlic, minced
1 ½ teaspoons cumin
1 teaspoon of ground black pepper
Directions:
1. Prepare the pepper, red onion, and tomato by removing all stems and seeds and dicing into even, medium sized pieces (about ½ inch square).
2. Combine the peppers, red onions, and tomatoes with the black beans and corn in a large bowl.
3. In a separate bowl, whisk together lime juice, olive oil, hot sauce, garlic, cumin and ground black pepper. Pour over the salsa and mix well to distribute the flavors. Serve along with baked tortilla chips or vegetables.
Serving size: ½ cup
Servings per recipe: 8
(Nutrition information is for salsa only, it does not include chips)
---
Have a question for the Healthy Kids panel? Ask it here. Read more from the Healthy Kids blog »