Vaccines and Medications
Gary A. Emmett, M.D., F.A.A.P
Influenza immunization season is here. Between mid-September and New Years' Day is the prime time to attempt to prevent the flu. People have more myths about "flu shots" than about almost any other medical procedure and certainly more than any other pediatric treatment. The "flu shot," which is killed vaccine, has been shown in carefully controlled studies to cause almost no side effects. Some people (less than 30 percent) do get a very sore arm for a few days, but that is about it.
Many people will tell you that I got a flu shot and "it made me sick, I had the flu " because immunization is given during the time when the most people get ill from other viruses. When compared to a similar group who did not take the influenza immunization, there was absolutely no increase in illness in the vaccinated group. But this time of year, we get primarily ill a lot from our loved ones such as our children in school and when you get ill near when you get a shot, you blame it on the shot.
Flumist, the nasal influenza vaccine, is also very safe, but it will very rarely give the vaccinee a mild case of the flu since it is a live vaccine. This is very uncommon, but does happen. Since it is a live vaccine, it is not recommended in patients with asthma or if someone who is immune-suppressed, such as someone on cancer chemotherapy, is living in the same house. The advantage of nasal flu over killed flu vaccination is that there is no shot in nasal flu.
Stephen Aronoff, M.D., M.B.A., Temple University Hospital
Vaccine refusal played a role in the large whooping cough outbreak of 2010 in California, found a study released today online from Pediatrics. That year, 9,120 cases of whooping cough were reported in California, the most since 1947.
In March, I wrote a blog about whooping cough, also known as pertussis. The impetus for that blog was new data that had emerged regarding that California outbreak. Evidence available then suggested that waning immunity associated with the new acellular pertussis vaccine may have contributed to the outbreak.
Unlike many states, California requires only a parent's signature on a form to permit a child to enter school without vaccinations. The state keeps a record of these non-medical vaccination exemptions (NMEs). In California, pertussis is a disease that must be reported to the state health department. The authors of this study examined geographic clusters of NMEs and geographic clusters of pertussis cases to see if the clusters overlapped. The authors found that:
The average rate of NMEs per census tract in California averaged 2 percent between 2005 and 2010
39 census tracts within the state had NME rates that were significantly higher than the rates seen in the remainder of the state
The odds of finding a cluster of pertussis cases within one of these census tracks with high rates of NMEs were 2.5 times higher than the odds of finding a cluster of cases in the remaining census tracts; this difference remained after the results were adjusted for a number of demographic factors.
Stephen C. Aronoff, M.D.
Once again, school has begun and our thoughts turn to one thing…the flu. Every year, the world is treated to this wintertime malady and health policy officials along with pediatricians urge parents to protect their children through vaccination. This annual ritual raises a lot of questions. The Academy of Pediatrics released its flu vaccination recommendations online today for this year's flu season.
Here are some commonly asked questions about the upcoming flu season and vaccination:
Most vaccines are given at infrequent intervals. Why does my child have to receive a flu vaccine every year?
Joanne Sullivan
Today's guest blogger is Joanne Sullivan, the executive director of the Pennsylvania Immunization Coalition.
Considering it is one of the greatest marvels of medicine – the ability to inoculate human beings against deadly diseases – it's hard to believe it's necessary to designate any month of the year as National Immunization Awareness Month.
However, here we are, in August, recognizing and raising awareness of the importance of vaccines.
Stephen Aronoff, M.D., M.B.A., Temple University Hospital
Planning a trip abroad for the summer? Consider potential health risks that may lurk at your destination. It's important to check with your doctor to find out what precautions, such as vaccines or medications, can help protect your family.
Here's why. While virtually nonexistent in the United States, measles is still a common disease in many parts of the world, including Europe, Asia, Africa, and the Pacific. This vaccine preventable disease infects about 20 million people and kills about 164,000 people per year. The majority of these deaths are among children, and more than half of these deaths occur in India. Measles can also make a pregnant woman miscarry or give birth prematurely.
What about polio? It has been decades since a case of polio has been reported in the U.S. In fact, that disease has been completely eliminated worldwide. Right? Not so. Over the past several months, cases of polio have been reported in Somalia and Kenya. This disease, which begins like many other other viral illnesses, infects the nervous system and may leave its victims paralyzed; some patients even die.
Anna Nguyen, Healthy Kids blog Editor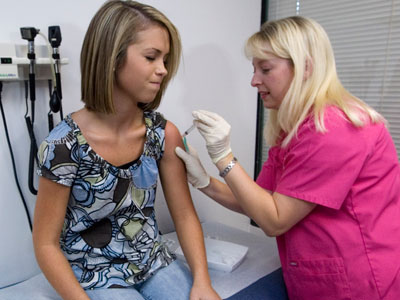 Despite the recommendation from experts, parents are increasing citing safety concerns as their reason to not vaccinate their teenage daughters against HPV, the virus that causes the most cases of cervical cancer, according to a recent study.
The study in the April issue of Pediatrics looked at vaccination rates among teens in the United States for several illnesses, including genital human papillomavirus. HPV, the most common sexually transmitted virus in the U.S., has been linked to cervical cancer, genital (anus, vagina, penis) cancers, and a type of head and neck cancer.
Researchers found a dramatic increase in the number of parents citing "Safety concerns/side effects" as their main reason for not vaccinating their daughters between 2008 and 2010. It jumped from 4.5 percent in 2008 to 16.4 percent in 2010.
Anna Nguyen, Healthy Kids blog Editor
Whooping cough is making a comeback. The Centers for Disease Control and Prevention reported 41,000 cases last year in the United States, the highest level in decades. One reason for these numbers could be that immunity from the vaccine diminishes each year after the fifth dose is given to children around four to six years of age, according to a recent study.
Other factors in this increase include a true increase in whooping cough, increased recognition and reporting by physicians, and improved lab tests to identify the disease.
Anna Nguyen, Healthy Kids blog Editor
Pregnant women are now advised to receive the tetanus, diphtheria and acellular pertussis (Tdap) vaccine during each pregnancy to protect their newborns from whooping cough, according to the new vaccination guidelines for 2013 from the U.S. Centers for Disease Control and Prevention and the American Academy of Pediatrics released earlier this week.
"We've seen more pertussis cases in 2012, than in several decades," said Dr. H. Cody Meissner, a pediatrician from Tufts University School of Medicine who is also on the CDC's immunization committee.
Once the numbers come in, it's estimated that there will be 35,000 to 40,000 cases of reported whooping cough in 2012. Of these, 20 deaths were of children, and most of them died in the first two to three months of life. It's unclear why the numbers went up, but one reason could involve better reporting of the disease, Meissner said.