Preventative Care - "Sick Days"
Paul Reggiardo, D.D.S.
Today's guest blogger is Paul Reggiardo, D.D.S., a pediatric dentist in Huntington Beach, California. He is a national spokesperson of the American Academy of Pediatric Dentistry and past president of the AAPD, as well as an advocate for the dental health and overall well-being of children.
Amidst open enrollment season, parents need to be aware of a significant change to health insurance under the Affordable Care Act. Pediatric dental benefits are now considered to be one of 10 "essential benefits" plans must provide. This means children will either have pediatric dental benefits included in a medical plan package or there will be an option to purchase these benefits separately.
On a national scale, this new provision could mean 8.7 million children currently lacking dental benefits could gain coverage through the ACA by 2018. This new accessibility to dental care has the opportunity to help curb the staggering statistics provided by The Centers for Disease Control and Prevention, which shows that tooth decay is the number one chronic infectious disease among children in the U.S., affecting 42 percent of children aged 2 to 11 years old.
W. Douglas Tynan, Ph.D., Nemours/Alfred I. duPont Hospital for Children, Jefferson Medical Colg
Do you think guns in the home make your children safer? It's usually not the case. Last January, high school student Anthony Krueger locked himself in his room and shot himself under the chin twice after his mother called the police about his drug use. Stories like this highlight that one of the largest risk factors for teen suicide is the presence of a gun in the home.
In Krueger's case, the 17-year-old from Dover, Del. survived, but faces a long slow recovery from his injuries . Without access to a gun, an emotional argument can lead to broken doors and objects, screaming, tears and even a fist fight, but rarely does it end in death. With a gun present, the circumstances change.
Krueger's mother had bought the gun for protection, and allowed him access so he could "protect" his younger siblings while his mom was at work. His suicide attempt was featured in a Wilmington News Journal article earlier this month that looked at an adolescent suicide cluster in the state last year.
Anita Kulick, President & CEO, Educating Communities for Parenting
Today's guest blogger is Anita Kulick, President & CEO of Educating Communities for Parenting in Philadelphia. ECP offers a variety of programs and services for teen and adult parents, adjudicated delinquent youth, young adults aging out of the foster care system, preschoolers, and children at grave risk of becoming victims or perpetrators of violence.
Let's face it, as parents we want what's best for our children. After all, even before they're born, we've been taking care of them. For nine months, we've eaten or not eaten the foods we should or shouldn't; gone to prenatal check-ups; read the latest how-to books; and stocked the house with everything imaginable in the way of equipment, clothes, and toys.
So it's no wonder that from the moment they finally arrive, we go into action doing everything possible to keep them healthy and happy. But no matter how hard we wish or how hard we try, we can't protect them from the stresses of everyday life in the 21st century. What we can do is learn more about stress; the causes, the effects, and most important how we can help our children manage it.
Beth Wallace Smith, RD, Children's Hospital of Philadelphia
It's no surprise that eating too much sodium, or salt, can increase your blood pressure as an adult. However, it may come as a surprise that the amount of sodium that children eat can affect their blood pressure even at a young age.
Earlier this year and for the first time ever, the World Health Organization made recommendations to limit the amount of sodium children consume. Depending on their age, size, and energy needs, recommendations for children ages 2-15 were a maximum of 2000 mg per day.
Why is this such a concern for young children? Believe it or not, more and more children are being diagnosed with typical "adult health conditions" at a younger age. Because the cumulative effect of high blood pressure over the years raises the risk of stroke and heart disease, decreasing the sodium intake in children at a young age may help to delay the onset of diet-related health conditions.
Anna Nguyen, Healthy Kids blog Editor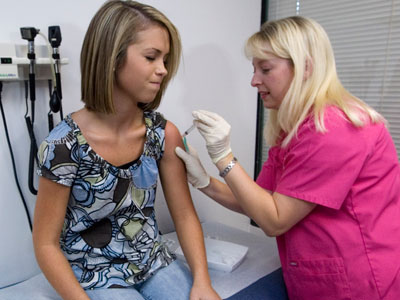 Despite the recommendation from experts, parents are increasing citing safety concerns as their reason to not vaccinate their teenage daughters against HPV, the virus that causes the most cases of cervical cancer, according to a recent study.
The study in the April issue of Pediatrics looked at vaccination rates among teens in the United States for several illnesses, including genital human papillomavirus. HPV, the most common sexually transmitted virus in the U.S., has been linked to cervical cancer, genital (anus, vagina, penis) cancers, and a type of head and neck cancer.
Researchers found a dramatic increase in the number of parents citing "Safety concerns/side effects" as their main reason for not vaccinating their daughters between 2008 and 2010. It jumped from 4.5 percent in 2008 to 16.4 percent in 2010.
Gary A. Emmett, M.D., Pediatrics Professor- Thomas Jefferson Univ. & Director, Hospital Pediatrics- TJU Hospital
When should an infant get solid food? For over 20 years, we have been saying after four months. Last year, the American Academy of Pediatrics changed that to a recommendation that an infant should get nothing but breast milk for the first six months of life, or infant formula if breast milk is not available.
A new survey of over 1,300 mothers showed that 40 percent fed the baby solid food before four months and almost 10 percent before four weeks, according to researchers from the Centers for Disease Control and Prevention in the April issue of Pediatrics, released online today.
Why are pediatricians worried about early feeding? Babies that are fed too early are more likely to be obese when they get older - that is proven. Doctors also worry that children fed early develop abnormal bowel flora (the germs in our gut that help us digest our food and prevent diseases such as celiac and inflammatory bowel diseases) and are more likely to get severe self-allergy diseases such as eczema and asthma. The evidence for these is not as strong as for obesity, but is a very strong suspicion.
Anna Nguyen, Healthy Kids blog Editor
Whooping cough is making a comeback. The Centers for Disease Control and Prevention reported 41,000 cases last year in the United States, the highest level in decades. One reason for these numbers could be that immunity from the vaccine diminishes each year after the fifth dose is given to children around four to six years of age, according to a recent study.
Other factors in this increase include a true increase in whooping cough, increased recognition and reporting by physicians, and improved lab tests to identify the disease.
Gary A. Emmett, M.D., F.A.A.P.
Adolescents have sex, whether parents want to face it or not. Teens need to know that one serious consequence of having sex is acquiring sexually transmitted diseases. To make matters worse, some STDs aren't easily treatable anymore.
Condoms help prevent STDs, but they are often not used (especially for oral sex) and therefore, these diseases can be easily spread. Fifty years ago, plain penicillin and sulfa would treat syphilis, gonorrhea and chlamydia, but mutating germs and the overuse of antibiotics have increasing diminished the effectiveness of these drugs.
The CDC recently announced the increasing presence of multidrug resistant gonorrhea in the United States. There are over 300,000 cases per year in the US. Some of the highest reported rates of infection are among sexually active teenagers in the US. Up to 12 percent of sexually active high school males have gonorrhea or chlamydia, and about 16 percent of sexually active females have either STD.