Parental Health
Sari Harrar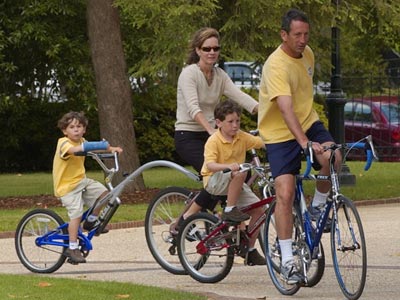 One of my summertime goals was to take more walks in our woodsy neighborhood with my daughter. We both need the exercise; walking together also gives us a chance to connect, relax and talk about things that we might not get to when things are busy at home. It's working! So I was happy to read about a brand-new study finding that, indeed, kids are more active when their parents are.
Researchers from National Jewish Health in Denver, Colo., followed 83 families who had signed up for a family intervention program aimed at preventing excessive weight gain in overweight kids, ages 7 to 14. Families received pedometers and were asked to increase their daily step counts by about 2,000 - roughly a mile. The results:
On days when mothers reached or exceeded their 2,000-step goal, children took an average of 2,117 additional steps.
On days when moms didn't hit their goals, kids got about 1,000 fewer steps.
The activity levels of fathers had a similar effect.
Kids and parents both increased their step counts on weekends, when families had more time to have active fun together.
Yesterday's steps didn't help today's totals. A parent's higher activity level one day didn't translate into a lot of extra steps for kids the next day. It's an of-the-moment kind of thing.
"It has long been known that parent and child activity levels are correlated," said lead researcher Kristen Holm, Ph.D. "This is the first intervention-based study to prospectively demonstrate that when parents increase their activity, children increase theirs as well. The effect was more pronounced on weekends."
Hazel Guinto-Ocampo, M.D., Nemours duPont Pediatrics/Bryn Mawr Hospital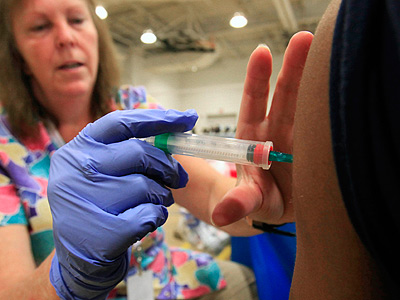 Editor's note: One overlooked reason for the increase in whooping cough cases in the U.S. this year: Adults who haven't gotten their booster shots. According to the Centers for Disease Control and Prevention, just 8 percent of American adults have received the Tdap booster shot since it became available in 2006. Immunity from vaccinations in childhood wanes — meaning adults can carry and pass along the infection, even if their own symptoms are mild. That's dangerous for babies, who aren't yet fully vaccinated. In fact, one study found that 73 percent of babies with pertussis caught it from adults.
In this blog post, emergency physician Hazel Guinto-Ocampo, M.D., reviews the current facts about pertussis — as well as advice for vaccinating kids and adults.
Although there has been a steady increase in the number of pertussis (whooping cough) cases in the U.S. since the 1970s, this year, new cases are developing at an alarming rate. The CDC has already received reports of more than 18,000 cases in 2012, more than twice as many as this time last year. This level has not been seen since 1959. In Washington state, because of the disturbing rise in the number of reported cases, a pertussis epidemic was declared in April. Other states reporting heavy pertussis activity include Oregon, Nevada, New York, Minnesota, and Kentucky. In Philadelphia, 33 cases were reported in June, compared to an average of 3 cases confirmed during the same time period in the past 5 years.
Sari Harrar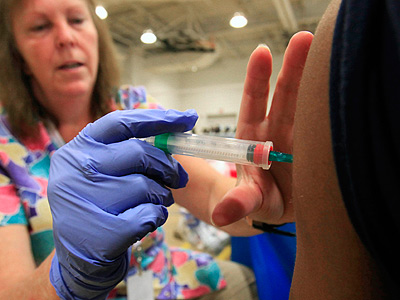 The whooping cough epidemic in Washington State — as of Tuesday, there were 3,014 cases of the bacterial infection that causes cold-like symptoms and serious coughing fits in kids and adults, but can be fatal for babies — has fueled a new debate about the vaccines that once nearly wiped out this illness. This week, the Centers for Disease Control and Prevention warned that the country is in for the worst year of whooping cough outbreaks since 1959.
Whooping cough's comeback can't be explained fully by the rising numbers of families that refuse vaccines for their children (and for parents, too), the CDC now says. It's emerging that reformulated vaccines introduced in the 1990s aren't as protective as older vaccines. The older, "whole cell" DTwP vaccine (it protects against diphtheria, tetanus, and pertussis) — which contained entire, dead pertussis bacteria — was phased out in 1997 due to concerns about side effects. But the new vaccine, the acellular DTaP given to babies and kids up to age 7, seems to lose effectiveness — dropping to about 70 percent protection within five years according to the Washington State Department of Health. And a booster vaccine for teens and adults, called Tdap, also seems to weaken after a few years.
As a result, whooping cough numbers are slowly rising in kids after age 7 — spiking at age 10, then dropping off for a year or two when they receive the Tdap vaccine, then rising again among 13- and 14-year-olds. Older teens who received the older vaccine as little kids seem to have better protection, the CDC says.
Sari Harrar
by Sari Harrar
Helicopter moms and Tiger moms, here's news: Practicing "intensive parenting" may be hazardous to your mental health. In a new study from the University of Mary Washington in Virginia, researchers found that women who practiced this style of child-raising were more likely to feel stressed and depressed. They also felt they had less family support. The study was published in the July issue of the Journal of Child and Family Studies. You can read a summary here.
Researchers looked at 181 moms with kids younger than age 5. Using online questionnaires, they asked them how they felt about five intensive-parenting tenets. Among those on board with at least three beliefs, one in four had signs of depression. These moms were less satisfied with their lives and felt more stressed-out.
Beth Wallace Smith, RD, Children's Hospital of Philadelphia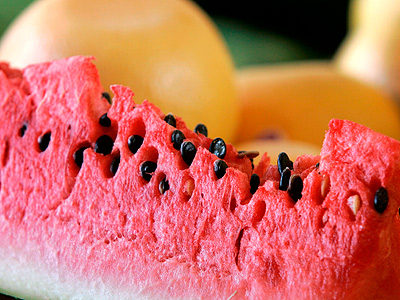 It's hot out there, and it looks like this weather might stick around for a while. In these extreme temperatures, making sure your family stays well hydrated is critically important for everyone's safety.
Even if your kids aren't playing back-to-back Little League games, their bodies will lose increased amounts of fluid during regular activities just to stay cool. Our bodies need enough water to function properly. Not replacing the amount of water lost throughout the day can cause mild or even severe dehydration.
How can you tell if your child is becoming dehydrated? Most children will be able to tell you if they are thirsty, and can regulate the amount of water they need just by responding to thirst. Being a watchful parent will help in cases where a child cannot tell you that fluids are needed. In cases of dehydration, a child may become dizzy, lightheaded, tired, have a rapid heartbeat, and decreased or dark urine.
Sari Harrar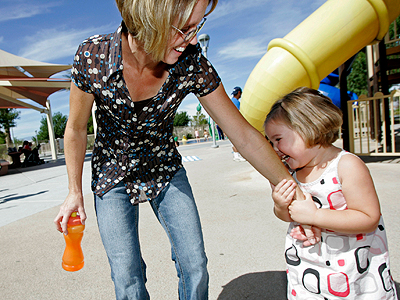 Despite – or perhaps because of – the fact that little kids seem to catch every bug that zooms through the neighborhood, daycare and elementary school, parents are remarkably resistant to the common cold, a new Carnegie Mellon University study says. But parental super-immunity is about more than a stronger immune system.
Compared to adults without offspring, moms and dads were 52 percent less likely to cough, sneeze and develop congestion when exposed to a cold virus. More kids meant higher resistance – whether they were living at home or not. Parents with one or two children were 48 percent less likely to get sick while parents with three or more children were 61 percent less likely to develop a cold. Parents with children living at home and those with kids away from home showed a decreased risk of catching a cold. Parents younger than 24, however, didn't enjoy this health bonus.
The researchers factored out other possible reasons the 795 study volunteers, ages 18 to 55, might be more or less susceptible to catching a cold – including immunity to the viral strain, season, age, sex, race, marital status, body mass, employment status and education.
Sari Harrar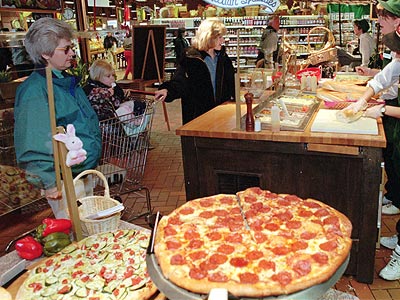 Any busy parent could have written the conclusion to a new Temple University study on crazy-busy families and the food choice we make. Yes, we hit the drive through on the way from after-school care to softball practice. Yes, we collapsed into a booth at the nearest pizza parlor on Friday night because we all needed a break. No, I never cooked the kale in the fridge – no time. We ate hoagies.
But that doesn't mean the new report, titled "Parental employment and work-family stress: Associations with family food environments" published in the July issue of Social Science and Medicine, has nothing to tell us. "For both parents, the more stress they were feeling about work getting in the way of family, the more we saw unhealthful dietary habits by parents and fewer opportunities for healthful eating in the home," said lead author, Katherine Bauer, an assistant professor of public health and researcher at Temple University's Center for Obesity Research and Education.
The study looked at 3,709 parents of teens. Two out of three fathers and about half of the mothers worked full-time.
Sari Harrar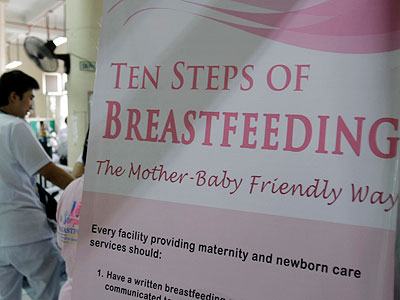 With the coverage we have given breastfeeding in this blog, we couldn't not comment on the recent TIME magazine cover showing a mother nursing her 3-year-old son. The headline: Are You Mom Enough?". The photo and article have generated lots of discussion, pro and con, about long-term breastfeeding and the larger issue of attachment parenting – a "stay close" philosophy that also advocates bed-sharing with kids.
The cover got skewered on Saturday Night Live and was called a "shocking stroke of genius" by the Los Angeles Times. The mom, Jamie Grumet, told ABC News, ""The statement that I wanted to make was this is a normal option for your child and it should not be stigmatized. I'm never saying this is for everybody, but it should be something that's accepted."
Attachment parenting isn't easy. True confession: I tried bed-sharing many years ago, but stopped when I read ahead in my copy of Dr. Sear's The Baby Book to a section that, at least in my sleep-deprived state, seemed to be saying not to worry, my child would be out of our bed by age 7. AGE SEVEN? I love my kid, but she was back in the bassinet after that. (I'm glad I did, with what I know now about the risks for babies.) But I continued to breastfeed well past her first birthday.