Nutrition
Beth Wallace Smith, RD, Children's Hospital of Philadelphia
School is in session! I could say that it was the whistles during drills from the high school football field that reminded me of fall sports season, but truthfully, it was the cross-country team that passed me running on Kelly Drive that made me think about being a teenage athlete.
Though many teens may not think daily about the direct effect each meal has on their sports performance, the rapidly growing market for sports drinks, nutrition bars, and nutrition supplements has made teenagers more aware of the role nutrition will play in their physical abilities.
Despite their engaging promises and attractive packaging, there is no super bar, drink, or supplement that will be better than an actual healthy diet for teenagers when it comes to making the most of their time the field.
Beth Wallace Smith, RD, Children's Hospital of Philadelphia
Back to school mode is in full swing, and more likely than not, there are a few parents that are standing in their kitchen thinking about the 180 school lunches that they will make their child this year. While school lunch programs are moving towards healthier choices, many parents and kids still prefer the DIY lunch from home.
Not only is lunch an important mental break for your child, but a healthy lunch will help to fuel their brains and allow them to stay sharp and focused during the remainder of the day. Since no parent wants to have a lunch box returned untouched, I've come up with some ideas for your most difficult lunchtime scenarios.
The Peanut-Free School: More and more schools are finding the need to eliminate peanuts and other tree nuts in order to avoid reactions in children with severe allergies. Hummus can be a hearty, healthy, kid-friendly alternative when peanut butter isn't allowed. Pair a small container of hummus with pita wedges, sliced cucumbers, and carrot sticks, or chop up some lettuce, tomato and other veggies to fill a pita.
Beth Wallace Smith, RD, Children's Hospital of Philadelphia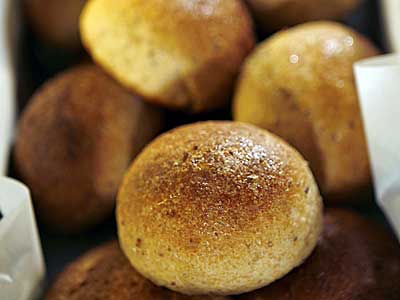 On a recent family vacation, I was given the task of picking out a few snacks at a rest stop for the remaining car ride. Knowing that there were many lobster rolls and ice cream sundaes to be had in the week ahead, I wanted to have some snack options that were healthy, but satisfying enough for a three and a five-year-old.
While my trained eye went directly to the package labeled "Whole Grain Crackers," I found myself immediately placing them back on the shelf. One quick look at the nutrition label indicated the product contained nothing more than the cheese-flavored snack crackers on the next shelf.
Many parents have heard that eating whole grains can help prevent cardiovascular disease, type 2 diabetes and certain cancers, and that providing children with healthy options early on in life will help to maximize overall nutrition. The problem is that many products on the grocery store shelves that are allowed to use the term "whole grains" do not contain the nutrition components that actually help to prevent these diseases; like fiber and antioxidants.
Beth Wallace Smith, RD, Children's Hospital of Philadelphia
There are two times of the year that children gain the most weight in my professional experience. The first is during the holiday season, and perhaps surprisingly, the second is during the summer. A combination of these factors could lead to weight gain – a lack of structure in their day without school, being more responsible for feeding themselves, and social celebrations from graduation parties to vacations almost every weekend.
While I definitely do not discourage families from enjoying less healthy options on special occasions, you also need to realize that not every barbecue can be treated as a "special occasion" for food choices when your social calendar is packed every weekend.
With Memorial Day being the unofficial kick-off to summertime, I thought it would be good time to share a few tips on how you can lighten up some of your summertime party staples.
Main Dish Makeover - Instead of the standard hot dogs and burgers, lighten up your meat selection with chicken breasts. Naturally lower in fat and an excellent source of protein, they are still satisfying and pack big party flavor with a balsamic marinade or barbecue sauce.
Side Dish - A barbecue isn't a party at my house with some sort of pasta salad. Instead of a mayonnaise based dish, change up the flavor by adding some cubed avocado for a creamy dose of hearty healthy omega-3 fats. Maximize the nutrition by switching to whole wheat or "white wheat," fiber rich pastas and add as many diced, colorful summer vegetables as you can find.
Grilled Salad - I bet that if you put a green salad out on the picnic table, 75 percent of it would still there at the end of the party. Make those veggies much more enticing by making a grilled salad: Place a head of romaine lettuce cut in quarters, cherry tomato halves, sliced red onion, sliced peppers, and summer squash onto foil. Drizzle with olive oil and grill on the top rack for ten minutes, turning vegetables after five minutes. Drizzle your favorite vinaigrette or balsamic vinegar and serve immediately.
Summertime Cooler - Toss the sugary drinks aside and make a Pineapple Cooler. Mix 1/3 of pineapple juice with 2/3 sparkling water for a refreshing flavor, without all of the added sugar. Having a party? Try an iced tea bar: Make a large container of unsweetened iced tea, and have sliced fruits like peaches, raspberries, lemons, and blackberries for added flavor.
Frozen Treat - Swap your popsicles and water ice for frozen Greek yogurt. Blend 12 ounces of plain or vanilla Greek yogurt with 1 cup of your favorite berries, and put into popsicle molds or an ice cream cooler. Delicious, nutritious, and packed with protein and vitamins.
Beth Wallace Smith, RD, Children's Hospital of Philadelphia
It's no surprise that eating too much sodium, or salt, can increase your blood pressure as an adult. However, it may come as a surprise that the amount of sodium that children eat can affect their blood pressure even at a young age.
Earlier this year and for the first time ever, the World Health Organization made recommendations to limit the amount of sodium children consume. Depending on their age, size, and energy needs, recommendations for children ages 2-15 were a maximum of 2000 mg per day.
Why is this such a concern for young children? Believe it or not, more and more children are being diagnosed with typical "adult health conditions" at a younger age. Because the cumulative effect of high blood pressure over the years raises the risk of stroke and heart disease, decreasing the sodium intake in children at a young age may help to delay the onset of diet-related health conditions.
Anna Nguyen, Healthy Kids blog Editor
It's hard for me to imagine that milk sales are on the decline with how my 1 and 3-year-old drink milk – they go through it quickly and usually ask for more. But I can see how plain white milk might eventually be a tough sell.
The highly nutritious drink has a lot of competition from alternatives such as soy, almond, and rice milks, and other beverages in general – juice, soda, and water.
So now, the dairy industry has petitioned the U.S. Food and Drug Administration to drop special labeling requirements for chocolate and other flavored milks that contain artificial sweeteners such as aspartame. Currently, those products must say "reduced calorie" or "less sugar" on the front of the packaging. Otherwise, they can't be called milk.
Beth Wallace Smith, RD, Children's Hospital of Philadelphia
You've probably heard of the term "portion distortion" in conjunction with massive restaurant size servings. A serving could provide the equivalent of three meals in one sitting. As portion sizes have slowly increased, plates sizes have also grown to accommodate them. Now, a new study released online in Pediatrics today finds that the size of the plate affects how much children will serve themselves and eat.
Forty-two elementary school aged children were observed during school lunches serving themselves on either a child-sized or twice as big adult-sized plates. The children were allowed to serve themselves entrees (chicken nuggets or pasta), vegetables, and fruits. Children using the larger plates served themselves more, and tended to consume more calories. Unfortunately, children would serve themselves more of everything…except the vegetable.
Why is this important? There are a few reasons. The current United States nutrition guidelines, "Choose My Plate," are centered on using a plate to depict the appropriate amount of protein, grains, fruits, and vegetables per meal. If the size of the plate is influencing your family's intake, even the perfect variety of foods can be over-portioned, causing excess intake.
Beth Wallace Smith, RD, Children's Hospital of Philadelphia
If you're like me and your iPhone (or Android) is rarely outside of arm's reach, you should keep reading.
Nutrition apps have exploded onto the digital scene over the last few years. From calorie counting to countless recipes, there are hundreds of options that promise to make your quest for health easier. Now that so much nutrition information is literally at your fingertips, I decided to navigate the iWorld and find the apps that will make feeding your family easier.
1. Fooducate - Diet Tracker & Healthy Food Nutrition Scanner