Anna Nguyen, Healthy Kids blog Editor
American Boy and Girl recalled about 1,300 its girl's "Susan" Sandals because the top strap can be pulled loose from the shoe, posing a choking hazard to the child. They were sold under the Falls Creek Baby brand and exclusively at Meijer Stores.
No injuries have been reported. For more information, go the U.S. Consumer Product Safety Commission Website.
---
Have a question for the Healthy Kids panel? Ask it here.
Gary A. Emmett, M.D., F.A.A.P
Influenza immunization season is here. Between mid-September and New Years' Day is the prime time to attempt to prevent the flu. People have more myths about "flu shots" than about almost any other medical procedure and certainly more than any other pediatric treatment. The "flu shot," which is killed vaccine, has been shown in carefully controlled studies to cause almost no side effects. Some people (less than 30 percent) do get a very sore arm for a few days, but that is about it.
Many people will tell you that I got a flu shot and "it made me sick, I had the flu " because immunization is given during the time when the most people get ill from other viruses. When compared to a similar group who did not take the influenza immunization, there was absolutely no increase in illness in the vaccinated group. But this time of year, we get primarily ill a lot from our loved ones such as our children in school and when you get ill near when you get a shot, you blame it on the shot.
Flumist, the nasal influenza vaccine, is also very safe, but it will very rarely give the vaccinee a mild case of the flu since it is a live vaccine. This is very uncommon, but does happen. Since it is a live vaccine, it is not recommended in patients with asthma or if someone who is immune-suppressed, such as someone on cancer chemotherapy, is living in the same house. The advantage of nasal flu over killed flu vaccination is that there is no shot in nasal flu.
Rima Himelstein, M.D., Crozer-Keystone Health System
On the surface, people with eating disorders may look normal or may look like they are struggling with their weight. Under the surface, there is so much more.
The different eating disorders are like "apples and oranges:"
Anorexia nervosa (AN) is weight loss in a person who believes that he or she is "fat" despite being underweight.
Bulimia nervosa (BN) is repeated episodes of binge eating coupled with behaviors intended to prevent weight gain, such as vomiting, fasting or excessive exercise ("purging"). Binging leads to feelings of loss of control and panic over weight gain. Purging gives a temporary sense of control and relief. However, feelings of shame and disgust lead to a vicious cycle of binging and purging.
Binge eating disorder (BED) is repeated episodes of binge eating without purging behaviors.
Why teens and why eating disorders? The peak onset of eating disorders is between the ages of 12 and 25 AN peaks twice: ages 12 to 14 and ages 17 to 18. BN tends to peak later in adolescence and early adulthood. Some of the reasons for these years of increased risk have to do with genetics, neurotransmitters, social pressures to be thin, and the normal weight gain during puberty. For AN, there is often a stimulus, such as a young teen girl who reacts to a comment like "it looks like you've put on weight" by severely restricting the food that she is eating. For BN, onset often follows an attempt at dieting.
Katherine K. Dahlsgaard, Ph.D., Lead Psychologist - The Anxiety Behaviors Clinic, CHOP
A significant part of my work as a cognitive-behavioral therapist specializing in anxiety and related disorders is providing families with recommendations for good resources. "Good resources," in these cases, are usually books and websites that offer general, up-to-date information on the disorder for which I am treating the child, as well as sound suggestions for at-home interventions (i.e., parent manuals). Of course I provide such psychoeducation in session, but I like parents to be able to hear the information more than once, from more than one source, and for it to be accessible to them outside of the therapy hour.
What I do not want is for families to garner information or recommendations for treatments from "unsafe" sources – that is, sources that provide information that is not scientifically supported or has been directly contradicted by science. In fact, I explicitly warn families about this, because there is so much misinformation on the web. During initial sessions, when giving my families handouts printed with what I think are the best and safest sources of information on their child's disorder and treatment for that disorder, I typically say: "Please DO NOT put the name of your child's diagnosis into Google search and hit 'return.' You will receive millions of hits, many of them from untrustworthy sources having something to sell, and you will feel even more overwhelmed than you already do. Instead, start with these I am recommending – you can always read more later."
I've given my recommendations for resources on obsessive-compulsive disorder,for children who have difficulty with pill swallowing, and tic disorders. What follows are my current recommendations for good resources on school refusal.
Elizabeth Coover, RD, LDN
Elizabeth Coover, RD, LDN is a clinical dietitian for the Healthy Weight Program at the The Children's Hospital of Philadelphia.
Here is a Turkey Day makeover dish that is sure to please the whole family. The key to keeping this recipe light is to measure ingredients and serve an appropriate portion. This casserole uses less of the recommended sugar and butter but remains sweet and fluffy.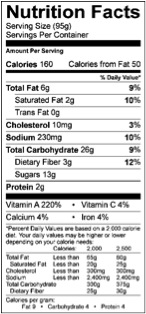 Additional tips: Remove the pecans for a nut-free dish and mix in ground cinnamon and ginger for a spicy addition.
Anna Nguyen, Healthy Kids blog Editor
The U.S. Consumer Product Safety Commission and Angelcare Monitors Inc. announced a voluntary recall to provide cord covers for about 600,000 Angelcare Movement and Sound Monitors with Sensor Pads. The cord attached to the baby monitor's sensor pad is placed under the crib mattress, which poses a strangulation risk if the child pulls the cord into the crib and it becomes wrapped around the neck.
Angelcare and CPSC have received reports of two infant cord strangulation deaths. In November 2011, a 13-month-old female died in San Diego, Calif., and, in August 2004, an 8-month-old female died in Salem, Ore. In both fatalities, the cord from the sensor pads was pulled into the crib by the infant. In addition, there have been two reports of infants who became entangled in cords of Angelcare baby monitor models, which did not result in fatalities. In these incidents, it could not be determined if the "sensor pad cord" or the "monitor cord" was involved in the incident.
The baby monitor includes a unique sensor pad placed inside the crib, under the mattress, to monitor movement of the baby. An electrical cord about 11 feet long is permanently connected from the sensor pad to the nursery monitor unit. The hazard is created by a cord within reach of a baby inside the crib. The cord can be pulled into the crib and can wrap around the child's neck.
Anna Nguyen, Healthy Kids blog Editor
The Bailey Boys recalled about 2,000 boy's loungewear pants because they fail to meet federal flamability standards for children's sleepwear, posing a risk of burn injuries to children. They were sold in sizes toddler 2 through boys' 12. All of the pajama pants have an elastic waistband with a white drawstring and a garment label that states "J.Bailey clothing for young men." The pajama pants were sold in multiple prints.
No injuries have been reported. For more information, go the U.S. Consumer Product Safety Commission Website.
---
Have a question for the Healthy Kids panel? Ask it here.
Anita Kulick, President & CEO, Educating Communities for Parenting
The hottest news lately seems to be a football story that has very little to do with the game. It's about a Miami Dolphins player bullying a teammate or is it? That's certainly how it's being presented in the media. Whatever the real story is, it's a great conversation starter generating lots of controversy and pseudo psychological analyses.
Following the news coverage, I've began wondering if it's really a case of bullying, or just the culture of sports. This type of behavior seems to be acceptable, even encouraged, on nearly every team – from township to professional leagues – especially sports that covet athletes who have brute strength combined with competitiveness and aggression.
Beyond the story of these two troubled men, does this situation have any relevancy for the public at large? It does. It's stirring up anxiety for parents who are already concerned about the rampant bullying occurring in schools, on playgrounds, in cyberspace, and almost everywhere else. As a parent, you might be thinking if a physically powerful, intelligent, grown man can be brought down by a bully, how can I protect my child from suffering a similar fate?