Laura Dewey, Ph.D., Nemours/A.I. duPont Hospital for Children
Today's guest blogger is Laura Dewey, Ph.D., a pediatric psychologist at Nemours/A.I. duPont Hospital for Children, and an sssistant professor of pediatrics at Jefferson Medical College.
The word "autism" is scary to anyone, especially caregivers, and hearing that it is "on the rise" can be especially alarming. The most recent report from the U.S. Centers for Disease Control and Prevention estimates that one in 68 children meet criteria for Autism Spectrum Disorder (referred to as ASD, the most up-to-date name for the neurodevelopmental disorder characterized by deficits in social interaction and communication and repetitive, restricted patterns of behaviors, interests, or activities). This is about 30 percent higher than the previous 2012 report from the CDC.
There is ongoing debate as to why there has been an increase in ASD prevalence; some say that this is a result of better awareness and diagnosis, some say the diagnosis is given more freely in order to access services, and some say that these factors cannot fully account for the increase.
Rima Himelstein, M.D., Crozer-Keystone Health System
Looking inside your child's backpack may feel like looking at what "Toy Story's" Mrs. Potato Head packs inside Mr. Potato Head for his trip: An extra pair of shoes. His angry eyes, just in case. Some Cheese Puffs (if he gets hungry). A key (unknown purpose for it). A Golf Ball (if he has time to play golf). A Plastic Steak. A Rubber Ducky. A Yo Yo. An extra bouncy bouncy ball. Extra teeth (which chatter). Crayons (if he gets bored). A huge lump of blue Play-Doh. A dime to call her and… Monkey Chow (for the Barrel of Monkeys!)

Unfortunately, what's inside our children's backpacks weighs much more than all of that put together.

Backpack stats:
More than 79 million students in the United States carry backpacks.
Young children sometimes carry as much as 22 percent of their body weight. This means that a 60-pound child might be carrying a pack weighing more than 13 pounds!
Today's textbooks are heavier than they used to be as they have more pictures, charts and graphs. (A hardcover book generally weighs 2-7 pounds.)
Today's students often need to carry textbooks and a laptop. (A laptop usually weighs 5-8 pounds.)
Many high school students don't use lockers so they're carrying their backpacks with them all day.
Many students carry their backpacks on one shoulder, which increases the physical stress.
Mario Cruz, MD and Regina Vince, DO
Guest blogging today with regular contributor Mario Cruz, MD, is Regina Vince, DO, a pediatric resident at St. Christopher's Hospital for Children.
Peas, carrots, squash? Oh, my! Ready to start feeding solid foods your infant and feeling confused? It is not surprising. This is the biggest period of transition in diet over a lifetime. Here are some helpful tips from two pediatricians who recently made this transition with their own kids!
When do I start solid foods? For babies who are not breastfeeding, the ideal time to start is between 4 and 6 months. You'll know that your child is ready to eat solid foods if they can sit comfortably in a high chair without slouching over. Babies who are exclusively should wait until at least 6 months.
Heather Manning
It's never too late to plan fun and meaningful, Earth-friendly activities with your family. Below are a few suggestions, as well as some local events in the Lehigh Valley and Philadelphia area.
1. Go car-free.
According to the National Personal Transportation Survey, approximately 40 percent of all car trips are less than 2 miles. Reducing your family's travel in vehicles for simple and near-by destinations would help reduce your carbon footprint. Consider walking or biking with your family for these trips or decide to go car-free for a day. You might find that you really like it! Talk to your kids about how using alternative forms of transportation help the environment while promoting good health. My family is fortunate that we live in downtown Bethlehem and make it a point to walk to parks, restaurants, festivals, and outdoor events in our area instead of driving. It's nice family time spent together, and we also are helping the environment.
Liz Coover, RD, LDN, clinical dietitian, Healthy Weight Program at The Children's Hospital of Philadelphia
Welcome spring into your home with this seasonal soup recipe. Warmer weather gives way to local produce favorites like asparagus and green beans that make great additions to simple dishes. This soup pairs several vegetables together to create a flavorful, homemade soup that is filled with fiber.
Ingredients: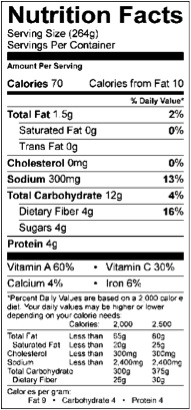 2 teaspoons of olive oil
2 large cloves of garlic, chopped or minced
1 leek stalk (white and light green part only), thinly sliced
6 cups of low salt chicken or vegetable broth
1 cup of chopped asparagus (or 15-20 thin spears)
1 cup of cauliflower florets, cut into very small pieces
1 cup of diced tomatoes
1 cup of diced green beans
1 cup of diced carrots
1 cup of canned white beans, rinsed (cannellini, Great Northern, or navy)
1 teaspoon of dried basil
¼ teaspoon of dried thyme
½ cup of fresh or frozen peas
Salt and black pepper to taste
Directions:
Set a large pot on the stove over medium low heat and add olive oil to the pot. Once warmed, add garlic and sliced leeks. Cook until leeks are soft (around 5 minutes).
To the pot, add the broth, asparagus, cauliflower florets, tomatoes, green beans, carrots, beans, basil and thyme. Bring soup to a boil. Once soup is boiling, turn down the heat to low and simmer uncovered for 15-20 minutes until vegetables are tender.
Add in the peas and cook for another 1 to 2 minutes. Remove from heat and enjoy!
Anita Kulick, President & CEO, Educating Communities for Parenting
At President Bush's urging, Congress enacted the No Child Left Behind Act of 2001. The law was based on the belief that by setting national standards and measurable goals for every child attending a public school, each one would receive a quality education. And there was no doubt that something needed to be done about our failing schools.
In theory, NCLB made a lot of sense. America's high school and college graduates were no longer leading the way as some of the most educated and well-prepared to enter the workforce and to eventually take over as leaders in an increasingly complex world.
It was touted by experts in the field of education, business leaders, the media, and elected officials as a panacea. All children, whether they lived in urban, suburban, or rural communities; or came from wealthy, middle class, or poor families would receive the same high level of academic instruction. They would all be held to statewide standards of achievement, which would be determined by student performances on standardized tests.
Heather Manning
Today's guest blogger is Heather Manning who lives in Bethlehem, Pa. with her partner and their sons, Lucas and Miles. Together they hike, paddle, run, swim, visit farms, and attend festivals throughout the Philadelphia and Lehigh Valley area. A version blog originally appeared on Kids Outdoors Philadelphia, a free online community from the Appalachian Mountain Club.
One of our favorite family activities is going on nature walks. Whether we're hiking all day or just taking a short walk in the woods, it is one way we stay grounded, balanced, and connected to nature. And after this very snowy and cold winter, we are eager to spend time outdoors, looking for signs of spring. It's an exciting time for my 2-year-old, Miles, since these spring experiences are somewhat new to him. For Lucas, my 8-year old, it is just a thrill to be out and about again enjoying the outdoors without lugging winter gear around.
Below are some ways to start getting your kids excited for warmer weather and looking for signs of spring:
Gary A. Emmett, M.D., Director of Hospital Pediatrics at TJU Hospital & Pediatrics Professor at Thomas Jefferson Univ.
The health benefits of infant male circumcision far exceeds the risks associated with the procedure, according to a recent article that reviewed studies in the Mayo Clinic Proceedings, an online journal.
In the United States, the rate of circumcision in men ages 14 to 59 has increased to 81 percent over the past decade from 79 percent. However, the study authors found an alarming decrease in infants, which showed that circumcision had declined from a high of 83 percent in the 1960s to 77 percent today.
They worry that a falling rate of newborn circumcision will result in a marked increase in overwhelming infection in newborn males in the U.S. and long-term increased rate of venereal disease in them and cervical and anal cancer in their sexual partners. The evidence given by Brian Morris, DSc, PhD, and his colleagues is very strong, but like everything involved with sex and sexual organs – the emotions and religious feeling the subject releases will lead to controversy.