Archive: July, 2013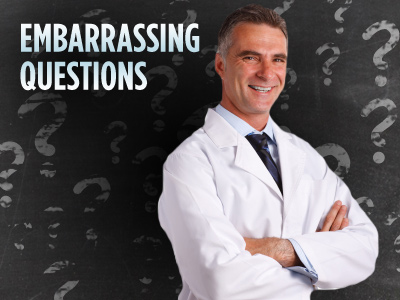 When I wake up, my stomach is bloated and full of gas. The gas I pass is loud and long, and embarrassing, but it hurts if I hold it in. What can I do about it?
Dr. Benjamin Krevsky is a professor of medicine and director of gastrointestinal endoscopy at Temple University School of Medicine.
First, some gas in the gastrointestinal tract is absolutely normal. It is estimated the average healthy person passes gas around 10 to 20 times a day!
Daniel R. Hoffman, Ph.D.
GlaxoSmithKline's (GSK's) Chinagate scandal of the past few weeks provides some belated insight on the China fantasy that pharma has been peddling to investors for much of the last decade.
The basic pretense that pharma could somehow offset its wave of patent expirations, its dearth of compelling new products and the greater demand for value from payers was never persuasive. That didn't stop most if not all Big Pharma CEOs from telling everyone that the rising middle classes in the emerging nations would bring record profits to the entire industry. At one point AstraZeneca's former CEO, David Brennan, told his vice-presidents that henceforth, regardless of the question, China was the answer.
Within the past year reality started emerging faster than the rise of those middle classes. First it became apparent that the developing nations would supply most of the growing demand for better medications with off-patent generics. Then on the high-priced brands that generate the big profits, China and India showed they would aggressively force down prices by using compulsory licensing (i.e., breaking patents) if necessary.
Curtis Skinner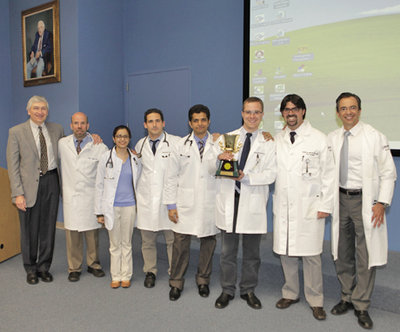 Befitting their namesake for the second consecutive year, residents from Einstein Medical Center's Department of Medicine proved themselves the smartest during the American College of Physicians' national Jeopardy-style competition, "Doctor's Dilemma."
Einstein residents beat 36 teams nationally, including some local heavyweights like Thomas Jefferson University, UPMC Mercy Hospital, and the University of Pennsylvania, to win the challenge. It's the center's fifth championship, making Einstein the winningest medical center in the country. They earned their first title over a decade ago in 1997.
The residents - hailing from countries such as Poland, the Phillipines, and Venezuela - battled through a grueling three-day competition at the American College of Physicians' national scientific meeting in San Francisco in April. They correctly answered questions on topics ranging from general medicine to rheumatology and hematology. Victory was clinched with a correct answer to the following question: What is the name of the diagnostic imaging test for hepatopulmonary syndrome?
Evi Heilbrunn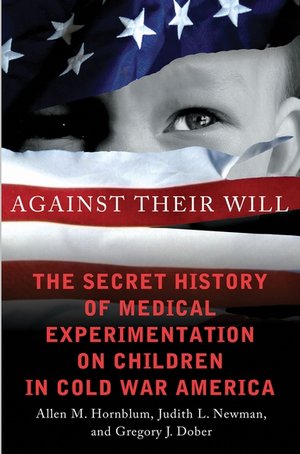 After World War II, the Nuremberg Code, a set of ethical principles for human experiments, pushed the notion of "informed consent" into the air of medical research. But in the years after its passage in 1947, scientists preyed upon vulnerable populations at an alarming rate, conducting dangerous, often life-threatening experiments on prisoners, people of color, and even children.
In Against Their Will: The Secret History of Medical Experimentation on Children in Cold War America, Philadelphia author Allen Hornblum, Penn State professor Judith Newman and medical journalist Gregory Dober explore the terrifying medical experiments done on institutionalized children during the Cold War. Across the country, the orphaned and mentally challenged children were used much like rodents to test the effects of radiation, psychedelics and viruses.
"This pattern of researching," Hornblum says, "knowing that they are not going to use the Phi Beta Kappa winners at Yale or Princeton," but "children [who] don't quite count as much," is what has made this history a sad one to write.
Judy L. Smetzer, RN
Vaccine programs for children have been extremely successful against many diseases, including measles, rubella, tetanus, diphtheria, and polio. In fact, fewer than 500 children die each year in the United States (US) from diseases that can be prevented with vaccines. However, adults also need vaccines, even healthy adults (Table 1). Each year in the US, there can be anywhere from 3,000 to 49,000 people who die from complications associated with the seasonal influenza (flu) virus. And more than 200,000 people are hospitalized each year for respiratory and heart illnesses also associated with seasonal flu infections.
When you are sick, your body creates antibodies to fight the infection. Later, if you are exposed to the same virus or bacteria, these antibodies will keep you from getting sick again. Vaccines help the body create antibodies without first getting sick. Even though you won't get the illness, the vaccine helps your body make antibodies to protect you from that illness.
Many adults remain unvaccinated because they:
Are unaware of the need for adult vaccines
Mistakenly believe they are fully protected by childhood vaccinations
Are misinformed about the diseases vaccines prevent
Feel they don't need vaccinations because they are healthy and rarely get sick
Are worried about getting the disease from the vaccination
Are worried about the safety of the vaccine itself.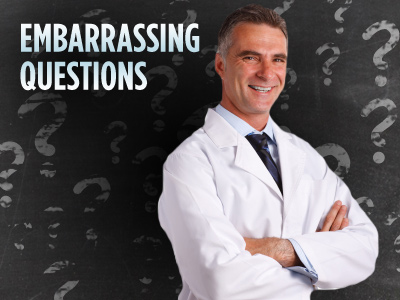 I'm a teen and while playing basketball I felt sharp pains in my scrotum that wouldn't go away. What could it be?
Dr. T. Ernesto Figueroa is the division chief of pediatric urology at Nemours/Alfred I. duPont Hospital for Children. Written with Inquirer staff writer Curtis Skinner.
Daniel R. Hoffman, Ph.D.
Last week Eli Lilly announced that later this year it would start another late-stage (Phase 3) study of its monoclonal antibody, solanezumab, to test whether it can slow the advance of Alzheimer's disease. A pair of solanezumab Phase 3 trials last year failed to show efficacy in patients with mild-to-moderate stages of the disease. After much analysis and deliberation, Lilly decided to design this latest study using higher doses of the compound, while enrolling only those patients with mild, early-stage Alzheimer's.
The thinking among Lilly's scientists and a sizeable segment of neurologists is that the buildup of beta-amyloid plaque in the brain is the principal factor in the onset and progression of Alzheimer's. Lilly's failed studies with solanezumab last year, as well as the failure of an earlier monoclonal antibody belonging to Elan and its two partners, have convinced researchers that they must intervene earlier in the disease process to prevent these beta-amyloid tangles from forming.
Given the enormous sales potential of a truly effective drug for Alzheimer's, it should come as no surprise that other compounds besides Lilly's solanezumab are working their way through the pipeline. Roche has two monoclonal antibodies while Merck, AstraZeneca, Roche and Takeda have compounds known as BACE inhibitors in clinical development. BACE is an acronym for beta-amyloid converting enzyme. It represents another approach based on the hypothesis that beta amyloid is the key to Alzheimer's.
Curtis Skinner
Health-policy wonks have long known that the poorest patients tend to use local emergency rooms the most. It has been thought that limited knowledge of the health system was he primary reason.
But a new study out of the University of Pennsylvania shows that poor patients prefer local emergency rooms because they find the care cheaper, of better quality, and much easier to reach than primary-care providers.
"They were the ones educating us, very eloquently and in a very educated manner, what the incentives are and how we've structured the health-care system away from low-cost preventive care and toward high-cost emergency-room care," said lead author Shreya Kangovi, director of the Penn Center for Community Health Workers and a Robert Wood Johnson Foundation clinical scholar at the Philadelphia Veterans Affairs Medical Center.